Building a New Home
What To Build?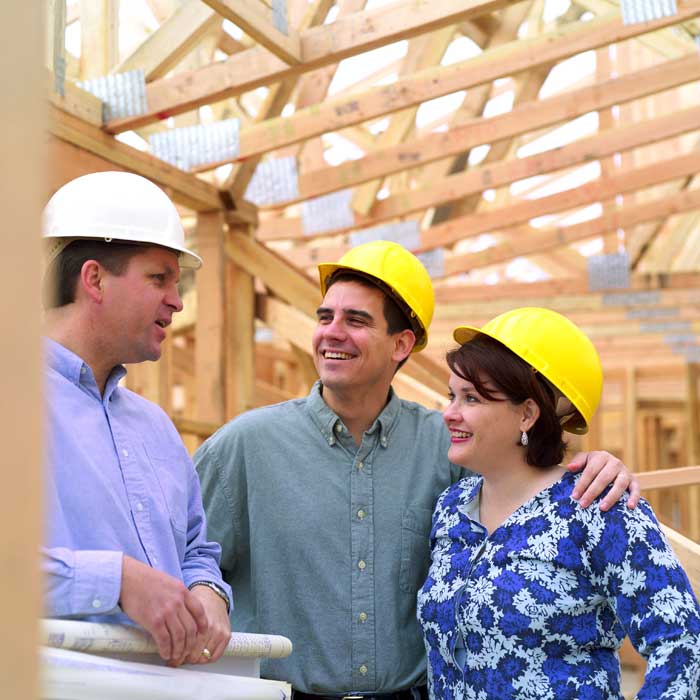 Building a new house can often be complicated. You have to find land where you want to live and a builder and architect you can trust. You have to worry about design and house plans, and permits and building codes. There are unavoidable delays and potential "new house" problems. And, in general, building is more expensive than buying a resale house.
On the other hand, by building your own home, you can customize the house to meet your needs and wants. You will know that all the different parts of the house - roofing, electrical and plumbing systems, etc. - are new and of the latest design. And building your own home gives you a chance to take an active role in the home building process.
If you decide to build, you must decide if you want to:
Buy a new home that has already been built (a speculation or "spec" home)
Build in a development that uses their own contractors and house plans
Find a lot where you want to live and

Build a home using a pre-approved house plan or a custom designed plan
Purchase a modular or manufactured home if permitted by zoning laws.
These homes are called "single-family" or "site built" homes because your house is detached from other homes and you own the land and home. The homes are built entirely on your lot from the ground up and conform to all building codes relevant to the area where the home is located. If maintained properly, these homes should increase in value over the years.
Modular homes are built in sections at a factory to conform to all state, local or regional building codes at their destinations. They are transported to the site on truck beds and then put together by local contractors. Local building inspectors check to make sure the structure meets requirements and that finish work is done properly. Modular homes are sometimes less expensive per square foot than site built homes. A well-built modular home should have the same longevity as its site-built counterpart, increasing in value over time.
Manufactured homes were formerly referred to as mobile homes or trailers and are built in a factory. They conform to a Federal building code, called the HUD code, rather than to building codes at their destinations. Homes are built on a non-removable steel chassis and transported to the site on their own wheels and put together on the site lot. These homes are not always placed on a permanent foundation. Building inspectors check the work done locally (electric hook up, etc.) but are not required to approve the structure. Manufactured housing is generally less expensive than site built and modular homes but often decrease in value over time. Many communities have restrictions on where a manufactured home can be built.
Restrictions also apply to building in a development. For instance, the development may have rules on the style of home you can build, what color you paint your home or what you can do in your yard. Developments usually also have homeowners associations that require you to pay an annual fee.
Other choices for purchasing a house could be a:
Condominium - a residence attached to others in an apartment-style building or as townhouses; residents share common areas like hallways, lobbies and grounds. Each homeowner in a condominium complex usually pays a fee and shares in the cost of repairs to the complex, such as roofs, parking lot paving, etc. There are also restrictions as to what you can do to the outside of your residence.
Cooperative - a part of a development whose shares are owned equally by all residents. Resident responsibilities for decision-making, maintenance and repairs vary with each cooperative but most have resident fees and restrictions on the resale of your shares.
Designing Your Home
Before meeting with a contractor or builder you need to have a lot and a design for your home. The style and size of your proposed home will affect the amount of land you need and will be required before a builder can give you an accurate bid on the cost of construction.
After reviewing the "Features of Your Home" section, you should have a good idea of what you want your home to look like. Now, you need a house plan.
House plans can be purchased from businesses that sell builder supplies, like 84 Lumber, Home Depot, or Lowe's, or you can also find books of house plans on the Internet and in many bookstores. Most plans can be modified to accommodate your special needs and the building requirements for the location where you have chosen to build. Please note that some communities require that modifications to a standard house plan be approved by a licensed architect.
If you have chosen to live in a housing development, the realtor or contractor you are working with may have a number of approved house plans from which you can choose. Usually, these are of a design that is consistent with the other homes in the development. So, don't plan to build a log cabin in a Tudor community.
If you would rather have a house that is unique, you could contract with a professional architect to have a custom blueprint created. This is a much more expensive option but it does allow you to incorporate special features. You can begin looking for a licensed architect by calling/emailing:
American Institute of Architects - West Virginia
304-344-9872
www.aiawv.org
WV Board of Architects
304-528-5825
www.wvbrdarch.org
Sample Universal Design floor plans are available by calling the West Virginia Assistive Technology System (WVATS) at 800-841-8436. In addition, the WVATS office has professionals on staff that can look at a house plan you have selected and suggest modifications to meet special needs.
Finding Land
When looking for land to build your new home, you must take into consideration several things in addition to all of the items explained in "Deciding Where to Live".
   
Does your home design fit in the neighborhood? If not, building in this location could affect the value of your home and your neighbor's.
 
Land next to the lot you are considering could affect the value of your home? For instance, you may purchase land because of the fabulous view, but find in a few years that the only thing you can see out of your window is the back of someone else's house.
   
Are you in an area of potential growth? You may have chosen your land because it sits on the edge of town, but will you be surrounded by homes and businesses a few years down the road?
   
Do you have any special requirements or plans for the future? Stables, swimming pool, gardens and patios will require extra land.
   
Once you've answered these questions, you can begin to look for land with the assistance of a professional realtor, newspaper ads and real estate magazines, and through friends and family. The key is to let people know what you are looking for. If a realtor does not currently have property that meets your needs, they will at least know what you want if something becomes available. But often, available land is found just because people know you are looking.
You can also consider placing an advertisement in the newspaper, providing the details of the acreage and location you desire. Auctions or estate sales may be another way of finding land.
If you desire to live in a town, you may find that property is available through the local redevelopment authority, i.e., organizations that are tearing down condemned property to create available land for new building. In many cases, these lots will be prime property because they are near services.
Land can also be found through development companies in housing developments. In many cases, this land may have minimal acreage, building requirements and homeowners association fees that should be considered.
Many communities have regulations governing the minimum amount of space that must be left undeveloped between you and your neighbor, or even the size of the home that can be built. Check with the local municipalities for any regulations on building a new home.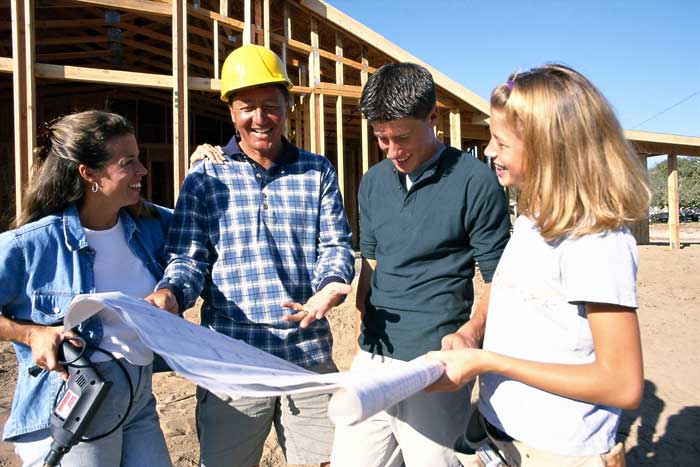 Finding a Builder
Unless you have experience working with excavators, masons, carpenters, roofers, siding contractors, plumbers, electricians, heating/AC contractors, insulators, drywall installers, finish carpenters and painters, you are probably going to have to find a builder to construct your new home.
Finding a builder is easy. Finding a builder you trust and can afford can be a little more difficult.
One of the ways to make this decision is to talk to people who have recently had a home built for them. Questions you should ask include:
   
Was the house done on time? If not, why not? Was it the builder's fault?
   
Would you ask them to build you another house in the future?
   
Licensed contractors and homebuilders can be found on the Internet. West Virginia has both a professional contractors association and a homebuilders' association. You may find that the homebuilders' association is the best place to start as many contractors only work on larger projects and not single-family homes.
Home Builders Association of West Virginia
877-408-0702
www.hbawv.org
Contractors Association of West Virginia
304-342-1166 www.cawv.org
For low-income families, Habitat for Humanity can be an option in West Virginia. Since 1988, Habitat has built more than 400 houses for low-income families in West Virginia. Using volunteer labor, selling houses for no profit and providing no-interest mortgages, Habitat brings home ownership within the reach of people with very low incomes.
Habitat for Humanity
304-720-7636
www.habitatwv.org    
For individuals with developmental disabilities, West Virginia's Home of Your Own initiative can help you build your own home. The organization provides home ownership counseling, helps you with locating land, works with you and the builder and architect, and assists you with the various aspects of financing.
WV Home of Your Own Alliance
304-842-2605
Once you have decided who will build your house, here are a few hints to help you through the process:
Build for resale. Although you may live in the home for a long time, eventually the home may be sold. Try to avoid features that will negatively affect the next buyer.
Be prepared for delays. They can, and probably will, happen.
Monitor the progress of the project. Visit the building site often, especially when the construction crew is working. Mistakes can be expensive to fix later on.
Watch your construction allowances. Changing features such as the type of flooring can cost you additional money. Know what you want before you accept a bid from a builder; the cost to make changes is your responsibility.
Permits and Inspections
Although they may seem complicated and confusing, permits and inspections can help to ensure quality construction and a safe home for you and your family.
A building permit is usually required if you are building a new home, adding a room or garage to an existing structure or for any major structural remodeling. In addition, redoing an electrical or plumbing system may require a permit in some communities. You can find out what permits and inspections are required by visiting the building, planning or zoning office for the municipality where you are building.
Permits can be obtained by you but your builder is probably more familiar with what needs to be done and may be willing to assist with this for a fee. The most common permits required are:
Building (construction of the structure)
Plumbing
Electrical
Mechanical (heating and air conditioning)
Septic
Depending upon the house, you may also need a permit for installing gas piping or a wood stove.
Typically, to obtain a permit, you will need a site plan (plan of the lot showing the location of the house), the floor plan, information on the elevation of the property and other structural details.
When you obtain your permit(s), your municipal office will tell you what inspections you need. Inspections usually occur immediately following the completion of a particular phase of the project. For instance, once the electrical wiring is installed, an inspector will be called to ensure that everything is installed correctly. If problems are found, corrections will need to be made and a second inspection conducted.
In many areas, building permits and inspections are required by law. There may be both legal and financial consequences to working without them.