Glossary of Terms
A - B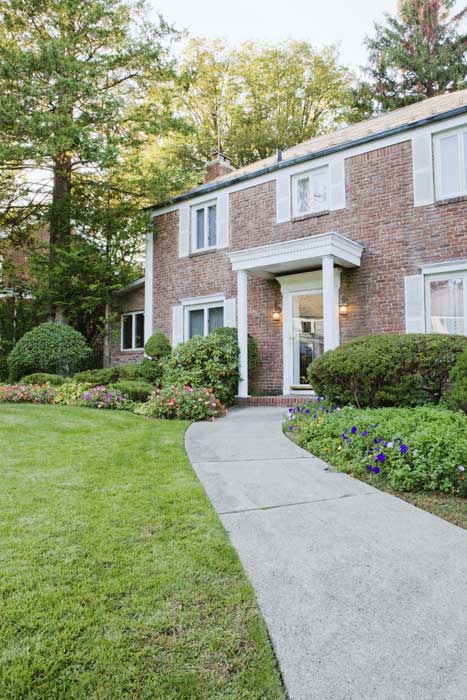 ADA - Americans with Disabilities Act of 1990 prohibits discrimination on the basis of disability in employment, state and local government, public accommodations, commercial facilities, transportation and telecommunications.
     
ADAAG - Americans with Disabilities Act Accessibility Guidelines for building and facilities which sets guidelines for accessibility for persons with disabilities to places of public accommodations and commercial facilities and are to be applied during the design, construction and alterations of such buildings and facilities.
     
Annual Gross Income - total amount of income you receive from all sources per year
     
Architect - A trained professional who designs building structures, develops blue prints or maps to allow others to visualize a design.
     
Assisted Living - Any residential facility or place in the state, however named, available for 4 or more residents providing personal assistance, supervision or both to residents who are dependent upon the services of others due to physical or mental disabilities and who may also require nursing care at a level that is not greater than limited and intermittent nursing care.
     
Bankruptcy - is what happens when one is not able to pay their debts and is freed, by law, from the need to pay the debt. When you have been declared bankrupt, this remains on your credit history for 10 years.
     
Benefits Planning Specialist - Provides information to people with disabilities who receive social security benefits and want to work. They answer questions about work choices, your Medicaid card and benefits.
     
Building Plans - architect drawings that depict the specifications for a building or home.
     
C - D
     
C.A.P. - Client Assistance Program provides advocacy to individuals seeking services under the Federal Rehabilitation Act, such as the Division of Rehabilitation Services and Centers for Independent Living.
     
Civil Engineer - professional engineers that deal with the planning and building of highways, bridges, harbors and other public entities.
     
Collection Agencies - If you have a bill you haven't paid for some time, the person who you owe the money to can turn you in to a collection agency who takes on the responsibility of obtaining payment for this bill.
     
CFR - Code of Federal Regulations produced by the Department of Justice to prevent discrimination on the basis of disability by public accommodations and in commercial facilities.
     
CIL - Centers for Independent Living are consumer directed organizations that provide services and resources for persons with disabilities assisting them to gain the services and supports needed to live and participate in the community. Primary Core services include individual and systems advocacy, independent living skills training, peer support and information and referral.
     
Closing date - day when the seller receives the check and the buyer receives the deed to the property.
     
Community Reinvestment Act - A 1977 law that requires regulating agencies to examine banks and savings and loans to ensure that they take affirmative steps to help meet the credit needs of the communities they are chartered to serve, especially low- and moderate-income communities. 1995 CRA Reform further strengthened the lending requirements of the Act.
     
Conservator - Person appointed by the court who is responsible for managing the financial affairs of a protected person. May establish a budget, pay bills, manage property, invest, etc.
     
Construction Allowances - the amount of money budgeted for construction.
     
Construction Worker - Person who works for another and assists in building, remodeling or demolishing a building.
     
Contingencies - events that must happen before you or the seller can complete the purchase.
     
Debt - the amount of money you owe on loans, credit cards or to utility companies for past bills.
     
Deed - the document that transfers ownership of a property.
     
Default - failure to make mortgage payments on a timely basis or to comply with other requirements of a mortgage.
     
Disability - Federal definition: Any person who (1) has a physical or mental impairment that substantially limits one or more of the major life activities; (examples may include housing, personal care or employment) (2) has a record of such an impairment, or (3) is regarded as having such an impairment.
     
Down Payment - Money that a loan requires the buyer to put down on the home. This amount will vary according to the loan used.
     
DOJ - U.S. Department of Justice, whose mission is to enforce the law and defend the interests of the US according to the law; to ensure public safety against threats, to provide federal leadership in preventing and controlling crime; and to ensure fair and impartial administration of justice for all Americans.
     
DOT - U.S. Department of Transportation is the federal agency that is charged with the responsibility of ensuring that our transportation systems are safe, secure and efficient and support economic development.
     
DRACH - Disability Rights Action Coalition for Housing is a national grassroots network of individuals with disabilities, advocates and organizations and customers of federal programs who have extensive experience in the housing arena, working to ensure that individual's civil and human rights are recognized and fully honored.
     
E - G
     
EEOC - The Federal agency that is responsible to deal with discrimination as it relates to employment practices.
     
Effective Communication - People with disabilities are provided with auxiliary aids and services that enable them to fully benefit from facilities, services, goods and programs. Examples include; large print, TTY, sign language interpreter, Spanish interpreter, etc.
     
Equity - Value that you build up over the original cost of your home.
     
Eviction - Renting term - to be removed from a property.
     
Fair Housing Act - Federal Law that prohibits discrimination in housing because of race, color, national origin, religion, sex, familial status or disability.
     
Fannie Mae - Organization that provides financial products and services that make it possible for low, moderate income families to buy a home of their own.
     
Foreclosure - A legal procedure by which borrowers who cannot pay her/his mortgage loses their home.
     
Glazing - Windows
     
Grievance - A complaint
     
Guardian - Person appointed by the court who is responsible for the personal affairs of a protected person. May decide where a person lives, how meals and care are provided, transportation used, etc.
     
H - L
     
HUD - US Department of Housing and Urban Development whose mission is to increase home ownership and increase access to affordable housing free of discrimination.
     
Human Rights Commission - Group responsible for receiving, investigating and resolving complaints alleging discrimination based on race, religion, color, national origin, ancestry, sex, familial status, blindness or disability.
     
ICF/MR - Licensed intermediate care facility that is a group home for individuals with intellectual disabilities who are Medicaid eligible.
     
I/DD Waiver - a federal and state funded program designed to deliver services to individuals with intellectual or related developmental disabilities in their homes and communities.
     
Insurance - Contract between two parties. The insurer agrees to reimburse the insured (person who buys the contract) on the occurrence of a specified event. Examples may be fire or flood insurance.
     
Interest - The fee charged by a lender to a borrower for the use of borrowed money, usually expressed as an annual percentage of the principal; the rate is dependent upon the time value of money, the credit risk of the borrower, and the inflation rate. Here, interest per year divided by principal amount, expressed as a percentage also known as interest rate.
     
Judgment - The decision made by a court of law that says you owe another person or creditor money.
     
Landlord - Person responsible for the property, maybe an owner or rental agency.
     
Lease - Contract between landlord and tenant. Oral or written.
     
Lessee - Person who signs the lease in order to rent the property from the landlord.
     
Lender - Person or organization who gives loans. A bank may be a lender.
     
Licensed Contractor - A person who is not an employee of another and for money will build, alter, repair or wreck any building. A licensed contractor will have a number assigned to them from West Virginia.
     
Lien - Legal claim against a property that must be paid off when the property is sold.
     
Liquid Reserves - Money left over after your home is purchased or refinanced.
     
Loan - An arrangement in which a lender gives money or property to a borrower and the borrower agrees to return the property or repay the money, usually along with interest, at some future point(s) in time.
     
Loan to Value Ratio - The ratio of the fair market value of an asset to the value of the loan that will finance the purchase. Loan-to-value tells the lender if potential losses due to nonpayment may be recouped by selling the asset.
     
M - Q
     
Mortgage - A loan to finance the purchase of real estate, usually with specified payment periods and interest rates. The borrower (mortgager) gives the lender (mortgagee) a lien of the property as collateral for the loan.
     
Offer - a legal document prepared by you, your attorney or your realtor about the amount of money you are willing to pay to buy a home.
     
PADD - Protection and Advocacy for persons with Developmental Disabilities was created in 1975 to pursue legal, administrative and other remedies on behalf of persons with developmental disabilities.
     
PAIMI - Protection and Advocacy of Individuals with Mental Illness which provides advocacy services and conducts investigations on abuse and neglect on behalf of people with developmental disabilities who live in or have recently left institutions.
     
PAIR - Protection and Advocacy of Individual Rights provide advocacy services to individuals with disabilities who do not qualify for services under other programs and focuses on enforcement of federal and state laws requiring access to public accommodations.
     
Payee - person money is paid to. An example would be that Supplemental Social Security may require checks be paid to a payee.
     
Personal Care/Attendant - an employee who provides personal care and other approved support services for individuals with physical disabilities who need assistance to enable them to live in their own home and community, and to carry out functions of daily living, self-care and mobility.
     
Points - Finance charges paid by the borrower at the beginning of a loan. One point is 1 percent of the loan amount.
     
Prequalify - determining the amount of money the lender will be willing to loan you to buy a home.
     
Principal - The amount borrowed, or the part of the amount borrowed which remains unpaid (excluding interest) also can be known as principal amount.
     
Public Housing Authority - A variety of federal housing programs designed to create safe, sanitary and affordable housing to lower income Americans. Public housing is often referred to as subsidized or low-income housing.
     
R - S
     
Reasonable Accommodation - A change in rules, policies, practices or services so that a person with a disability will have an equal opportunity to use and enjoy a dwelling unit or common space.
     
Reasonable Modification - a structural modification that is made to allow persons with disabilities the full enjoyment of the housing and related features.
     
Section 8 - Section 8 provides rental assistance nationwide to low income families, elderly, and people with disabilities. This program provides financial assistance to eligible families whose annual gross income does not exceed 50 percent of HUD's median income guidelines.
     
Section 202 - The Section 202 program helps expand the supply of affordable housing with supportive services for the elderly. It provides very low-income elderly with options that allow them to live independently but in an environment that provides support activities such as cleaning, cooking, transportation, etc.
     
Section 502 - The Section 502 program provides home ownership opportunities to rural families with very low incomes. The loans may be used to buy, build, improve or repair rural homes.
     
Section 504 - A low-income housing repair program that provides loans and grants to very low-income homeowners to repair, improve or modernize their dwellings or to remove health and safety hazards.
     
Section 811 - The Section 811 program allows persons with disabilities to live as independently as possible in the community by increasing the supply of rental housing with the availability of supportive services.
     
Security Deposit - Money paid in advance of a transaction to protect a seller or renter against damage or non-payment.
     
Self Determination - People with disabilities will be in charge of their own services and in control of money to make their desires and dreams real. Self-determination involves people with disabilities claiming their basic civil rights including all of the freedoms guaranteed by our Constitution and Bill of Rights. Self-determination is the freedom to make individual choices about one's own life and the opportunity to fail, just like any other person.
     
Service Animal - Any guide dog, signal dog or other animal individually trained to provide assistance to an individual with a disability.
     
SSI - Supplemental Security Income designed to assist older adults and people with disabilities who have little or no income and provides cash to meet basic needs for food, clothing and shelter.
     
SSDI - Social Security Disability Income pays benefits to eligible persons with disabilities who have worked long enough and paid social security taxes in the past but are not able to work now. Persons must meet the Social Security definition of disability.
     
Support Animal - An animal that is used to provide emotional support to individuals with disabilities.
     
Supportive Housing - A proven, effective means of re-integrating families and individuals with intellectual disabilities, chemical dependency or chronic health challenges into the community by addressing their basic needs for housing and on-going support.
     
T - Z
     
TRW/Equifax/Experian - These are the main credit checking companies that are the most frequently used when doing a credit check.
     
TTY/TDD - a telecommunication device for individuals who are deaf or who can not speak which works with a household phone that enables the user to type in messages to communicate by phone.
     
Universal Design - The design of products and environments to be usable by all people, to the greatest extent possible without the need for adaptation or specialized design.
     
USDA Rural Housing Services - USDA is composed of programs that initiate self-sustaining, long-term economic and community development in rural areas through innovation.
     
Utilities - A basic service such as electricity, gas, water or trash for which either the tenant or the landlord is responsible.
     
Visitability - Housing designed in a way that allows a person with mobility impairments to live or visit a home. The basic requirements are a zero-step entrance, 32" clear passage doorways and a bathroom on entry level.
     
WV Advocates - A state agency that protects and advocates for the human and legal rights of persons with disabilities.