Community Living Handbook
Introduction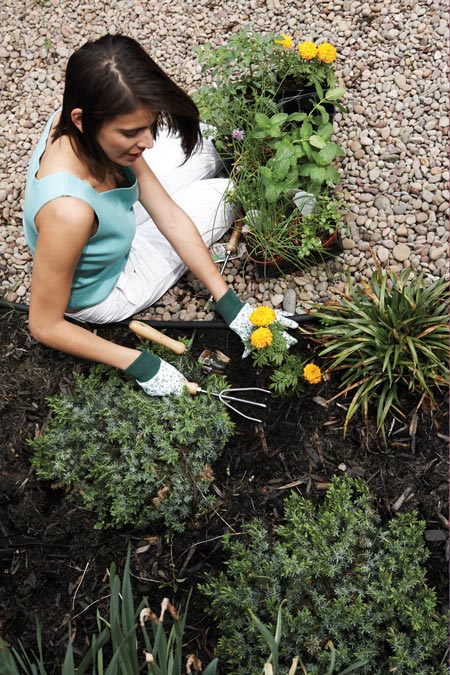 Living where you want is an important part of life. Knowing what a community offers can help you decide if it's the right place for you. There are many things you need to know and things you may need to do before you can choose a community where you can live independently.
Where you choose to live may affect:
Where you work
What transportation is available
What services you can access
What things you can do for fun
Many aspects of community living are linked together. For instance, advocacy can change what resources are available. What transportation is offered may affect where you can go to church. It is important to know all of your resources and needs, as well as your rights and responsibilities, so you can make the best decision for you.
We hope this guide will help by giving you some of the tools and information you may need. Included are laws and definitions, guidelines from organizations, as well as suggestions to help you become a fully inclusive member of your community.
Self-determination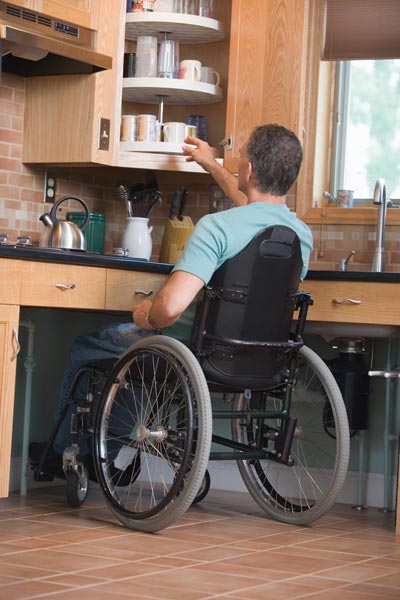 Self-determination is an idea that puts a person in charge of his or her own life. It helps people find options, set goals and make decisions. It gives people the freedom to make their own choices about their life. By following the guidelines of self-determination, YOU are in charge of YOU!
Self-determination urges people to become advocates for themselves and learn more about their rights and responsibilities. It can motivate people to claim their basic civil rights including all of the freedoms promised by our Constitution and Bill of Rights.
Ideas linked to self-determination include:
Knowing what you like and don't like
Knowing what you're good at and where you may need assistance
Knowing the difference between "wants" and "needs"
Setting and working toward goals
Developing the skills to solve problems
Understanding that actions and decisions have consequences
Taking responsibility for what you do
Community Inclusion
Community inclusion is about accepting and welcoming all people. The idea is that people with disabilities should have the same choices as everyone else in a community.
Change and advocacy may be necessary to support community inclusion. People with disabilities have a duty to help tear down or overcome visible and invisible barriers in society. Some of these barriers may be:
Policies and regulations
Inaccessible buildings
Lack of information or support services
Prejudice or discrimination
Disability myths
Resources
WV State Independent Living Council
http://www.wvsilc.org
Advocacy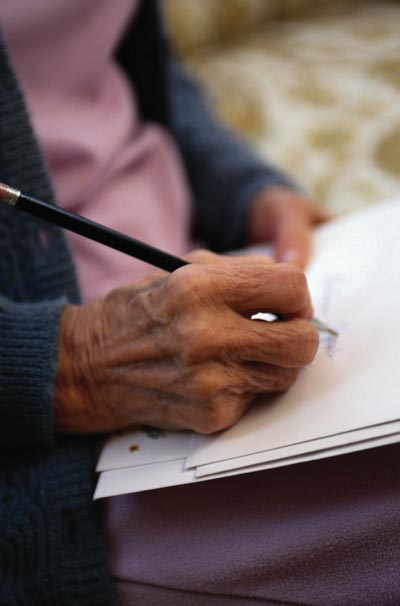 Advocacy is when you take action or a series of actions to encourage change. This can be a change in ideas, services, policies and other things. Self-advocacy is when you fight for your personal rights. But there is often a need for people to fight for the rights of others, as well as themselves.
Your Rights
It is important to know what your rights are so you can stand up for them and demand that they be upheld. Being aware of what's going on in your community and in our country will help you advocate for change. Learning, awareness and communication are all important parts of advocacy but they may not be effective if they are not put into action.
Your Responsibility
There are several things you need to do to be a good advocate:
Learn about your rights by studying civil rights laws such as:

Fair Housing Act
Rehabilitation Act
Americans with Disabilities Act (ADA)
WorkForce Investment Act (WIA)
Individuals with Disabilities Education Act (IDEA)

Participate in community meetings and ask questions
Communicate your questions and concerns by writing letters, sending emails, making telephone calls and/or meeting with people who can make decisions about the changes you want to see
To be a good self-advocate, make a list of your needs including what you need for work, school or living in the community. Keep a file of information including:
IEP records
Academic records
Medical records
Work records
Responsibility is a key part of advocacy. Civil disobedience can sometimes be common in advocacy activities but should be used only as a last resort. If used, we need to remember during civil actions to respect the rights of others and to conduct activities in a way that is safe for participants and observers.
Resources
West Virginia Advocates (WVA) protects and advocates for the human and legal rights of persons with disabilities. The program offers free and confidential services, as well as information and referral. WVA specializes in abuse and discrimination cases, IEP disagreements and violations of disability rights. For more information on West Virginia Advocates, call 800-950-5250 or visit www.wvadvocates.org.
ADAPT WV is a group of people with disabilities, fighting for the rights of all West Virginians with disabilities. It is affiliated with ADAPT, a national organization, founded in 1977, working for the civil rights of persons with disabilities. For more information on ADAPT WV, contact adaptwv1@hotmail.com or visit http://adaptwv.com.
Access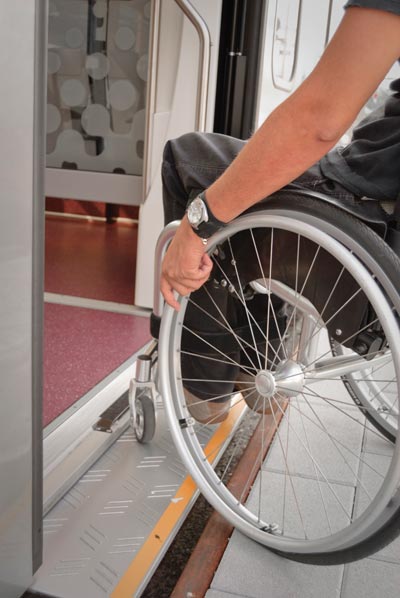 There are several laws that allow people with disabilities to have access to programs, services and buildings in our country. Among these are the Architectural Barriers Act, Civil Rights Laws, the Rehabilitation Act and others. But when most people think about "access," they think about the Americans with Disabilities Act, or the ADA.
In later chapters, you will learn more about access to employment, transportation and other services. In this chapter, we will focus on the two titles of the ADA that most impact community living - Title II and Title III.
Your Rights
The ADA is a law that gives civil rights protections to individuals with disabilities similar to those provided to individuals on the basis of race, color, sex, national origin, familial status, age, and religion. It guarantees equal opportunity for individuals with disabilities in public accommodations, employment, transportation, state and local government services, and telecommunications.
Title II of the ADA prohibits discrimination against people with disabilities in all programs, activities, and services of public entities. This includes all state and local governments, departments and agencies. These programs, activities and services must be readily accessible to and usable by individuals with disabilities.
A state or local government must:
Eliminate any eligibility criteria for participation in programs, activities, and services that screen out or tend to screen out persons with disabilities.
Reasonably modify its policies, practices, or procedures to avoid discrimination.
Ensure that individuals with disabilities are not excluded from services, programs, and activities because existing buildings are inaccessible.
Title III covers public accommodations. Places of public accommodation include a wide range of entities, such as restaurants, hotels, theaters, doctors' offices, pharmacies, retail stores, museums, libraries, parks, private schools, and day care centers. Private clubs and religious organizations are exempt from the ADA's Title III requirements for public accommodations.
Under Title III, a public accommodation must:
Provide auxiliary aids and services including services and devices such as qualified interpreters, assistive listening devices, notetakers, and written materials for individuals with hearing impairments; and qualified readers, taped texts, and brailled or large print materials for individuals with vision impairments.
Meet requirements related to architectural standards for new and altered buildings.
Make reasonable modifications to policies and procedures.
Remove barriers in buildings.
Ensure that courses and exams related to professional, educational, or trade-related applications, licensing, certifications, or credentialing be accessible.
Your Responsibility
Three components may play an important role in selfadvocacy for access:
Learning
Planning
Advocating
For example, learning which programs are accessible or not will help you make decisions about your participation. Planning to use alternative services requires that you know your needs and your options. Advocating for accessibility is an important step for promoting not only your rights, but educating the general population about the need for universal design so that no individual may be left behind.
Resources
The WV ADA Coalition is a statewide, grassroots group of individuals committed to helping communities achieve equal access for all West Virginians. ADA Coalition membership is free and open to any interested individual or organization. For more information, contact the WV ADA Coalition at 800- 946-9471 or wvadacoalition@msn.com.
The West Virginia Assistive Technology System (WVATS) is a federally funded program, designed to increase access to and acquisition of assistive technology for individuals with disabilities. Among the services offered by WVATS is assistance to individuals with disabilities and businesses on their rights and responsibilities under the Americans with Disabilities Act (ADA) and other civil rights acts. For more information, contact WVATS at 800-841-8436 or at wvats@hsc.wvu.edu.
Housing
Housing is a fundamental need for everyone. But deciding what housing is appropriate for you and then finding the right housing can be a complicated process that could create a barrier to community living.
People with disabilities have many responsibilities and choices in terms of their housing. You need to consider whether you are interested in buying or renting a place to live. Also it is important to decide the type of community or environment where you would like to make a home.
To decide whether to buy, rent, or build in a certain area, ask yourself a couple of questions:
Is the neighborhood safe?
What is the condition of the other houses nearby?
Are you close to a good school?
How far is the house from your job?
Is public transportation available?
Are there things to do close by for fun?
Are there places for you to shop nearby?
Is it close to your church or other community interests?
Is it near your family and friends?
When deciding on where to live, a person may consider attending open houses, searching through newspapers and websites, and asking friends or family about neighborhoods in their area. It may be beneficial for a person to keep a log of the homes he or she looks at, listing advantages and disadvantages with each, the address, prices, and contact information for those interested in the home.
Your Rights
You have certain rights in relation to housing, if you or someone associated with you:
Has a physical or mental disability
Has a record of a disability or
Is regarded as having such a disability
Fair Housing Act
The Fair Housing Act prohibits discrimination in housing because of race, color, national origin, religion, sex, familial status, and disability. This includes discrimination in the sale, rental or financing of housing.
The Fair Housing Act covers most privately owned housing, as well as Federally-assisted housing. In some circumstances, the Act exempts owner-occupied buildings with less than four units, single-family housing sold or rented without the use of a broker, and housing operated by organizations and private clubs that limit occupancy to members.
The Fair Housing Act also establishes seven design and construction requirements to make multi-family housing built after March 13,1991 accessible. These requirements include accessible entrances, doors, routes of travel and common use areas, as well as, useable kitchens and bathrooms. For persons with disabilities, under the Fair Housing Act, your landlord may not:
Refuse to let you make reasonable modifications in buildings built before 1991 to your dwelling or common use areas at your expense modifications must be necessary for the person with a disability to use the housing. This is for buildings built before 1991.
Refuse to make reasonable accommodations to rules, policies, practices or services if necessary for the person with a disability to use the housing.
Section 504
Section 504 is part of the Rehabilitation Act of 1973. It protects people with disabilities from discrimination in programs and activities that receive Federal financial assistance.
If you are a person with a disability and are otherwise qualified to participate in a program receiving HUD's assistance, such as public housing and some privatelyowned housing, the agencies responsible for these programs must make a reasonable accommodation so that you are able to enjoy the full benefits and privileges of the program.
Some HUD Programs covered by Section 504 include:
Low-income housing (Section 8)
Section 202 or Section 811 Housing
Community development program
Programs for the homeless
Section 8
The Section 8 Housing Choice Voucher Program is the Federal Government's major program to help people afford decent, safe and sanitary housing in the private market. It targets at:
Low-income families
Elderly
Individuals with disabilities
Housing assistance is provided but the individual or family must find their own housing, including single family homes, townhouses and apartments. Eligibility is determined by the local Public Housing Authority (PHA) based on:
Total yearly income
Family size
U.S. citizenship
If you are found eligible, your name will be put on a waiting list if you cannot be helped immediately. When your name tops the waiting list, you will be given a Section 8 voucher.
Federal law prohibits housing discrimination. If you have been trying to rent or buy a home or apartment and you believe your rights have been violated, you can file a Fair Housing complaint. You can:
Complete an online complaint form at www.hud.gov/complaints
Call HUD toll free at 800-669-9777 or 888-799-2085
Call the West Virginia Human Rights Commission (WVHRC) at 888-676-5546
Complaints made to HUD must be made within 180 days of the violation. Complaints made to the WVHRC must be made within 365 days of the violation.
If you believe your rights as a tenant have been violated, you should consult a lawyer for help in enforcing your rights. If you cannot afford a lawyer, you may seek representation from Legal Aid of West Virginia, which serves low income persons in all counties. You may call Legal Aid at 800-642-8279.
Your Responsibility
Upon making a housing choice, a person has responsibilities as a tenant or homebuyer as well as for locating housing assistance programs if needed.
As a tenant of a housing unit
As a tenant, an individual may be responsible for finding an apartment, setting up an appointment to view the apartment, and contacting the landlord to meet and sign the lease and put down a deposit on the unit. Upon moving in, a tenant may be responsible for the following:
Paying the rent on time
Basic housekeeping
Avoid harming the unit
Complying with the rental agreement
Paying utilities if not included within the rent
As a new homebuyer
As a first-time homebuyer, an individual may be responsible for figuring out the amount of money the individual has within his or her budget for a home. Also, a homebuyer may be responsible for making sure the seller gets an offer prepared by you, an attorney or realtor. The offer, a legal document, may include the following:
Price of the house
Amount of earnest money
Legal names of buyer and seller
Legal address/description of house
Items included in the sale, such as appliances
An explanation of how you will pay for the house
Contingencies
Time limit to accept the offer
Closing date
After purchasing a home, a homebuyer will be responsible for the mortgage (a long-term loan for a house) and making payments.
Housing Assistance Programs
People with disabilities may be responsible for locating housing assistance programs for themselves. There are many housing assistance programs available to people with disabilities through HUD, USDA and other sources.
Resources
The West Virginia Housing Development Fund program helps low-income families that are renters, sharing housing units with other family members, or owners of a home. The HOME program helps families move into housing units that comply with property codes. The program also works to provide affordable financing for home repair, home purchases, and rental development. For more information, visit http://www.wvhdf.com/homebuyers/or call 304-345-6475.
The U.S. Department of Agriculture (USDA) offers housing programs as well. These programs assist low to moderate income families in rural areas. The USDA has programs that help people with the construction, rehabilitation, or relocation of a dwelling and related facilities. These programs include the following:
Home Ownership Direct Loans
Home Improvement and Repair Loans and Grants
Housing Subsidies
For more information, visit www.rurdev.usda.gov/rhs/ or call 800-670-6553.
Recreation
Everyone wants to have fun on occasion, including individuals with disabilities. Recreation can provide communication, socialization, employment and health benefits.
Your Rights
People with disabilities have the right, without prejudice, to an equal opportunity to recreation provided by governmental and non-governmental organizations, as everyone else in society. This includes the right to access recreation through the elimination of discriminatory restrictions and rules, elimination of architectural and attitudinal barriers, and the adaptation of play and recreation activities, equipment and materials.
Recreation can also be many things from reading and doing jigsaw puzzles to hunting and skydiving. How you have fun is up to you!
The ADA accessibility guidelines seek to eliminate unfair treatment of people with disabilities. This protection covers private and public recreation programs and environments. For example, Title III of the ADA covers the following:
Movie theaters
Bowling allies
Amusement rides
Recreational boating
Exercise machines and equipment
Fishing piers and platforms
Golf facilities
Miniature golf facilities
Play areas
Swimming pools, wading pools, and spas
Shooting facilities with firing positions
Title II of the ADA requires that state and local governments give people with disabilities an equal opportunity to benefit from all of their programs, services, and activities including information on and access to recreation.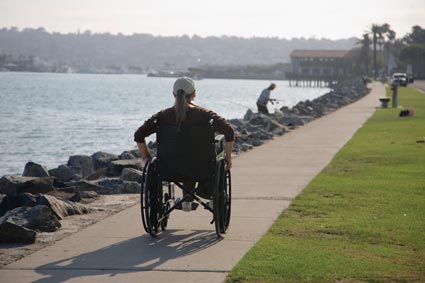 Your Responsibility
Check with your healthcare provider (what type of physical exercise can you do, what do you want to do!)
Advocate for play and recreation opportunities for yourself and for other people with disabilities.
Resources
For more information, please call the ADA Information Hotline at 800-514-0301.
Employment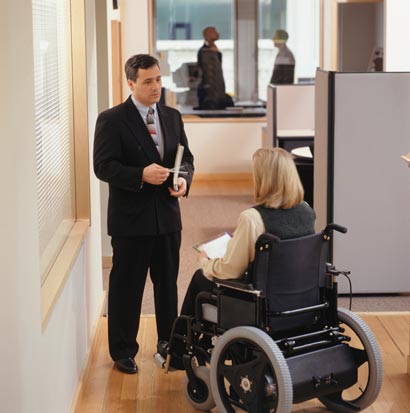 Your Rights
U.S citizens are protected by the Americans with Disabilities Act (ADA), which outlaws discrimination in the workplace against qualified persons with disabilities.
Important details of the Act:
Employers covered by the ADA include those with 15 or more employees in the private sector, state and local governments, employment agencies and labor unions.
The law covers all aspects of the employment process including recruitment procedures, hiring, training, promotion, compensation and termination.
To be covered by the ADA, you must be considered "qualified" for the job. "Qualified" applicants/employees are able to perform tasks essential to the job either with or without accommodations.
Employers are required to make reasonable accommodations for your disability as long as the accommodations do not impose "undue hardships" (such as an unaffordable cost) on your employer.
To receive job accommodations or take legal action under the ADA, you must first disclose your disability to your employer and provide official documentation of your disability.
Job accommodations include:
Making facilities accessible to and usable by people with disabilities
Job restructuring
Part-time or modified work schedules
Acquiring or modifying equipment or devices
Appropriately adjusting or modifying tests
Providing readers and interpreters
For more information, visit www.gsa.gov or call 800-333-4636.
If you are being discriminated against:
Generally, the U.S. Equal Employment Opportunity Commission (EEOC) must be contacted within 180 days from when the alleged discrimination takes place. However, some states allow up to 300 days to file a complaint. To file a complaint, call the nearest EEOC office. To find an office, visit www.eeoc.gov/offices.
Section 504 of the Rehabilitation Act states that "no qualified individual with a disability in the United States shall be excluded from, denied the benefits of, or be subjected to discrimination under" any program or activity that gets federal financial assistance. Each federal agency has its own section 504 regulations that apply to its programs. Common requirements include the following:
Reasonable accommodation for employees with disabilities
Program accessibility
Effective communication with people who have hearing or vision disabilities
Accessible new construction and alterations
For information on how to file 504 complaints with the appropriate agency, contact: www.ada.gov/cguide.htm.
Your Responsibility
There are many ways to take responsibility in employment- what kind of work do you want to do, training, and transportation. Strategies for helping people find jobs that match their interests and needs, include the following:
Learn about yourself:
What things do I know how to do?
What things do I like to do?
Where would I like to work?
Learn new skills:
Take an adult education class-- in computers, business, or writing
Enroll at your community college
Take a vocational/technical course
Set up an internship
Job shadow
Volunteer
Write a personal vision statement. This will help you determine what type of job you want, your goals, and the steps you need to take to get your dream job. Answer the following questions:
What are my interests?
What are my strengths?
What skills would I like to use at my job?
Where would I like to be working in one year?
What do I dream of being in the future?
What type of office would I like to work in? (e.g., fast/ slow paced, large/small)
What other things about a job do I need to make me happy? (e.g., opportunity for advancement, medical benefits, access to public transportation)
Resources
One resource that can help you find a job that is right for you is the Work Incentive Planning and Assistance (WIPA) program at the Center for Excellence in Disabilities (CED). For more information, visit http://wipa.cedwvu.org or call 304-293-4692.
Services
Establishing independence within the community takes more than understanding rights to accessible programs and environments. In order to establish yourself in the community, it is important to find out what services are available and where you need to go to begin living independently in the community.
West Virginia Centers for Independent Living (CIL) have grants from the Department of Education/ Rehabilitation Services Administration to provide services at no cost to people of all ages who have physical, mental or sensory disabilities. The goal of this program is to support people with disabilities in becoming independent in their homes and other non-work settings.
Services, depending on the regional district and office, may include:
Advocacy and leadership training
Independent living skills development
Peer counseling and mentorship
Housing referral and training
Transportation
Personal assistance and management
Supported employment
ADA consultation and surveys
Family supports
To find the CIL near you, call 855-855-9743 or visit the website at www.wvsilc.org.
West Virginia Olmstead Office
In 1999, the Supreme Court passed what is known as the Olmstead Decision. It states that "unjustified isolation and institutionalization" is considered a form of discrimination forbidden by the Americans with Disabilities Act (ADA).
Olmstead currently sets requirements for the state's programs and services to support the rights of individuals with disabilities to integrate and live within their community of choice.
The main components of West Virginia's Olmstead plan include the following:
Informed choice
Identification
Transition
Diversion
Reasonable pace
Eliminating institutional bias
Self-direction
Protection of rights
Quality assurance and improvement
Community-based supports
For a comprehensive description of each component, visit www.wvdhhr.org
"Money Follows the Person" (MFP)
"Money Follows the Person" (MFP) is a funding strategy for long-term care services and allows money to move with a person. The Money Follows the Person Rebalancing Act was passed in Congress in early February 2006.
The funding assists persons in moving to communities of their choice from nursing homes and other institutions. It also supports people in their own homes and communities. Go to www.aapd.com or call 800-840-8844 for more information.
Community Choice Act (CCA)
The Community Choice Act (CCA) is a proposed amendment to the Social Security Act. If passed, the CCA will further provide individuals with disabilities and older people with equal access to community-based attendant services and support. It will also increase federal financial assistance for certain state activities related to services and supports. The CCA will also award grants to states who establish a task force and establish initiatives as well as conduct projects for evaluating services and approaches to community-based services.
Transportation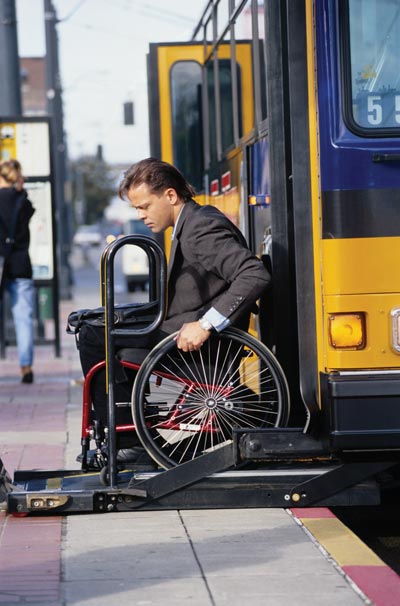 Transportation gives people with disabilities the freedom of movement and travel. Transportation may also enable individuals to have access to a job, health care services, recreation and other aspects of community living. Accessible transportation is available for people with disabilities whether the travel is by air, train, bus, car or trail.
Some people with disabilities drive themselves or have a family member or friend provide transportation. But often, public transit systems can help people with disabilities establish their independence within and sometimes between communities.
Your Rights
The ADA gives you the right to:
Use any public bus or rail system
Receive transportation route and service information in an accessible and useable format
Use a common wheelchair or other mobility device to board a bus or train
Find all lifts and securement devices in good working order
Ride the bus or train seated in your wheelchair or mobility device
Have stops, major streets, and intersections announced along the route
Travel with a personal care attendant if needed
Travel with a service animal
Travel with any necessary equipment and devices
Receive courteous, respectful service and ample time to get on and off the vehicle
File a complaint with the transportation provider if necessary.
Your Responsibility
A person with a disability has several responsibilities when riding any form of public transportation. The ADA expects you to:
Use fixed-route transportation, when possible
Know whether or not your mobility aid is within ADA requirements. Wheelchairs may be three or fourwheeled, 30" in width, 48" in length, with the total weight of the passenger and wheelchair no more than 600 lbs.
Know how to contact the transportation provider and receive route schedules and information
Arrive at the bus, train, or paratransit stop at the correct time
Pay the proper fare
Keep service animals under control
Comply with the transit provider's policies on securing wheelchairs and mobility devices
Request lap/shoulder belts and securement for your wheelchair if desired
Signal or ask the driver to stop the bus at the desired designated stop before you get there
Treat the driver and other passengers with courtesy and respect
Resources
A list of transportation providers in West Virginia can be found on the CED website: www.cedwvu.org
To lear more about making transportation accessible in your community, contact Easter Seals Project ACTION.
Easter Seals Project ACTION
1425 K Street, NW, Suite 200
Washington, DC 20005
800-659-6428 or 202-347-3066
202-347-7385 (TTY)
projectaction@easterseals.com
http://projectaction.easterseals.com/
References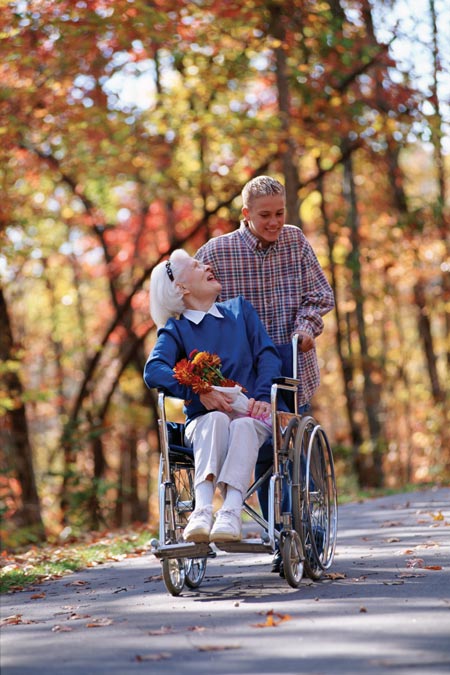 Appendix A: Sources
Chapter 1: Concepts for Independent Living
Chapter 2: Advocacy
Chapter 3: Access
Information obtained from: Americans with Disabilities Act Questions and Answers. Retrieved from www.ada.gov/q%26aeng02.htm.
Chapter 4: Housing
Laws That Protect You: Fair Housing Act, Section 504,
Section 8 and HUD Complaints
Center for Excellence in Disabilities
Homes & Communities: Section 504 Frequently Asked Questions
Housing Choice Vouchers Fact Sheet (Section 8)
HUD Complaints
United States Department of Housing and Urban Development
www.hud.gov/complaints
Homebuyer Programs & Services
West Virginia Housing Development Fund
www.wvhdf.com/homebuyers
Individual and Family Opportunities: Single Family Housing Loans and Grants
United States Department of Agriculture: Rural Development
www.rurdev.usda.gov/HSF_SFH.html
A Guide to Housing in West Virginia
NWVCIL, CED, and Community Living Initiatives Corporation
December 2004
Chapter 5: Recreation
Chapter 6: Employment
Chapter 7: Services
U.S. Department of Justice: Civil Rights Division
A Guide to Disability Rights Laws
www.ada.gov/cguide.htm
Transition Through School and Into Life: A Handbook for Students and Parents
Center for Excellence in Disabilities
June 2009
Money Follows the Person Federal Bill Passed
What is "Money Follows the Person"? By Ken Ervin
WVATS quarterly Newsletter Spring 2006
www.cedwvu.org
H.R. 1670: Community Choice Act of 2009
Govtrack.us: A Civil Project to Track Congress
www.govtrack.us/congress/bill.xpd?bill=h111-1670&tab=summary
West Virginia Olmstead Plan: Building Inclusive Communities, Keeping the Promise Olmstead: Executive Summary
www.wvdhhr.org/oig/Olmstead
WVATS quarterly Newsletter Spring 2006
www.cedwvu.org
Chapter 8: Transportation