Accessible Gardening: Tools and Resources for Green Thumbs
Download a PDF of this Document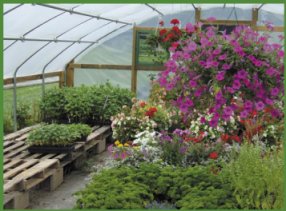 Time in a garden can be a critical part of an active lifestyle, and can also help ease some of the chronic aches and pains many of us experience as we grow older.
With the right tools, some simple adaptations and a little ingenuity, one's time in the garden can provide fresh air, exercise, peace of mind and many other benefits.
Finding the right tools includes careful selection of the right tool for each individual. Using a tool that does not fit the hand or for a purpose that it was not intended can lead to injuries like carpal tunnel syndrome or tendonitis, as well as muscle strains and aggravation of existing conditions like arthritis.
Many ergonomic and assistive devices are available from West Virginia AgrAbility for loan through the WVATS Loan Library
For more detailed information on tools, tips and modifications available for gardening with a disability, as well as resources on wheelchair accessible gardening, call West Virginia AgrAbility at 800-841-8436 or e-mail agrability@hsc.wvu.edu
An Overview of Accessible Gardening
Tools and Tips
* (NOTE: Refer to the numbered list of vendors)
Bringing the garden to you
Garden in raised beds, trellises or containers that minimize bending and stooping. Raised beds can be built from scratch or with  raised bed kits.  * 1, 4, 7
Use plant supports to help keep otherwise ground-sprawling plants more upright and easier to reach.  * 1, 4, 6
Use a seat on wheels (commercially available as Tractor Scoot ® to move around beds without standing and crouching repeatedly.  * 1, 4, 5
Use a stool, foam pad, or kneeling pad with handrails while working near the ground.   * 1, 2, 3, 4, 5