Assistive Technology and Physical Activity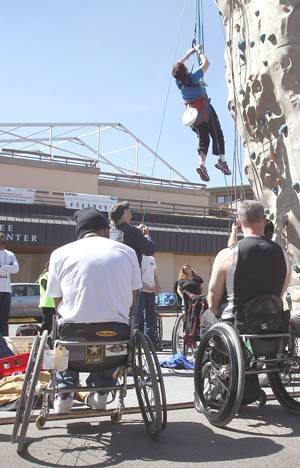 PDF Version
There are many reasons why physical activity is a good idea for everyone. This is especially true for people with disabilities.
For Health:
Obesity rates for adults with disabilities are 57 percent higher than for adults without disabilities. For children with disabilities, the rates are 38 percent higher than for children without disabilities. Being overweight and obesity are considered public health issues by the Centers for Disease Control and Prevention (CDC).They can also be risk factors for other health conditions. West Virginia has the highest rate of obesity in the country.
For Quality of Life:
Studies show physical activity can help you feel happier and more relaxed. It may make you more confident, help you sleep better, and reduce stress, depression and anxiety. It can even make you feel better about the way you look.
For Fun:
Physical activity is a great way for everyone to enjoy time with friends and family.
You can enjoy the outdoors, go to a gym or just do something you enjoy at home. So try hiking, bowling, dancing, or visit a community recreation center or park to see what activities are available and accessible.
The West Virginia Assistive Technology System (WVATS) Virtual Loan Library has a selection of items for the beginner as well as the committed athlete. All items are available for loan at no cost to West Virginia residents. Just find something that sounds like fun and try it! This fact sheet gives a sampling of what is available for loan from WVATS and its participating partners. For a complete list of all recreation items, visit the loan library at vll.cedwvu.org or call 800-841-8436 for assistance.
TENNIS: Tennis Racquet and Tennis Net
GOLF: Golf Club Set, Back Tee and Putting Cups
BOWLING: Polyvinyl Bowling Ball, Bowling Mat and Weighted Bowling Pins
BASEBALL: Grip-Rite Mitt, Easy-to-Swing Blooper Bat, Fun Gripper Ball and Bat Set and Batting Tee
SOCCER: Mini Pop-Up Goal and Rubber Soccer Ball
BALLS: Foam Beeper Ball, Sports Teach Football, OBall and All Weather Blitz Football
WEIGHTLIFTING: Adapted Weight Bench
LET'S PLAY CATCH!: Catch Mitt Set, Catch Net Set and Beano
BIKES AND BEACH CHAIRS: Recumbent Bicycle and Beach Chair