Assistive Technology for Hunting
Finding AT that is right for you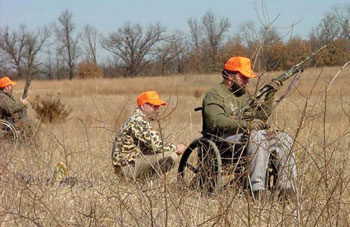 Assistive technology devices and services can help many individuals with disabilities take part in hunting activities. Regardless of sensory (vision, hearing), mobility or other needs, opportunities are available to enjoy the experience of hunting in West Virginia.
Hunting is more than a recreation activity in West Virginia; it is a major part of the culture. It is a way to bond with friends and family, and it can help support our state and local economies.
Assistive devices for hunting can be purchased from a variety of vendors but can also be custom designed to meet individual needs. These items can include trigger assists, wheelchair mounts, accessible tree stands, gun rests and even off road accessible wheelchairs.
There are several items you can try before buying by visiting the WVATS Virtual Loan Library (VLL). Items in the VLL can be borrowed, free of charge, by any West Virginia resident. To see available items, visit the VLL at vll.cedwvu.org and search Exercise Equipment and Recreation.
Licenses and Permits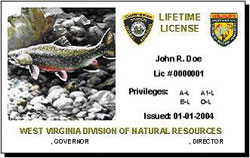 People with disabilities need a regular hunting license to hunt in West Virginia. However, in addition to a regular licence, they can also apply to get Class Q and Class Y permits.
The Class Q permit gives special hunting rights. These include hunting from a car and permission to drive in certain parts of Wildlife Management Areas owned and operated by the state.
The Class Y permit is for people with upper body strength limitations allowing for use of a crossbow during archery season.
For more information on the benefits of a Class Q or Class Y permit or to get a hunting license in West Virginia, contact the West Virginia Division of Natural Resources at 304-558-2754 or visit the website at www.wvdnr.gov.
Resources and Funding Sources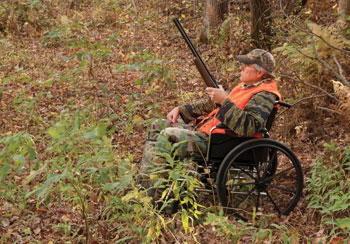 Several organizations in West Virginia can help new or experienced hunters or marksmen. These include the WV Challenged Athlete Program which offers special clinics, classes and hunting mentors.
Adaptive hunting equipment can also be expensive. If you need AT for hunting and are looking for some help with the cost, there are programs that may be able to help. These include TBI Funds for You, the Community Living Services Program and Family Support. There are also several national sources of funding assistance.
WVATS also has information on accessible hunting locations in the state. These can be found under the Activity Index in the Guide to Accessible Recreation in West Virginia, available on the WVATS website at http://wvats.cedwvu.org/recreation/index.php
For more information on accessible hunting in West Virginia, call WVATS at 800-841-8436 or email wvats@hsc.wvu.edu, or visit www.wvats.cedwvu.org/