Agritourism Liability
Download a PDF of this Document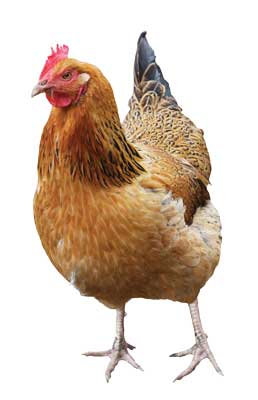 It seems every conference, newsletter, farming TV show or radio program is talking about agritourism. Agritourism includes many kinds of agribusinesses, including pumpkin patches, corn mazes, pick-your-own operations, living history farms, winery tours and tastings, garden tours and hay rides. This gives farmers an opportunity to make extra money, expand their operations and directly market their farm products. These benefits do not come without risks or potential liability. There are several important things you should know before planting the corn for the maze and bringing the sheep in for the petting zoo.
What is the liability of the owner/operator?
Premises liability is a landowner or landholder's tort liability (landowner's responsibility to pay money for damages to a person hurt while on his/her land) for harmful circumstances or activities taking place on his/her land. The amount of liability a landowner holds depends on if the injured person is a trespasser (a person on your land illegally), a licensee (a person on your land for their own benefit) or an invitee (a person on your land for your economic benefit).
What do I owe to a trespasser?

A trespasser is one who knowingly and without permission comes onto your land. If a person gets hurt while trespassing, a landowner is not liable; meaning he/she does not have to pay for damages. However, if you find a trespasser on your land, you cannot intentionally injure the person.

What do I owe a licensee?

A licensee is one who has permission to enter or use another's land. A licensee uses another person's land for their benefit; not for the landowner's benefit. The landowner does have to let the licensee know of any dangerous conditions on the property of which the landowner knows. Examples of licensees include social guests and those you allow to hunt on your land without charge.

A landowner may be held liable for a licensee being hurt if:

The landowner knows of a hazard on his/her land that other people might not notice and could cause harm AND...
The landowner does not try to get rid of the hazard; try to make the area safer; and does not tell the visitor of the hazard AND...
The visitor does not know and does not have any reason to know of the hazard.
However, a landowner does not have to check his/her land to find hazards.

What do I owe to an invitee?

An invitee is a person who the landowner directly invites onto their property. An example of an invitee is a customer at your fruit stand or feed store. In this case, the owner has the responsibility to check the area and tell people (invitees) of hazards or dangerous conditions.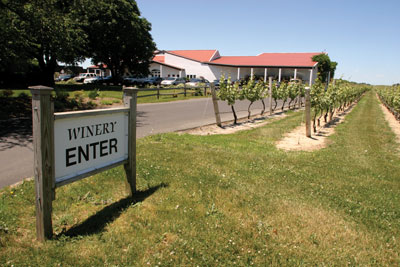 Patrons of agritourism are invitees. Legally, they are to be given the highest degree of care to avoid injury. The landowner has the responsibility to warn of potential dangers and keep the areas that are open to the public safe. This includes telling customers about standing water, holes in the ground and logs that could cause someone to trip. It also means keeping obviously dangerous things away from your customers. For example, you should not have an animal that bites be part of your petting zoo or leave farm equipment unlocked with the keys on the seat.
So what does this all mean?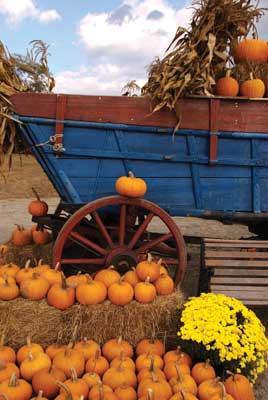 If you invite someone onto your land for their benefit, i.e., you allow someone to hunt on your land for free or you invite social guests over for a party, they are licensees. You are responsible for letting them know of potential dangers that they may not see for themselves but you know are dangerous. For example, you should tell them of loose steps, electric fences, animals that bite and PTO shafts. Remember, just because a hazard is known to you, i.e., the gray mare is a biter, does not mean it is obvious to others. However, you do not have to inspect the land to find potential dangers. For example, you have to warn the guests of a loose step if you know it is loose, but you do not have to pull on every step in your barn just to check if a brick is loose. Also, you do not have to warn of obvious dangers like ponds and barbed wire. Children are the exception. Child guests should be warned of all potential dangers no matter how obvious they may seem.
If you invite someone onto your land for your benefit, i.e., customers to whom you hope to sell produce or families you charge for a hayride, they are invitees. You hold the greatest responsibility for warning invitees of dangers. You must do whatever you can to remove dangers from your land and you must look for dangers. If you cannot remove a danger, such as a pond, you must clearly warn of its danger and take steps to lessen the danger. For example, you might put a fence around it with posted warning signs.
In the case where someone crosses your property line without invitation, intentionally or accidently, this person is a trespasser. You cannot intentionally hurt this person. However, you do not have to warn trespassers of any potential dangers on your land.
The best and easiest way to protect yourself from out-of-pocket expenses due to someone becoming injured while on your farm is to be covered by enough liability insurance. ALWAYS check with your insurance agent before beginning an agritourism business. Regular farm insurance usually does not include agritourism businesses. You may need to expand your policy to include liability insurance for agritourism. If it is a one time event, you may only need a rider (an addition to your insurance policy in order to modify it. A rider avoids having to rewrite the entire policy). Keep in mind that the monthly payments, while pricey, may keep you from going bankrupt in the event that someone is seriously injured or dies while on your farm.So what does this all mean?
What can I do to limit my liability?
There are many things you can do to limit your liability:
Have guests (invitees) sign a liability waiver
Educate your employees about proper safety and guest instructions (for invitees)
Have a first aid kit nearby along with a phone to call for help
Have an emergency preparedness plan
Post 'Do Not Enter' signs and block off entrances to any area you do not want people near, such as equipment and farm ponds
Explain to guests (invitees) the working and inherent dangers on your farm
At pick-your-own operations, the public should only be allowed to pick fruit within easy reach. Ladders should only be used by employees.
Take extra precautions when children are present. Extra precautions should be taken to keep them away from these potentially dangerous areas. Do not rely on parents to watch their children. Children are naturally attracted to water and equipment.
Remember, actions you take to limit your liability only REDUCE liability. They do not completely remove it. That is another reason to carry enough liability insurance. No matter how careful you are, you can still be sued and still be held liable for damages if someone is injured or dies while on your farm. However, if you are up-to-date on your premiums and the cause of the injury is covered by the policy, you will not have out-of-pocket expenses.What can I do to limit my liability?
Are there additional steps to take at petting zoos?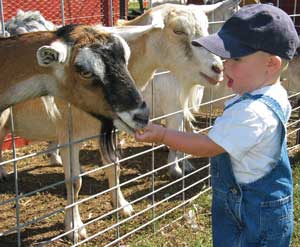 There are several things you can do to limit your liability for running a petting zoo:
Human - animal interaction (petting, feeding) should only happen in a controlled space
Make sure animals are securely penned
Display only your healthiest, calmest, and gentlest animals for petting
Hand washing stations and waterless hand sanitizers should be available to stop the spread of germs
Farm animals (for production) usually are not covered by the Animal Welfare Act (AWA). However, animals displayed, even at a petting zoo, are.
Are there other legal concerns for an agritourism business?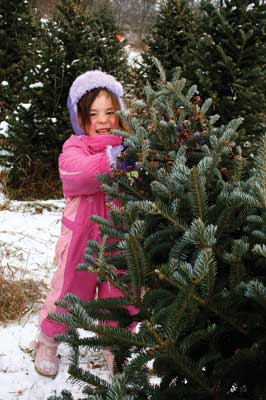 Some facilities may need to adapt in order to follow the Americans with Disabilities Act (ADA). The ADA bans discrimination on the basis of disability in employment, state and local government, public accommodations, commercial facilities, transportation and telecommunications. In other words, this law says that all areas that are open to the public, i.e., your agritourism business, must be accessible, open and available to people of all capabilities. For example, no matter how anyone enters a building, either by using a wheelchair or by walking, there must be a way for all people to enter. Discrimination in this case would be if you, the business owner, only provided one way to get in either for the walker or the wheelchair user, but not for both.
The ADA defines a person with a disability as 'a person who has a physical or mental impairment that substantially limits one or more major life activities, a person who has a history or record of such impairment or a person who is perceived by others as having such an impairment.' Using the previous example of entering your business, this definition is saying that a person can be considered having a disability if he/she is having difficulty entering your business by the means you (the business owner) are providing the customer.
Why should I be concerned with the ADA?
Farms which are open to the public should be concerned with the 'public accommodations' section. Public accommodations are private entities (company, partnership, organization, etc.) that own, lease, lease to, or operate a wide variety of facilities, like restaurants and retail stores that are commonly found in agritourism businesses. The public accommodation section of the ADA requires public facilities/places to follow basic nondiscrimination requirements. These ban exclusion, segregation and unequal treatment. The ADA also sets out building standards, business practices and policies, and community standards to stop exclusion, segregation and unequal treatment of people with disabilities in public. In order to follow the law, business owners may need to make modifications to their buildings. This may include widening doorways, building ramps, and providing accessible restroom facilities. You may also need accessible parking spaces or literature in large print format (for customers with low vision). If your facility is not accessible to those with disabilities it may be considered discrimination under the law. Compliance with the ADA ensures that everyone can have the same opportunity to enjoy benefits and services that your farm has to offer.
What else should I be concerned about?
There may also be tax concerns for starting an agritourism operation. Your taxes may change because you changed your business structure, increased your revenue and increased your expenses. It is best to consult a lawyer about these potential tax changes before beginning a new operation.
Resources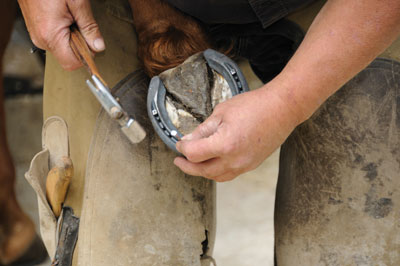 The Agricultural Marketing Research Center through Iowa State University is an electronic, national resource for those interested in value added agriculture. It has several resources including a PDF available on Risk Management and Liability in Agritourism available at Agricultural Marketing Resource Center website or by calling 866-277-5567.
The National Agricultural Law Center at the University of Arkansas School of Law has numerous resources available regarding the legal aspects of many topics in agriculture, including agritourism liability at nationalaglawcenter.org or call 479-575-7460. The University of Illinois Extension also put together a slide presentation about agritourism liability available at http://ipm.illinois.edu/ifvn/presentations/agritourism/pike_safety.pdf or by calling 217-333-5900.
The National Children's Center for Rural and Agricultural Health and Safety is funded by the National Institute for Occupational Safety and Health. It strives to enhance the health and safety of children involved in agriculture. If your program is geared toward children (hayrides, pumpkin patches, petting zoos), the National Children's Center for Rural and Agricultural Health and Safety has a resource regarding the safety of children at agritourism operations. Visit http://agmarketing.extension.psu.edu/Retail/PDFs/agri_child_guide.pdf or call 800-662-6900.
General information about the Americans With Disabilities Act is available on the web at www.ada.gov or by calling 800-514-0301. The website also offers a handbook for small businesses so they can see the requirements and what they can do to ensure their business meets ADA requirements.