Farming in West Virginia
Each day, our farmers and farm families rise early and work long, hard days. They feed the cattle, milk the cows, sow the seeds and reap what they sow. They cultivate crops and produce healthy food for everyone. 
West Virginia has a rich farm culture. Our state has the highest percentage - 95 percent - of family-owned farms in the U.S. (Farm Policy Facts, 2013) Small family farms often pass hands from generation to generation. Farmers tend to start young and work their whole lives on the farm. In West Virginia, the average age of a farmer is 56. Most farmers don't retire; they continue to work as long as possible. 
West Virginia has over 23,000 farms covering between 3-4 million acres of the state. The average farm size in WV is 157 acres. (The Hand that Feeds U.S.) 
The number one crop in WV is hay. Other major crops include corn, soybeans, tobacco, apples, peaches, pumpkins and wheat. Broilers (young chickens) are the state's number one agricultural commodity. Other major livestock includes beef cattle, calves, turkeys, sheep, lambs and hogs. Agricultural by-products include eggs, dairy products, wool and honey. 
    "From honey to salsa, maple syrup to hot peppers, these diverse businesses not only benefit our economy, but also serve as ambassadors of the great things available in West Virginia" -Walt Helmick, West Virginia Department of Agriculture Commissioner  
Resources
 Life on the farm brings with it many dangers. WV Farm & Garden wants to help farmers with and without disabilities to raise livestock and plow their fields more safely. To access a number of video resources about assistive technology and agriculture safety, visit our Agriculture Safety Videos page. 
There are state and national resources that can be helpful for farmers with disabilities and their families. For example, the United States Department of Agriculture (USDA) funds a variety of AgrAbility projects to provide assistance and information about "cultivating accessible agriculture". The National AgrAbility Project is housed at Purdue University.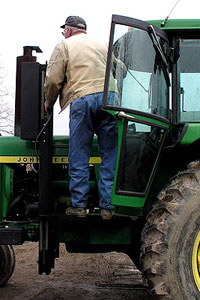 Some states are also funded by the USDA to provide assistance through AgrAbility. Since 2001, West Virginia AgrAbility has assisted farmers and their families who have injuries or chronic conditions, so they can stay active in farming. 
Four organizations partner to make West Virginia AgrAbility available to West Virginia's farmers, farm families and agricultural workers:
If an accident or a chronic health condition has made it difficult for a farmer to work or manage the farm, West Virginia AgrAbility can help by: 
   
Visiting farms to help develop solutions and meet specific needs
   
Recommending safe affordable modifications to homes, land, vehicles and farming equipment
   
Connecting the farmer with other West Virginia farm families who have had similar experiences so they can exchange ideas
   
Helping find funding support for assistive technology and farm equipment modifications
   
Providing education on farm safety and injury prevention
 

Small Farm Center
 The annual small farm conference is held each spring in Morgantown, WV, by the Small Farm Center, under the WVU Extension Service. The Center "strives to increase the farmer's bottom line by helping him or her retain more of the dollar spent on food in his or her community". The Small Farm Center hosts this and other conferences throughout the year to bring farmers together with topic specialists to share information and ideas. 
WV State Farm Museum
 With such a rich history of agriculture in WV, is anyone working to preserve our farm history? Yes. The WV State Farm Museum in Point Pleasant has a museum collection, herb garden, barn, blacksmith shop, sawmill, carpenter shop, schoolhouse, log cabins and a nature trail. The museum has a variety of events, such as tractor pulls, country kitchen, food demos, hayrides and festivals. For more information, call 304-675-5737.