Be Active Every Day
Did You Know?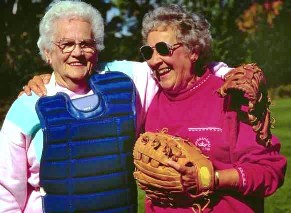 Whatever your age or activity level, you will benefit from regular exercise. If you want to feel better, sleep better and stay independent, it's time to get moving. Regular physical activity can:
Strengthen the heart and lower blood pressure and cholesterol levels. Active people have lower risk of heart attacks and strokes.
Control symptoms of diabetes, arthritis, osteoporosis and back pain.
Improve your mood. Physical activity effects brain chemistry the same way many anti-depressants do.
Increase flexibility and balance. Physical activity reduces joint stiffness, making daily activities (like carrying groceries and getting dressed) easier. It also helps prevent falls.
Common Exercise Excuses
"I'm not trying to impress anyone. I don't need to keep my muscles strong."
Strong muscles mean strong bones and a lower chance of bone fractures. Lifting hand weights just two or three times a week builds bone mass. Lifting hand weights can boost your metabolism by as much as 15%, and helps with weight control.
"I don't have the energy or motivation to exercise."
Once you get started you will actually have more energy. Plan activity for times in the day or week when you are energetic. If you need motivation to walk, get a dog, walk a neighbor's dog or ask a friend or family member to walk with you.
"I can't do strength training because I don't have the space or the money for a bunch of weight equipment."
Strengthening exercises are as simple as lifting a can of beans, a two pound hand weight or using stretch bands. Many strength exercises can be done in a chair.
Tips for Fun and Easy Exercise
If you like to walk, swim, bike or simply do exercises in your living room, ask a friend or neighbor to join you. It's a great way to spend time and catch up with friends and family. Time flies when you're having fun!
Aim for at least 30 minutes of moderate activity on most days of the week. Activity can be done in short 10 minute periods during the day.
Choose activities you ENJOY and can fit into YOUR day. If you can't get outside, exercise while you watch a movie or television show.
Plan physical activity for times in the day or week when you feel energetic.
Don't worry if you miss a day or two; just try to get back on track as soon as possible.
Don't forget your chores! Gardening, raking leaves, mowing the lawn, playing with your grandkids and cleaning all count as exercise.
Treat yourself! If you reach your goal, write yourself a thank you note and put it on your refrigerator, or buy new walking shoes.
Talk to your health care provider before beginning any exercise routine.
Find Out More:

Find motivation and resources at the Lifelong Fitness Alliance. Visit www.50plus.org or call 650-361-8282.

Take a physical activity quiz, rate your weight, and use the ClubPed walking tool at www.everydaychoices.org/tools.html.

See simple strength and balance exercises you can do at home at Strength Training for Older Adults, www.cdc.gov/nccdphp/dnpa/physical/growing_stronger/index.htm.

Find an exercise program for older adults at Active Options, www.activeoptions.org. Find a scenic rail trail near you by visiting the West Virginia Rail Trail Conservancy at www.wvrtc.org.

Check with your West Virginia University County Extension Service for group exercise opportunities in your community. Call 304-293-2796 or visit www.wvu.edu/~exten.