Eat Smart
Did You Know?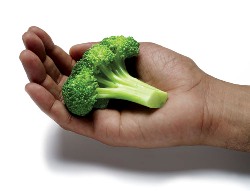 Healthy eating habits can help prevent and manage health conditions such as diabetes, hypertension and some types of cancer. Good nutrition also leads to a longer life, strong heart and bones and more energy.
Taking Charge
If you answer 'yes' to any of the following questions, you may want to think about changing your eating habits.
Do you eat 'comfort foods' when you feel anxious or sad? Do you overload on sweets and snacks at family gatherings and social events?
Do you snack while watching television? It's easy to overeat when your attention is focused on something else.
Do you eat snacks or other food straight from the package? The larger the package, the more food you eat at one time.
Common Dinner Table Myths
"Restaurant food is served at the recommended portion size."
Portion sizes have grown over the past 20 years. Food servings for one person can be enough to feed two. A fast food double patty cheeseburger, extra large fries and 24 oz. soft drink has 1500 calories. A person would need to run for 2 ½ hours to use up that amount of energy.
"If I want to lose weight, I can just go on a diet for a few weeks and then go back to eating whatever I want to."
Your body uses calories at a slower rate after you lose weight. This is why you may gain weight when you go back to your old eating habits. Make healthy eating choices and physical activity permanent parts of your daily life to achieve (and stay) at your ideal weight.
Tips for Maintaining a Healthy Weight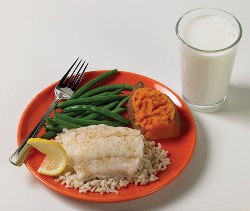 Make less food look like more. Serve your meal on a salad or dessert plate.
Eat less! Use teaspoons and salad forks to take smaller bites.
When eating out, share an entrée and/or a dessert. This saves money and calories.
Eat slowly. Taste the flavors in every bite and enjoy the simple pleasure of nutritious food.
When possible, choose fresh foods over packaged and pre-prepared foods.
Eat a rainbow of foods. The colors naturally found in many vegetables and fruits have health-promoting compounds that may help prevent cancer and other problems.
Choose foods naturally high in vitamins, minerals and fiber such as vegetables, fruits, whole grains and lean meats.
Watch Your Serving Sizes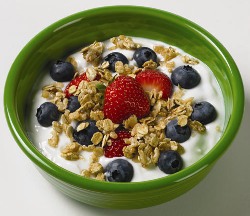 Visualize these common objects to help you remember proper serving sizes:
Three ounces (a serving) of cooked meat = a deck of cards
1/2 cup cooked cereal, pasta or rice = a computer mouse
1 pancake or waffle = a music CD
1 1/2 ounces of cheese = three dice
1/2 cup of ice cream = 1/2 baseball
1 tsp. margarine = one dice
Find Out More:

Make a food plan especially for you by visiting www.mypyramid.gov.

Know your fruit and vegetable needs and try the fresh and easy recipes at www.fruitsandveggiesmatter.gov.

Take a fun and eye-opening "Portion Distortion" quiz from the National Heart, Lung and Blood Institute at www.hp2010.nhlbihin.net/oei_ss/menu.htm.

Take a nutrition quiz and a virtual grocery store tour to help you read food labels at www.everydaychoices.org/tools.html.

Check to see if you are eligible for the West Virginia Senior Farmers Market Nutrition Program, which provides vouchers to purchase fruits and vegetables at your local farmers market. Call the West Virginia Department of Agriculture at 304-558-2210.