What is Assistive Technology?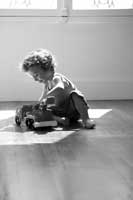 An assistive technology device is any item or piece of equipment used to increase, keep or improve a person's functional capabilities. These devices may be as simple as reading glasses or as complex as a speaking personal computer.
An assistive technology service is any service that helps an individual select, get or learn to use an assistive technology device. These services include customizing, fitting, maintaining and repairing devices, assistive technology evaluations, funding, technical assistance and training on how to use assistive technology devices.
Assistive technology can help individuals maintain or become more independent at home, work and in their communities.
Assistive technology covers a wide range of products and services.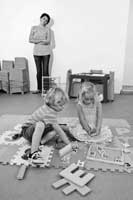 Brightly colored toys with large blocks can help children learn shapes and colors        
Categories of Assistive Technology   
| | |
| --- | --- |
| Aids for Daily Living: | Self help aids for use in activities such as eating, bathing, cooking, dressing, toileting and home maintenance. |
| Augmentative Communication: | Electronic and non-electronic devices that provide a means for expressive and receptive communication for persons with limited speech. |
| Computer Applications: | Input and output devices (voice, braille), alternative access aids (headsticks, light pointers), modified or alternative keyboards, switches, special software and other devices that enable people with disabilities to use a computer. |
| Environmental Control Systems: | Primarily electronic systems that enable someone without mobility to control various devices such as appliances, electronic aids and security systems in the home or other surroundings. |
| Home/Worksite Modifications: | Structural adaptations, fabrications in the home, worksite or other area (ramps, lifts, bathroom changes) that remove or reduce physical barriers. |
| Prosthetics and Orthotics: | Replacement, substitution or augmentation of missing or malfunctioning body parts with artificial limbs or other orthotic aids (splints, braces, etc.) |
| Seating and Positioning: | Accommodations to a wheelchair or other seating system to provide greater body stability, trunk/head support and an upright posture and reduction of pressure on the skin surface (cushions, contour seats, lumbar supports). |
| Aids for Vision/Hearing Impaired: | Aids such as magnifiers, braille and speech output devices, large screens, hearing aids, TTYs and visual alerting systems. |
| Ambulation/Mobility Aids: | Manual and power wheelchairs, mobile bases for custom chairs, walkers, three-wheel scooters and other utility vehicles used for increasing personal mobility. |
| Vehicle Modification: | Adaptive driving aids, hand controls, wheelchairs and other lifts, modified vans or other motor vehicles used for personal transportation. |