Fall 2011
Articles:   [Assisting the Caregiver with Assistive Technology]    [PATHS, Inc. Mini-Grants Awarded]   [New for Loan]   [The R Word (Submittd By: People First of Morgantown)]   [Powerful Tools]   [Resources]   [National and State News]   [Employment News]   [AgrAbility]   [Green Thumbs, Healthy Joints]


Assisting the Caregiver With Assistive Technology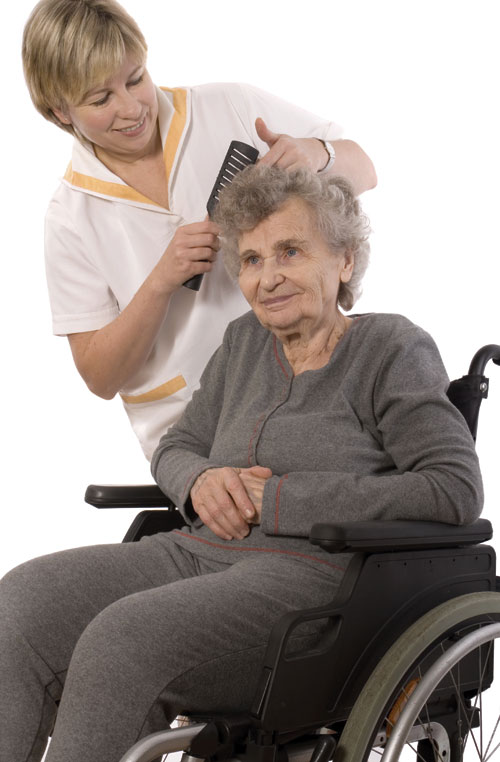 Caring for someone who is elderly or has a disability can be a stressful and intense job. Assistive technology (AT) devices can increase the independence of loved ones and decrease the physical demands on the caregiver.
People often use AT to increase independence with daily living skills. Daily living skills are tasks such as eating, brushing teeth and getting dressed. Devices that may help with these tasks include:
Weighted or curved forks or spoons
Bowls that are held to the table with suction cups or plates with higher edges
Grips for holding the toothbrush
Reachers and other dressing aids
AT can also prevent injuries to the caregiver. Many caregivers have back pain from lifting and pulling. The right devices can make these tasks easier. Transfer boards, gait belts, grab bars and other devices are made to make moving a person from one place to another easier. These devices ease the strain on both the caregiver and the person in need.
Helping with leisure activities is another chore for caregivers. Reading to loved ones, assisting them with the computer, or helping them use the television are tasks that, while easy to do, can take up a lot of time. There are many devices to help people do these things by themselves:
Book readers or audio books are easy to use and will read books aloud to a person
Using adapted computer equipment or software for computer access can increase independence when using the computer
Environmental control units can help turn on lights, the television, and music
For more information on assistive technology devices and supports, call WVATS at 800-841-8436.
WVATS News
PATHS, Inc. Mini-Grants Awarded
PATHS, Inc. (Partnerships in Assistive Technologies) is a non-profit group that works to increase awareness about and access to assistive technology (AT). One of the reasons some people do not get the AT they need is the cost. AT varies in price, but some can be expensive and funding sources are limited. PATHS, Inc. saw this problem and created a mini-grant project in 2010 to help people get the AT they need. In the spring of 2011, PATHS, once again, awarded mini-grants to people in need.
PATHS will be awarding two $250 mini-grants for AT again in 2012. For applications or more information, call WVATS at 800-841-8436 or email wvats@hsc.wvu.edu.
Jane is a 56 year-old woman diagnosed with Kugelberg-Wellander Muscular Dystrophy. One of Jane's favorite past times is reading, but as she weakens, she finds it harder to hold books. Jane requested a Kindle to help her with her hobby. The Kindle is easier for her to take places, lightweight, and offers features such as reading books aloud. PATHS purchased the Kindle, along with five books. Jane commented that she "loves the Kindle" and is reading a lot.
New for Loan
Items in the WVATS Loan Library are available for 30 day trial periods. For more information or to check an item out, visit the WVATS on-line Loan Library and Exchange System at vll.cedwvu.edu or call WVATS at 800-841-8436.
ADA Measurement Tool Kit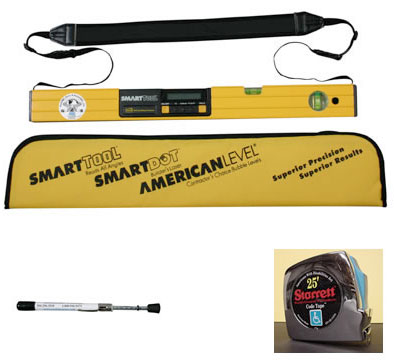 The ADA Measurement Tool Kit has a digital level, a tool to measure the height of letters on signs, and a single action door pressure gauge. The level can be used to measure the slope of a ramp. The door pressure gauge measures the force it takes toopen a door to make sure it meets ADA requirements.
Touch and Glow for Lamps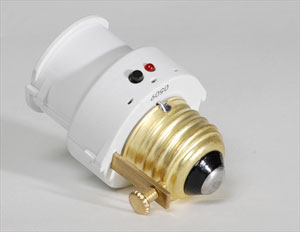 The Touch and Glow is a device that changes a lamp into a touch lamp. To use, screw the device into the light bulb socket, tighten the thumbscrew and put in a regular light bulb. The lamp will have four different settings:
1st touch: Night Light
2nd touch: Medium
3rd touch: High
4th touch: Off
The R Word (Submittd By: People First of Morgantown)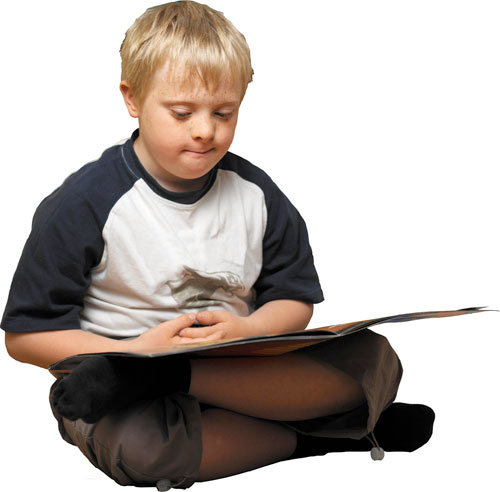 We teach our children that they should never say the "F" word. We teach them that it is disrespectful, hurtful and derogatory to say the "N" word. We would never tell our children that it is okay to use racial slurs. However, many children use the word "retarded" when joking with their friends, and their parents sit by and say nothing. Parents should take the time to talk about the meaning of that word, and explain to their children why it is offensive to many people. That word should not be used. Intellectual disability or developmental disability are much more respectful words.
Disability is a natural part of life - everyone's life! If you are a person without a disability, it is often hard to remember you are only one car accident, stroke, fall, or tragedy away from being a person with a disability. If the day comes that you should need to use a wheelchair, or you lose the ability to speak, see or hear, you would still want to be treated with respect. Would you like to be called a "retard?" Even those with very significant disabilities often can understand what is being said to them. They feel sadness, anger, and pain just like anyone else. We need to treat them as people first and look at their disability second.
Rosa's Law was signed by President Obama in October 2010. This law will change the words "mental retardation" (MR) in federal law, to "intellectual disability"(ID). Former Governor Joe Manchin signed a similar law in West Virginia, that will stop the use of this word in all future documents in the state. Now that we have the law on our side, we need to educate the general public about this hurtful word. Remember, every person with a disability is also someone's child, parent, sibling or friend. Think before you speak.
If you are interested in joining People First, please contact Greg Bilonick at 304-692-1722.
Powerful Tools
Sliding Transfer Board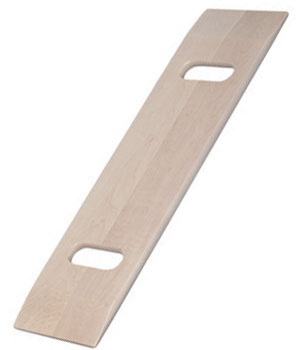 The sliding transfer board makes moving a person from a wheelchair to another location easier. The ergonomic hand slots let the person being moved have a stronger grasp, which can lessen the risk of falling. This device can help a caregiver move a person with less lifting. The transfer board weighs about three pounds and can hold about 300 pounds.
For more information, visit www.activeforever.com or call 800-377-8033.
Kindle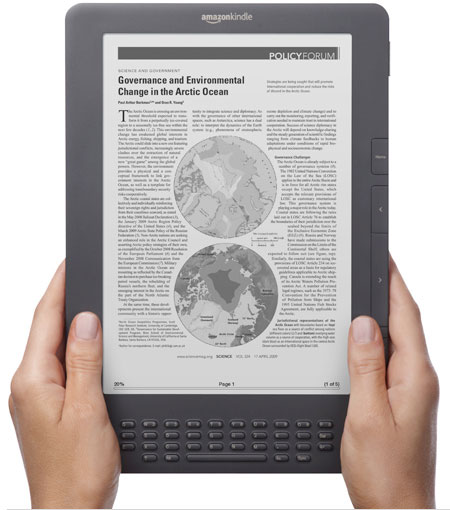 The Kindle is a wireless reading device that lets the user purchase and download books. The Read-to-Me feature reads the books out loud if they are written in English. The Kindle has a six inch display, weighs about 8.5 ounces and is 1/3 of an inch thick.
For more information, visit www.amazon.com.
Expansion Door Hinge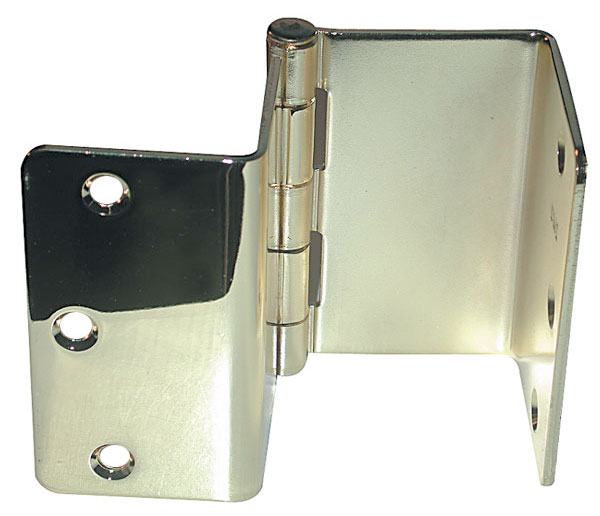 The Expansion Door Hinge is a way to help make a house wheelchair accessible. The hinge adds two inches of width to any door. This is not only helpful for wheelchair users, but it also makes moving large items into a home easier. The Expansion Door Hinge is easy to install. It uses the same screws that are already on the door.
For more information, visit www.maxiaids.com or call 800-522-6294.
Livescribe Echo Smartpen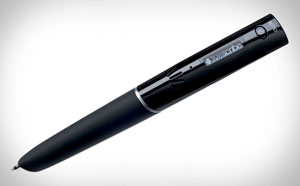 The Livescribe Echo Smartpen lets the user record a lecture while taking notes. The user can listen to the recorded lecture at anytime. The recording can be transferred to a computer by either plugging it into the computer or by email.
This pen comes in 2GB, 4GB, or 8GB memory capacity. The 2GB has up to 200 hours of note taking memory, and the 8GB has up to 800 hours.
For more information, visit www.enablemart.com or call 888-640-1999.
Pocket Sign Language Translator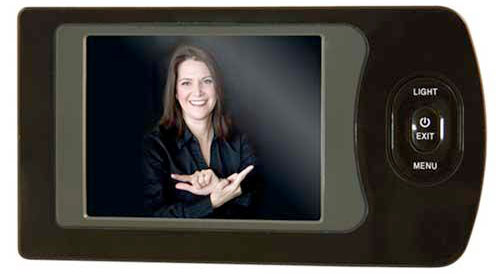 The Pocket Sign Language Translator can be helpful for people who want to learn sign language. The user types a word on the touch screen. Then the sign language translation for that word is shown in a video. The device has over 3,500 words including numbers and pronouns.
For more information, visit www.enablemart.com or call 888-640-1999.
Table Top Suction Mounts for iPad
The iPad has accessibility features and many applications available. This can make it a valuable assistive technology device. The Table Top Suction Mount can make it easy to securely mount the iPad to a table. The suction base lets the user easily move the device to other locations.
For more information, visit webstore.ablenetinc.com or call 800-322-0956.
Resources
Caring For Your Parentsby PBS
The Public Broadcasting Service (PBS) has videos and articles on its website to help caregivers. The Caring For Your Parents website has information for people who are now caregivers or who may become caregivers in the future. It also gives advice for people planning ahead for their own aging. The website has information about money, health care, helping the caregiver, and other topics.
The Caring For Your Parents handbook can be downloaded and printed for free from the PBS website. For more information, or to print your free handbook, visit www.pbs.org and type caregiver into the search box.
West Virginia Caregivers
WV Caregivers gives information on resources and supports in the state of WV. Many of these resources are listed by county. WV Caregivers has information to help families plan for future health care decisions. They can also explain how to create a living will. The website has information for both caregivers and professionals.
For more information visit www.wvcaregivers.org or call 304-293-3129.
World Report on Disability
The World Health Organization (WHO) and the World Bank have created the first World Report on Disability. The report has information on what has worked for people with disabilities to overcome different barriers. It talks about health care, rehabilitation, education, employment, and support services. The report also has ways to make environments accessible for many different individuals. It ends with recommendations for governments and their partners.
To see the report, visit the WHO website at www.who.int/disabilities/world_report/2011. For more information contact the Regional Office for the Americas at 800-472-3046.
National and State News
Service Animals and the ADA
As of March 15, 2011, only dogs are service animals under Titles II and III of the ADA. The new ADA says 'service animal' is "a dog that is individually trained to do work or perform tasks for a person with a disability." What the animal is trained to do must be related only to the person's disability. Some local and state laws have a broader definition of 'service animal.'
ADA guidelines state:
Businesses and organizations that serve the public must allow service animals. This is in all areas of the facility where the public is normally allowed to go.
Service animals must be harnessed, leashed, or tethered unless these devices keep the service animal from doing his work or the person's disability does not allow them to use these devices.
When someone can not tell what service an animal provides, they may ask two questions:

Is the dog a service animal needed because of a disability?
What work or task has the dog been trained to do?

A person may be asked to remove a service animal if it is out of control or not housebroken.
The new ADA guidelines have a notice about miniature horses that have been trained as service animals. Miniature horses are usually less than 34 inches tall and weigh less than 100lbs. Businesses covered by the ADA must allow miniature horses if possible. There are four factors to help find out if miniature horses can be allowed in a facility. Thesefactors are:
If the miniature horse is housebroken;
If the miniature horse is under the owner's control;
If the facility can hold the miniature horse's type,size, and weight;
If the miniature horse does not affect the safe operations of the facility.
For more information about service animal guidelines, visit the ADA website at www.ada.gov or call the ADA information line at 800-514-0301.
Changes in Education
Every year the WV Board of Education (WV BOE) gets suggestions from the WV Advisory Council for the Education of Exceptional Children. These ideas deal with the unmet needs of children with special needs.
This year the following suggestions were adopted:
More training is needed for deciding who can get special education services. This information will be supplied by the WV Department of Education (WV DOE).
A document needs to be made to help parents understand the Individualized Education Program (IEP) process.
A document about life skills training for students with special needs should be created. The DOE will work with the Autism Training Center at Marshall University on this project.
For more information, visit the Department of Education's website at wvde.state.wv.us or contacthe Office of Communications at 304-558-2699.
Employment News
Students On SSI CAN WORK!
There are many work incentives for people who get either Social Security Disability Insurance (SSDI) or Supplemental Security Income (SSI). These are for people who would like to work and still keep all or part of their benefits. One of the greatest work incentives for SSI recipients is the Student Earned Income Exclusion. Full-time students under the age of 22 can leave out up to $1,640 of earned income each month ($6,600 yearly maximum). This means students receiving SSI can earn up to $1,640 a month and still receive their full SSI benefits. Eligible students include those who attend high school (at least 12 hours per week), college or university (at least 8 hours per week) and trade or vocational school (at least 12 hours per week).
The Student Earned Income Exclusion is helpful to students in many ways. It can help out those who want to work during the summer, over holiday breaks, or part-time during the school year.
To use the Student Earned Income Exclusion, request a letter from the school that proves full-time enrollment status. Next, submit the letter to the local Social Security office. Once Social Security knows of the student's full-time status, the Student Earned Income Exclusion will be applied each month. It is very important that students report their earnings toSocial Security each month.
For more information, contact your region's Work Incentives Planning and Assistance (WIPA) counselor.
Support Beyond the Medicaid Infrastructure Grant
For 10 years, the Center for Excellence in Disabilities at West Virginia University (CED) and West Virginia Division of Rehabilitation Services (WV DRS) worked together to run the Medicaid Infrastructure Grant (MIG). In 2010 and 2011, CED and WV DRS created trainings on Social Security work incentives. These trainings were offered to agencies that support employment for people with disabilities.
This past summer, key agencies were invited to a three and half day intensive training. The people from these agencies traded ideas with each other on employment issues. They listened to information about work incentives and Social Security health care programs. They also heard about other support systems for individuals who receive Social Security benefits and want to work. Since then, the individuals who attended the trainings are working with each other and their region's Work Incentives Planning and Assistance (WIPA) counselors to spread the important message that West Virginians receiving Social Security Benefits CAN WORK!
The Medicaid Infrastructure Grant and its trainings will end in December 2011. However, the work incentives training graduates will continue to work throughout the state. They will educate and support clients who want to work.
If you receive Social Security Disability Insurance (SSDI) or Supplemental Security Income (SSI), you can work and keep all or part of your check. Contact the CED to find out how. We can help you find a work incentives training graduate or WIPA counselor in your area. For more information contact the WIPA program at 304-293-4692.
Employment Tools
Logitech Wireless Trackball M570
This wireless trackball is small and has a shape designed for comfort. The device is shaped similar to the average mouse. Thetrackball is located at the thumbs resting position. The Logitech Wireless Trackball M570 has an 18-month battery life. The laser sensor can be adjusted to allow a wide range of cursor speeds.
For more information, visit www.staples.com or call 800-333-3330.
Eye-Pal SOLO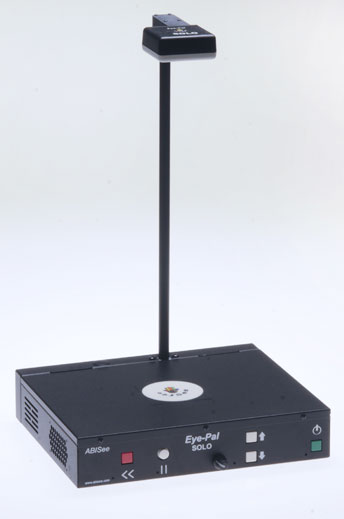 The Eye-Pal SOLO is an instant reading device. This device can read books, newspapers, magazines, mail and cookbooks. By placing a document on the base of the device, the user can hear the text read aloud. The document does not need to be placed in a specific direction. The Eye-Pal SOLO will also pause while reading. If the user waves their hand above the page, the reading will stop. Another wave and the reading will begin again. The device weighs about 7 lbs.
For more information, visit www.abisee.com or call 978-635-0202.
AgrAbility
Farm Transference Planning
The United States Department of Agriculture (USDA) estimates that over one quarter of the nation's farmers will retire during the next decade. Estate planning (a plan for giving away your property, possessions, assets or money either before or after you die) can be hard for any family. It can be even tougher for farm families who wish to pass the farm onto younger generations. Farm transference planning is important for family farms because the majority of these farms do not have a formal succession plan.
A written transference plan helps with more than just remembering what has already been decided. It can act as a guide for the transition process and should include as many details as possible. The clearer and more detailed the plan is, the less chance there is for disagreement and conflict in the future.
When and how should I talk about plans?
There are many questions that will need to be answered when you think about transferring your farm. Do younger generations, or any family member, want to carry on your farm business? Who will be making the decisions about the farm transference process? Who will pay for farm expenses, like insurance and tractor fuel, during the transition? Will you want to continue to work on the farm after the transfer is complete?
It is never too early to start planning how you will transfer your farm. There are a lot of different people who can help make your farm transfer go smoothly. Examples of people who may be of help are attorneys, tax consultants, extension agents and insurance agents.
What is the first step in planning?
There are some basic questions that you will need to answer to get your plan started. How do you want your farm cared for when you are no longer around to manage it? To whom do you want to transfer your farm? Does this person want the same things for your farm as you do? Changes in farm management, growth and production should be discussed to help transfer your farm more smoothly.
An action plan is commonly used to assist farmers in making decisions about their goals and the steps needed to carry them out. Your action plan may include a timetable of when you want to reach your goals and who is responsible for each step of the plan. For a checklist of steps common to farm transfer action plans visit Michigan State University Extension at www.msu.edu/~steind/estate_planning.html.
What if I want to pass my farm onto my children?
Not all farms are passed on outright at death. Some farm transfers happen over a period of time. Some farmers decide to do this so the new owner can take over the farm operation at a slower rate. This arrangement gives the retiring farmer a steady income for a longer amount of time. The retiring farmer can also phase out of the farm business.
Many farmers want to pass the farm onto their children because they think their children want the farm, or the farm is the only thing the family has to pass down. What do you do if your children do not want the farm but you have nothing else for them to inherit? This situation does not necessarily mean a dead end for your farm transference plan. You do have options. For example, if you have livestock, one option is to give some to your children. This option lets you give your children an asset that is not money or property. Another option is to buy life insurance and make your children who are not interested in the farm the beneficiaries. A life insurance policy gives you an asset to pass on to your children. In this example, the children who want the farm will receive it in its entirety while your other children will inherit an asset of equivalent value to the farm.
What if I plan to sell my farm to a non-family member?
It may not always be possible to keep the farm family owned and operated. There are different ways to sell your farm.
Farmland preservation easements keep land as farmland and cannot be sold to developers or abandoned. For more information, contact West Virginia Farmland Protection at www.wvfarmlandprotection.org, your local extension agent, or local NRCS office.
Ownership agreements, like a LLP or LLC, let future owners buy the farm little by little. For example, new owners can take on maintenance expenses, like buying new machinery and paying for repairs. The selling farmer can then phase out running the farm. The selling farmer will also keep a steady income from the new owner's payment installments.
Sell the farm outright in its entirety.
Tax Considerations
Whether you are passing the farm down to younger generations or selling it, there are some tax issues to think about. If you are transferring the farm, you want to think about the financial situation of both the retiring farmer and the buyers. For example, it is common for the retiring farmer to want to spread the income from selling the farm over a long period of time. The buyer may not have the capital to buy the farm all at once. In this case, the selling farmer may face higher income taxes due to increased income from selling pieces of the farm. The buyer may have to consider self-employment and property taxes. If you are selling the farm outright, the lump sum you may receive from the sale may be counted as income, putting you in a very high tax bracket for the year in which you sold it.
Common taxes to think about whether you are transferring or selling your farm are: estate taxes, gift taxes, generation skipping taxes, capital gains taxes and self-employment income taxes.
Transferring your farm is a process that involves a lot of people. You may want to ask questions to your lawyer, accountant, and tax advisor. In addition to these knowledgeable people, more information is available online. The University of Minnesota also offers a wide variety of informational fact sheets available at www.cffm.umn.edu/Publications/pubs/FarmMgtTopics/TransferringTheFarmSeries.pdf.
The Small Farm Center, under the WVU Extension Service, has information specific to farm transfer in West Virginia. It is available at www.smallfarmcenter.ext.wvu.edu or by phone at 304-293-2642.
Green Thumbs, Healthy Joints
Fall does not mean an end for gardening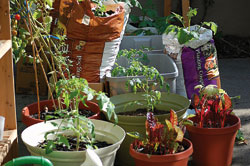 You do not have to put the brakes on your garden because summer is ending. You can keep your garden growing throughout the winter. You can also get a jump on next year's garden. All you have to do is start a container garden.
Many plants will grow in containers. Most any container can be used: ceramic, metal, plastic, cooking pots, and even shoes. What you choose will depend on how you want your container garden to look and feel.
Whichever container you choose, make sure it has one 'good-sized' hole for every gallon of soil the container holds. The container's size should also be in proportion to the size of the plant growing in it. The container should be about one third as tall as the plant. For more information, visit www.containergardeningguru.com. This website is an entire guide to container gardening.
West Virginia University Extension Service also has information on container gardening. To find out more, visit www.ext.wvu.edu and search their website using the term 'container gardening' or call 800-670-4838.
Contact WVATS
Center for Excellence in Disabilities
West Virginia University
959 Hartman Run Road
Morgantown, WV 26505
304-293-4692
Hotline: 800-841-8436
TTY: 800-518-1448
WVATS Newsletter Editor:
Jessica Wright
(jwright@hsc.wvu.edu)
Editorial Committee: Melina Danko, Mary Slabinski, Daria Jones, Bev Sheets
Layout: Brian Pickens
WVATS is funded by the US Department of Education, Rehabilitation Services Administration Contract# H224A100047
All printed materials are available in braille, electronic format, cassette tape and large print. WVU is an Affirmative Action/Equal Opportunity Institution.