Fall 2016
Articles:   [Cover Story: Accessible Voting in WV]  [Fair Housing Design]   [Powerful Tools]   [Share Your Voting Experience with West Virginia Advocates


WVATS News
Accessible Voting in WV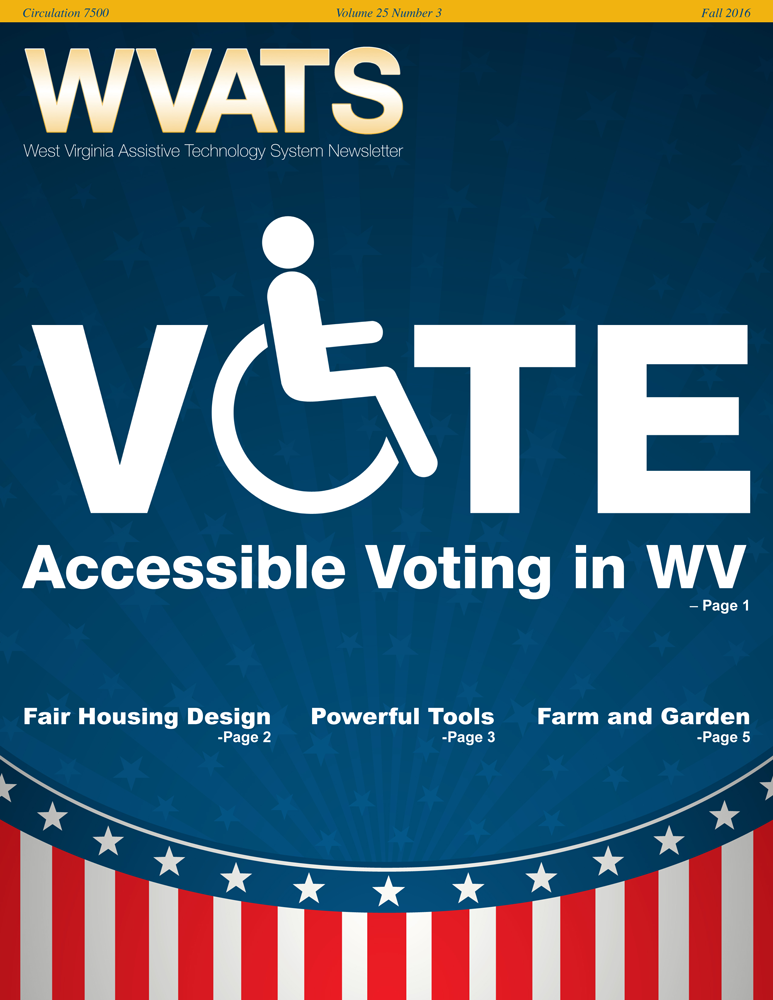 Deadline to register to vote is October 18
2016 General Election Day is November 8
West Virginia residents have options on how to apply for voter registration — at their county clerk's office, online or by mail. The deadline to register to vote, change an address or switch political parties is 21 days before an election (Oct. 19). The West Virginia Secretary of State (WV SOS) Office shares information for voters in WV on its website at www.sos.wv.gov.
Different voting systems are used in West Virginia depending on the county in which you vote. Voters in many counties use a touch screen machine similar to a bank ATM. Others will mark a paper ballot with a special pen that can then be read by a computer program. Voters in one county still mark an "x" on a regular paper ballot, which is then counted by a committee of five people at the voting site. To find out which system your county uses, review the "Voting Systems" page on the WV SOS website or call 1-866-767-8683.
The website also has useful information for voters with disabilities - "An individual may receive assistance in voting if he or she is unable to vote for the following reasons: blindness, disability, advanced age, [or] inability to read and write".
If you can vote using assistive technology, you may want to ask to vote on an accessible voting machine. The machine may have features like a touch-screen, Braille embossed buttons or voice output. If you need more help, other options are having someone read your ballot to you or having two poll workers of opposing political parties mark your choices on the ballot.
According to the WV SOS website, during statewide elections all polling places in West Virginia have at least one voting machine that is accessible to voters with disabilities. During county-wide elections, there must be at least one accessible voting machine available in the county.
Other voting accommodations may include curbside voting, precinct change or absentee voting through the mail. If you have questions about voting assistance or the voting process, call your County Clerk's Office or call the WV Secretary of State Office at 1-866-767-8683 (1-866-SOS-VOTE).
WV Code Section 3-1-34 addresses voting procedures, assistance to voters and more. To access the state code, visit www.legis.state.wv.us.
Fair Housing Design and Construction
The Fair Housing Act has disability-related provisions that set standards for how apartment buildings are built. The act has seven design and construction requirements for multi-family housing. These are just common sense things like useable kitchens and bathrooms, wider doorways and hallways, and a no-step entrance on an accessible route of travel. Other requirements – light switches, outlets and thermostats where you can reach them and doors that are wide enough for someone in a wheelchair – are also good for anyone living in an apartment building.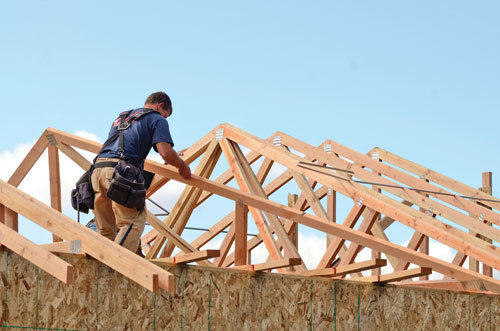 One of the other requirements is having reinforced walls in the bathroom. This is required because after-the-fact bathroom modifications are very expensive. If the walls of the bathroom are reinforced during construction, it is easy and inexpensive to add grab bars when needed.
The last requirement is accessible public and common use areas. This means places that can be used by everyone in the building — laundry rooms, mailboxes, rental offices, recreation areas, etc. — are accessible to all residents, including residents with disabilities. In addition, if there is a meeting or conference room open to the general public, it must also comply with the Americans with Disabilities Act (ADA).
These requirements are not for single-family homes. They only apply to apartment buildings built since 1991 that have four units or more. If the building has an elevator, every unit in the building must meet these requirements. If there is no elevator, only the ground floor apartments must comply.
These standards are sometimes confusing for both the people who live in the buildings and those who are responsible for designing or building them. If you have questions about the Fair Housing Act, contact the West Virginia Fair Housing Action Network at 800-834-6408.
Voting Access Laws and Guidance
The Department of Justice (DOJ) calls voting in person at a local polling place "the quintessential American voting experience." DOJ enforces Title II of the Americans with Disabilities Act (ADA), which covers state and local government programs and services. Making polling places accessible can be tricky because they get set up in so many places - schools, libraries, churches, fire stations and stores. To help, DOJ wrote its
ADA Checklist for Polling Places
. The checklist talks about how to evaluate areas of the polling place including the parking lot, passenger drop-off area, ramps, inside and outside routes, entrances and the voting area itself. It gives ideas for temporary fixes like using traffic cones, signs, doorstops and portable ramps. The checklist is available at www.ada.gov. You can call DOJ at 800-514-0301 (voice) or 800-514-0383 (TTY).
For information on the ADA, HAVA and other federal voting laws, visit www.ada.gov/ada_voting/ada_voting_ta.htm.
Powerful Tools
Oct-O-Flex Entrance Mat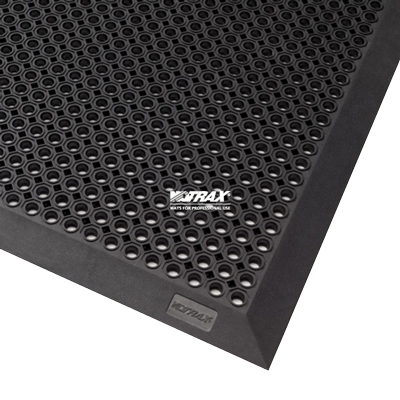 The Oct-O-Flex Entrance Mat is an access mat made for outdoor use and busy walkways. Using a mat can make a smoother, more even path of travel and entrance. The mat is made of a rubber compound, has drainage holes and a raised knobbed underside to help lessen mat movement. The edge slopes to the ground to make it more wheelchair friendly. Oct-O-Flex mats come in three sizes—2 x 3 feet, 3 x 5 feet and 4 x 6 feet.
To learn more, visit www.floormatshop.com or call 888-226-2724.
BallotCall Alert System
The BallotCall Alert System is a wireless alert system with a large button switch. The button can be mounted at an accessible height on a post and bracket — along with a sign that reads, "Ring bell for voting assistance". You can mount the button temporarily outside the polling place; set the receiver near poll workers to notify them when a person with a disability needs curbside voting assistance.
Inclusion Solutions sells alert systems for other settings, too. For more information, visit www.inclusionsolutions.com or call 866-232-5487.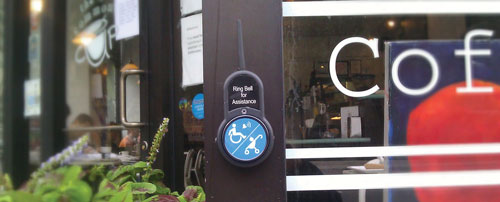 Comfort Audio Duett Personal Listener
The Duett Personal Listener by Comfort Audio is a compact assistive listening device. The device has a microphone that can be used in a small environment to make voices and sounds louder. You can use earbuds or headphones to listen to a conversation with a friend. The Duett Personal Listener is made so people who wear hearing aids can use it too. It has a built in t-coil for use with a neck loop, and functions as a t-coil induction receiver for people who wear t-coil hearing aids. The device has large volume buttons, and comes with a base charger.
To learn more, visit www.harriscomm.com or call (800) 825-6758.
Adjustable Touch Screen Stylus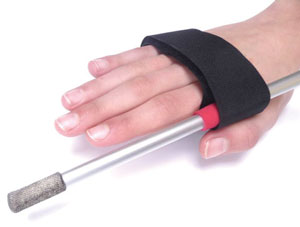 The adjustable stylus has Velcro straps to fit any hand and position. The length of the stylus can be adjusted to wrap the straps around your hand for a comfortable fit. You can use the stylus to press on touch screen surfaces like smart phones, tablets and touch screen computers. A pack of replaceable tips is sold separately.
For more information, visit www.enablingdevices.com or call 800-832-8697.
Page Magnifier
A page magnifier is a flat, clear magnification device. It is portable and easily storable. You can place the magnifier directly on top of a standard sheet of paper. Some page magnifiers have a necklace string so you can wear it for easy access, a frame with folding legs and/or a light. When you unfold the legs, the magnifier looks more like a small table. The frame allows you to place the magnifier at a short distance from the paper and use the light to brighten the area you are reading.
For more information, visit www.bernell.com or call 800-348-2225.
Silver Spring Adjustable Threshold Ramp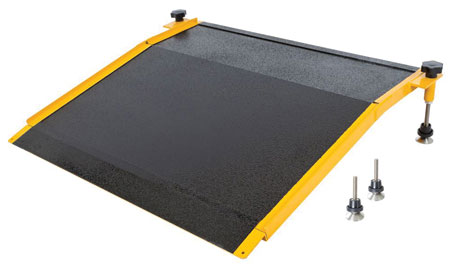 The Silver Spring Adjustable Threshold Ramp supports up to 400 pounds. It has threaded legs for an adjustable height from 3-1/2 inches to 6-1/2 inches. The usable ramp width is 26-3/16 inches. It has pre-drilled holes for permanent installation. Made for outdoor use, the ramp works with steps and thresholds that have no door or a door that swings away from you. This ramp is made of yellow-coated aluminum for visibility, and has a black non-slip surface on top.
For more information, visit www.discountramps.com or call 888-651-3431.
Teen Farmer with Entrepreneurial Vision
When Delilah Willis of Hampshire County, West Virginia was in the 8th grade, she took a school field trip that would shape her future. While she and her classmates were visiting a hog facility, Delilah "decided right then I wanted to raise pigs".
Now 16, Willis is a member of Future Farmers of America (FFA), and raises pigs for both show and processing. This year, she showed her pigs at the county fair, sold her prize winning bacon for $180 a pound and received the Grand Champion Bacon award.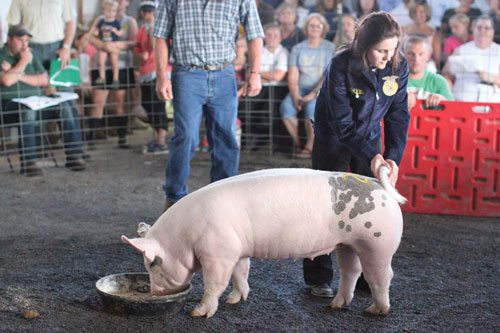 Delilah, who is blind, attends the West Virginia Schools for the Deaf and the Blind (WVSDB) in Romney, WV. She was born with detached retinas, scoliosis and hearing loss in her right ear. She now uses a BAHA or "Bone Anchored Hearing Aid". A busy teen, Delilah is a member of the school's archery team, too. She loves to sing and listen to her favorite band, One Direction. Over the years, she has also drawn inspiration from the film Soul Surfer, a true story about a teenager who overcame adversity after losing her arm in a shark attack.
Delilah developed her own techniques for how to handle a pig in competition. One effective method for driving a pig in the ring involves a sweet treat. She uses a show cane with a marshmallow on its tip to attract her pig, Olivia, and drive her forward. It took months to gain Olivia's trust, so Delilah could hold onto the pig's tail for guidance. As a result, they can now walk confidently together in the show ring in front of judges and the crowd.
With her parents' permission, Ms. Willis is working with WV AgrAbility and the WV Division of Rehabilitation Services to achieve her goals. She and her parents attended the AgrAbility National Training Workshop in Colorado this spring. After graduation, Delilah plans to use her knowledge and experience to run her own pig handling facility, become a pork product vendor and start her own agribusiness. She obtained her commercial vendor's license, and is poised to sell her products in West Virginia under the brand name Delilah Willis Pork Products.
HI2LO Wet/Dry Pig Feeder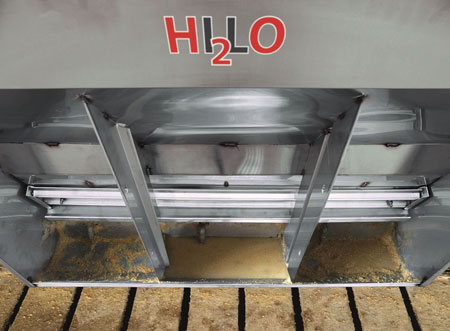 The HI2LO Wet/Dry Pig Feeder has individual feeding compartments and trough space. Trough dividers give each pig separate access to the watering nipple and feed shelf. The shelf has an "A" shaped design and built in agitator to help prevent feed clogging. The HI2LO is made of stainless steel.
For more information, visit www.automatedproduction.com or call 217-226-4449.
Applying for 2017 Green Thumbs, Healthy Joints Program
The Green Thumbs, Healthy Joints (GTHJs) program has planted the seeds of accessible gardening throughout the Mountain State since 2007. The WV Bureau for Public Health, Division of Health Promotion and Chronic Disease funds the program. Next year, GTHJs will celebrate 10 years of making gardening more accessible in West Virginia.
The GTHJs program assists West Virginians with arthritis, osteoporosis, musculoskeletal conditions, joint limitations and other needs through gardening. Each year, funding is awarded to nonprofits for accessible gardening projects around the state. If your nonprofit organization is interested in applying for a GTHJs mini-grant project for the 2017 growing season, visit www.greenthumbs.cedwvu.org or call WVATS at 800-841-8436.
Weed Zinger
The Weed Zinger is a long handed weeding tool with a spring release. This stainless steel tool can help gardeners get rid of weeds with less lifting, bending and kneeling. To use it, step down on the foot ledge and twist with the handle. You can use the tool's spring release to "zing" the weeds into a trash bin without the need to touch the plants directly. Weed Zinger can remove roots from a variety of soil types.
For more information, visit www.homedepot.com or call 800-466-3337.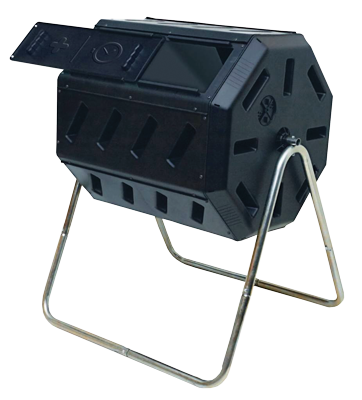 YIMBY Dual Compost Tumbler
The YIMBY Dual Compost Tumbler is designed to turn kitchen scraps and yard trimmings into food for your soil. It has a steel base and two compost bins. This gadget lets you "cook" materials in one bin while you add fresh materials to the other. Each bin has paddles inside to help mix materials as you turn the tumbler. Its thermoplastic panels absorb and hold in heat — to help speed up the process. Built-in handholds make the tumbler easier to turn. You can rotate 37 gallons of compost. The tumbler has adjustable air-vents and a rodentproof design. Weight: 30 pounds. Size: 36 x 31 x 28 inches.
For more information visit www.hayneedleinc.com or call 888-880-4884.
Share Your Voting Experience with West Virginia Advocates
West Virginia Advocates, Inc. (WVA) is a private, nonprofit agency dedicated to protecting and advocating for the legal rights of West Virginians with disabilities. WVA is designated as West Virginia's Protection and Advocacy System (P&A). Every state is federally mandated to have a P&A.

One of WVA's federally funded programs is PAVA, or Protection and Advocacy for Voting Access. The PAVA program allows WVA to ensure that individuals with disabilities who are eligible to vote can have full participation in the electoral process. This includes activities like registering to vote, casting a ballot and entering the polling place.
WVA wants to know about your voting experience on election day. To participate, visit:
West Virginia Advocates (WVA) Polling Place Survey www.surveymonkey.com/s/32DJB9X
WVA plans to use the survey results to help make sure that each polling site in West Virginia meets the requirements of the Help America Vote Act (HAVA). HAVA is a federal law that ensures that every American citizen has the right to vote.
WVA answers questions about voting rights and the electoral process. WVA can also provide advocacy if you were not able to get into your polling place, denied help with voting or denied the right to vote. Check out WVA's voting resources at www.wvadvocates.org. If you have questions about voting, want help registering to vote or have problems casting your ballot, call West Virginia Advocates at 800-950-5250.