Spring 2012
Articles:   [Deafblindness in WV]  [AT for Reasonable Modifications]   [AT Clinic Success]   [New for Loan]   [Powerful Tools]   [Resources]   [National and State News]   [Employment News]   [Employment Tools]   [AgrAbility]   [Green Thumbs, Healthy Joints]


Deafblindness in WV
There are 121 children in West Virginia who are deafblind. These children have some degree of both hearing and vision loss. For these children, assistance can be found through WV SenseAbilities. SenseAbilities works with children from birth to age 21 and helps families, teachers and service providers of children who are deafblind find information, resources and support.
An individual who is deafblind has a unique experience of the world. For people who can see and hear the world extends outward as far as his or her eyes and ears can reach. For the young child who is deafblind the world is much narrower. If the child is profoundly deaf and totally blind, their experience of the world extends only as far as their fingertips can reach. Such children are, in effect, alone if no one is touching them.
Learning to communicate is one of the biggest challenges people who are deafblind face. Many children who are deafblind have enough vision to be able to move about, recognize familiar people, see sign language at close distances and perhaps read large print. Others have enough hearing to recognize familiar sounds, understand some speech or develop speech themselves.
A child with no use of these senses can still learn to communicate by touching objects or having words signed into the palm of their hand.
Under the direction of Annette Carey, SenseAbilities helps school teams in assessing communication strengths and needs. They also help identify other areas that need support. Beyond school, the program provides transition planning assistance and helps families connect with others in similar situations.
With the right supports, people who are deafblind can be active members in the community and workforce. For more information about deafblindness, contact the American Association of the Deaf-Blind at 304-495-4403 or visit www.aadb.org.
WV SenseAbilities is made possible by funding through the Federal DeafBlind Project and partnerships with The Greater Kanawha Valley Foundation, WV Birth to Three and WV Developmental Disabilities Council. For more information about the WV SenseAbilities project, contact the Office of Special Programs at the WV Department of Education at 304-558-2696.
AT for Reasonable Modifications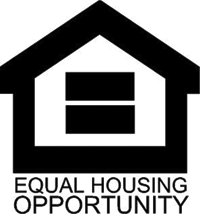 People with disabilities know accessible housing in West Virginia is hard to find. The Fair Housing Act gives persons with disabilities the right to "reasonable modifications." This means they can make changes to an apartment or building to be able to live there.
If an apartment is not accessible, they can request changes (modifications) so they will be able to move in. If they already have an apartment and develop a disability, they can request changes to make the apartment accessible. The renter must pay for the changes. These changes can be expensive. Funding for home modifications is not always available if the person is not the property owner. Assistive technology may provide low-cost/low-tech answers.
Examples of low cost solutions include:
A threshold ramp up to 6" high can be placed over a step for less than $150
Plastic grips for $5 or a snap-on lever for less than $20 can make doorknobs accessible
Raise electric outlets to an easy-to-reach level for $10 or lower a light switch for $5
Press on lights can increase lighting in work areas for $5
Hand-held showers, shower chairs or grab bars cost $25 or less each
For more ideas on low cost solutions for home modifications, contact WVATS at 800-841-8436 for a copy of the Low Cost, Low Tech brochure. To find out more about reasonable modifications under the Fair Housing Act, contact the WV Fair Housing Action Network at 304-296-6091.
AT Clinic Success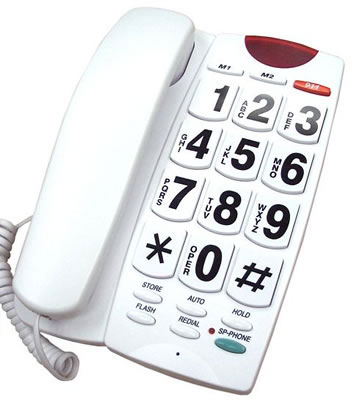 WVATS demonstrates assistive technology at the Assistive Technology Clinic at the Center for Excellence in Disabilities at WVU. Mary came to the clinic because her vision is limited and she was looking for assistive technology that would help her around her house.
WVATS was able to show her devices that she could use in her home, including a large button telephone, magnifiers and writing guides. Mary used the WVATS loan library to borrow a large button telephone and a magnifier to try out at home. Clinic staff also provided her with a large desktop magnifier and a bookstand from the WVATS exchange system.
During a follow-up call, Mary stated, "I'm going to get a big button phone and I'm thinking about getting the writing guide kit." When asked if the magnifier and bookstand were working for her, she replied, "They work and help me a good bit."
New for Loan
Over - Door Pulley Set
The pulley set helps build and keep strength in the fingers, hands, arms, shoulders and back. The exercise pulley set fits over the door and can be used in both standing and sitting positions.
Super Slant Board
The slant board can be used in a variety of locations and assists with postural problems while reading and/or writing.
Door Beacon - Knock Sensor
The knock sensor has an extra bright light that flashes for several seconds after someone knocks onthe door. It can be used on an entry door, bedroom door, bathroom door, hotel room door, dorm room door or workplace door. There is a door hanging bracket/hook & loop fastener included.
Vantage Light
The Vantage Lite is a lightweight and portable augmentative communication device. The device features several keyboard options including the standard QWERTY keyboard. The Vantage Light also has a strong core vocabulary featuring the Unity® language system in multiple display configuration settings. Due to the cost and complexity of this device only professionals may borrow this device.
Faucet Light
The LED faucet light for kitchen or bathroom sinks is a useful environmental control. The LED faucet light turns blue for cold water and red for warm water.
To borrow one of these devices from the WVATS loan library, call 800-841-8436.
Powerful Tools
DeafBlind Communicator (DBC)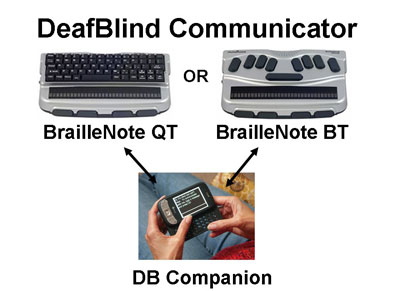 The DBC lets people who are deafblind talk with others through face-to-face chat. The DBC user can activate the DB-Phone through the menu on the DB-BrailleNote. The DB-Phone is handed to the sighted person with whom the user wants to talk. This message is spoken and displayed on the DB-Phone: "Hi, I'm blind and I can't hear. To communicate with me type a message on this keyboard and press (the return arrow)." The sighted person types a text message on the DB-Phone. The message goes to the DB-BrailleNote where it appears in Braille. The DBC user can then type a response on the DB-BrailleNote and send it to the DB-Phone to continue the conversation.
For more information on the DeafBlind Communicator, visit www.humanware.com or call 800-722-3393.
Ultra Grip
The Ultra Grip is a portable grab bar. It can help people get in and out of the bathtub, use a toilet, or other times when help is needed for standing up. The Ultra Grip is plastic with two locking suction cups. A light appears to let the user know the device is secure. This device cabe useful for travel and short term situations.
For more information or to purchase the Ultra Grip visit www.pattersonmedical.com or call 800-323-5547.
EZ-ACCESS™ Suitcase Ramp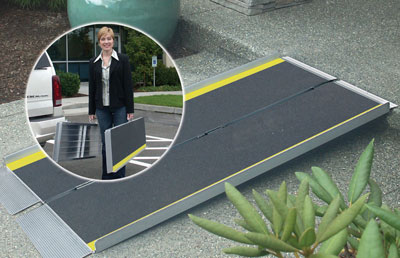 The EZ-ACCESS Suitcase Advantage Series Ramp splits into two lightweight sections. This makes them easier to move, set up and store. The ramps are 15 inches wide when folded and unfold to a 29.5-inch wide platform. The Suitcase Advantage Series Ramp is made of aluminum, can hold 800 pounds, and is available in five lengths.
For more information or to purchase the EZ-ACCESS Suitcase Advantage Series Ramp, visit www.ezaccess.com or call 800-451-1903.
firefly
firefly is the newest product from Kurzweil Educational Systems. Users can access many of the features of Kurzweil 3000 from anywhere there is an Internet connection. The features of firefly include: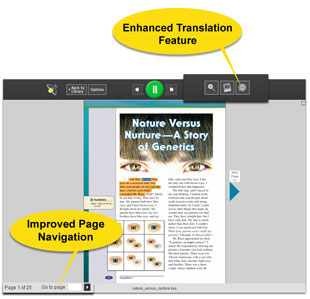 Read text by word, line, sentence or paragraph
Increase or decrease size of display
Look up definitions of words
Translate text
Change reading speed
Choose from four different voices
Cloud storage for digital files
A web license to Kurzweil 3000 for Windows or Macintosh is required in order to use firefly.
For more information or to purchase firefly, visit www.kurzweiledu.com or call 800-547-6747.
i.AM Search™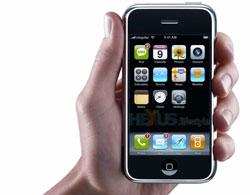 i.AM Search is a free app for the iPhone, iPad, and iPod Touch. It creates a custom profile to help parents and educators find apps to meet a child's specific needs. The user creates a profile for a child, including age, gender, grade, symptoms (needs), independence level (severity) and skill sets. The app displays a list of apps that fit the child's profile. The user can read about and purchase the apps directly through i.AM Search for no additional cost. The apps recommended by i.AM Search have been studied, rated and evaluated by a team of reviewers.
For more information or to download i.AM Search, visit www.wynsumarts.com or the Apple App Store.
Cut Resistant Glove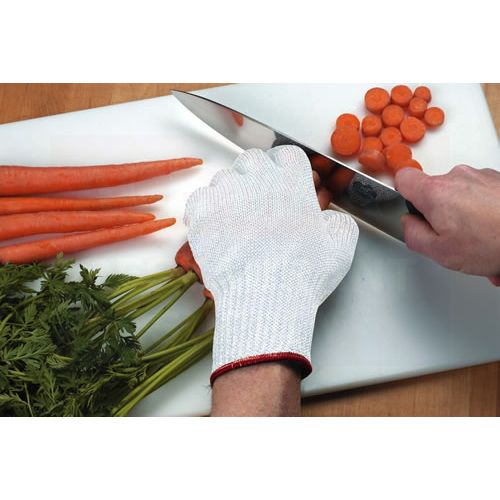 The Cut Resistant Glove helps protect hands from accidental knife cuts. The glove has a stainless steel core wrapped in hi-tech polyester and vinyl. It is designed to be flexible yet protective. The Cut Resistant Glove is washable and fits either right or left hands. It is available in small, medium and large.
For more information or to purchase a Cut Resistant Glove, visit www.lssproducts.com or call 800-468-4789.
Resources
Fair Housing Requirements
The Fair Housing Act applies to multifamily buildings designed and built "for first occupancy" after March 13, 1991. There are seven design and construction requirements under this act.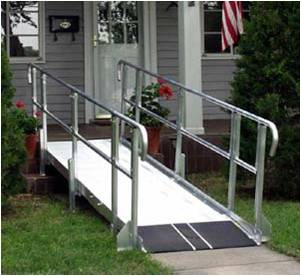 The building must have an accessible entrance on an accessible route
Public use areas must be accessible
Doors must be usable by a person in a wheelchair
There must be an accessible route through the unit
Light switches, electrical outlets and other environmental controls must be in accessible locations
Bathrooms must have reinforced walls so grab bars can be added if needed
Kitchens and bathrooms must be built in a way that allows a wheelchair to move around in the space provided
To help builders understand these rules, HUD funds Fair Housing Accessibility First. Fair Housing Accessibility First is a technical support group that answers questions and provides training. For more information, call toll-free 888-341-7781 (V/TTY) or visit www.fairhousingfirst.org.
Traumatic Brain Injury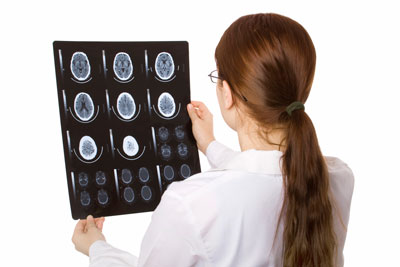 The Center for Disease Control (CDC) says around 1.7 million people suffer a Traumatic Brain Injury (TBI) every year. Every state has a program to help people with a TBI. In WV, the TBI Program is located at the Center for Excellence in Disabilitiesin Morgantown, WV.
The TBI program offers services to help people with TBI, families, caregivers and service providers. The program offers the following supports:
Resource Coordination
Person-Centered Planning
Positive Behavior Support Assistance
Funds for YOU Application Assistance
Funds for YOU is a funding source for people witha TBI. The money is used for equipment, assistive technology and services to increase independence. Applications are available from TBI Resource Coordinators.
For more information about the TBI program call 877-724-8244 or visit tbi.cedwvu.org.
National and State News
Special Education Funding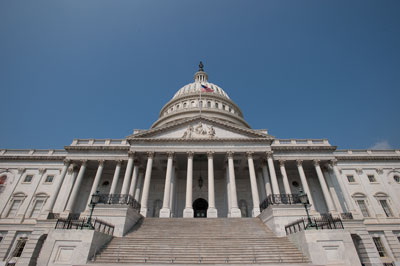 Congress passed the federal education budget for the 2012-13 school year at the end of 2011. Special education received $12.6 billion. This is a $114 million increase from 2011.
For more information on the 2012 Federal Education Budget visit www.ed.gov.
The following is a list of special education programs and the funding increase or decrease they will have in 2012:
State grants (+$115 million)
National activities (+$4.7 million)

State personnel development (-$2.9 million)
Technical assistance and information dissemination (+$5.9 million)
Personnel preparation (-$167,000)
Parent information centers (+$945,000)
Technology and media services (+$944, 000)

Special Olympics education programs will now be listed under National Activities: technical assistance and information dissemination (-$8 million)
PROMISE: Promoting Readiness for Minors in SSI (+ almost $2 million)
National Deaf-Blind Equipment Distribution Program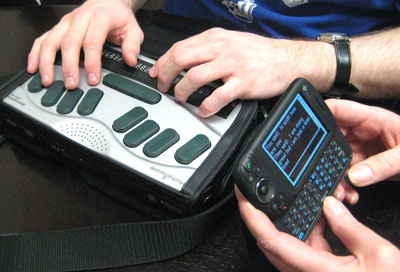 The Federal Communications Commission (FCC) has created a "National Deaf-Blind Equipment Distribution Program (NDBEDP)". The two year pilot program gives money to groups in each state to supply distance communications devices to low-income people who are deafblind to help access the telephone and Internet.
For more information on this project or for an application, call 888-225-5322 or visit www.fcc.gov.
The WVATS Advisory Council is seeking
NEW MEMBERS
If you are a user of assistive technology, or a family member of a user, call
800-841-8436
to find out about how you can serve.
Employment News
The Path to Employment: A TANF Success Story
Ashley is a 26-year-old mother of two. She had worked as a receptionist before having her children. She had been receiving benefits from the Cabell County Department of Health and Human Resources (DHHR) since her recent divorce. The Cabell County Vocational Assessment Specialist (VAS) referred her to Sherri Shannon, Employability Outreach Specialist with the TANF Vocational Assessment Program to help find her a job.
Ms. Shannon met with Ashley in mid-September 2011. Ashley and Ms. Shannon talked about her educational and employment goals. They filled out several applications for businesses near her home that day. Ashley delivered them to the businesses the next day. Ms. Shannon spent the next few days looking for job postings Ashley might be qualified for and sent them to her. Ashley applied for a few of the positions.
The following week Ms. Shannon met with Ashley, her DHHR worker and the VAS to talk about job goals and plans for reaching the goals. Ashley qualified for the Employment Subsidy Program (ESP) through DHHR. The ESP is a statewide subsidized employment placement program that will reimburse an employer 100% of her salary for a year. Ashley's DHHR worker referred her for the program. They also asked the DHHR worker to refer her to the Excel program, a job readiness program. This would allow her to get the hours she needed for her benefits and be able to work on her job search at the same time.
Ashley attended a job fair for Prestera a few days later. Ms. Shannon prepared and delivered Ashley's resumes to her before the job fair. She also gave her a mini interview skills pep talk. Ms. Shannon met with Ashley once a week for a couple of hours to do job searches and get job referrals from the Workforce office.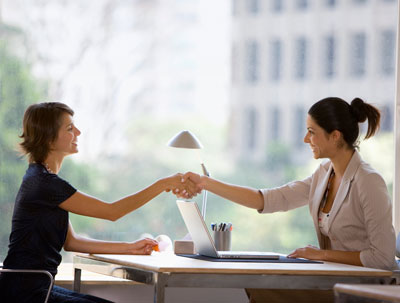 In late October 2011, Ashley had interviews scheduled for three different jobs. She and Ms. Shannon reviewed the "do's and don'ts" during an interview at their meeting. Ms. Shannon received an email from Ashley after her interview with a local computer data company. She got the job. She is working full time and the salary discussed when applying was $8.00 an hour. She is very excited about the job and is making plans to complete her FAFSA so she can further her education.
What's New at Social security for 2012
Social Security Disability Insurance (SSDI)
There has not been an increase in Substantial Gainful Activity (SGA) since 2009. SGA is the dollar limit that the Social Security Administration sets for people who work and receive benefits. This year the amount for SGA rose to $1,010 a month before tax (gross) wages. If the disability is blindness the amount for SGA will be $1,690 a month of before tax (gross) wages.
The dollar limit for Trial Work Period (TWP) stayed the same for 2012 - $720 a month.
The Medicare Part B premium has also changed for 2012. For most people on SSDI benefits, the Part B monthly amount is $99.90. This is deducted each month from SSDI checks.
Supplemental Security Income (SSI)
For the first time in two years the Social Security Administration increased the amount of Supplemental Security Income (SSI) a person can receive. For 2012, a person receiving SSI can get up to $698 a month. This is $24 more per month. Eligible couples (when both husband and wife receive SSI) can receive up to $1,048 a month or $524 per person each month.
Full time students who receive SSI may be able to apply for the Student Earned Income Exclusion. A student can earn up to $1,700 per month (up to $6,840 a year) and not have that money affect their SSI check.
For more information about what's new for 2012, please contact a Community Work Incentives Coordinator at 888-829-9426.
Employment Tools
Telephone Headset with Amplifier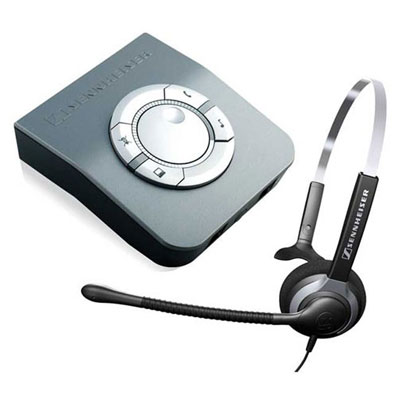 The Sennheiser SH230 is an over-the-head, single-sided telephone headset. It has a flexible microphone that can be adjusted to fit the user. The headset is combined with an amplifier for more volume control and call options.
For more information or to purchase the Sennheiser Over-the-Head Telephone Headset visit www.harriscomm.com or call 800-825-6758.
Dexball Writing Aid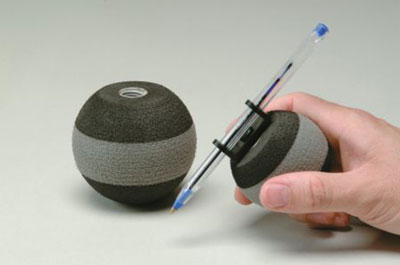 The Dexball helps people with weak or arthritic hands grip a pen or pencil and write with more comfort. It is available in two sizes, large and small. The pen is held in place by a plastic insert.
For more information or to purchase the Dexball Writing Aid visit www.pattersonmedical.com or call 800-323-5547.
Evoluent Vertical Mouse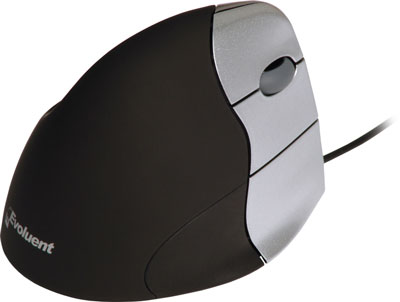 The ergonomic shape of the Evoluent Vertical Mouse can help wrist and arm pain. The shape supports the hand in a fully upright handshake position.
For more information or to purchase the Evoluent Vertical Mouse visit www.enablemart.com or call 888-640-1999.
AgrAbility
Chainsaw Safety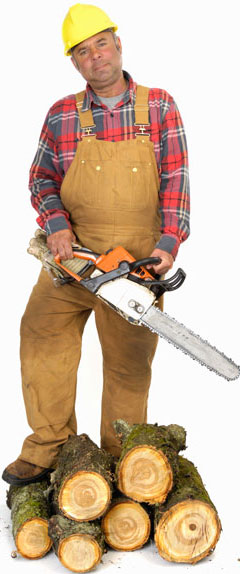 Over 40,000 people are injured from chainsaw accidents every year. Jobs that require a chainsaw are often unavoidable on farms. Keeping your chainsaw in good condition and knowing a few safety precautions are valuable steps to help prevent chainsaw related injuries.
Carrying your chainsaw. When not making cuts, the engine should be off and the chain brake on. The chainsaw should be carried backwards with a chain guard on the guide bar to lessen the chance of being cut while carrying it.
Holding a chainsaw (while in operation). Always hold the chainsaw by its handles with both hands. Keep your thumbs firmly around the handles.
Keep your chainsaw clean and maintained. Make sure its handles are clean, dry and free from oil and fuel so you can keep a good grip on it. Keep the guard bar sharp and the chain tight.
Remember your surroundings. Make sure the branch or trunk you want to cut is free from other branches, trees and debris to prevent dragging or snapping other trees. Remove loose branches in the tree you want to cut to prevent them from shaking loose and falling while you are cutting. Make sure there are no combustible materials or power lines in your work area.
Have an escape plan. Things can go wrong despite good planning and safety precautions. Your escape plan should be a path at a 45 degree angle from the line of the tree's fall. Use this path to move away from the tree as soon as it starts moving due to your cuts. Remember, never stand behind the tree that you are cutting. If at all possible, stand uphill from the tree.
For more tips and detailed information on chainsaw safety, check out:
Green Thumbs, Healthy Joints Grant Projects
Congratulations to the 2012 Green Thumbs, Healthy Joints mini-grant recipients! This year Green Thumbs received a record number of applications. Thanks to all who applied.
PACE (Morgantown) will make their current accessible garden bigger.
Alderson Manor (Alderson) hopes to give the residents a low-impact option for home gardens with a raised bed garden.
Jackson County Extension, Jackson CountyMaster Gardeners and vocational agriculture students are building accessible community gardens at the Jackson County Fair Grounds and Jackson County Middle School.
Jefferson County Council on Aging (CharlesTown) will add horticulture therapy to the programs offered at the Jefferson Center.
Jefferson County Council on Aging (Ranson) will add garden flower wheels and a hanging garden pulley system to their current garden.
Wayne County Community Services (Fort Gay) will add three new raised beds, stools and benches to the garden at the Fort Gay Multi-Purpose Senior Center.
Agsten Homes (Charleston) will add trellises and planters that are wheelchair accessible to their community garden.
PRIDE Community Services (Logan) will add more raised beds and a resting area to its accessible garden.
Mineral County Family Resource Network (Keyser) is adding raised garden beds and education outreach at residential and day facilities for seniors.
Manna Meal Community Garden (Charleston) will add raised garden beds to its community garden.
Ceredo Manor (Ceredo) is starting its first phase by making its garden accessible. A raised bed will be built on an existing concrete slab.
St. Peter Claver Church (Huntington) will be adding raised garden beds to their community garden.
Wetzel County Senior Citizens Center (Hundred) is starting their garden as one part of a new local food project which includes programs in education, growing and marketing of locally grown food.
West Milford Community Complex (West Milford) will add to the accessible gardens in the complex.
Marshall County Senior Citizens Center (Moundsville) will use the grant funds and the four raised flowerbeds they received from their local BB&T branch to provide gardening opportunities to the center's members.
Pocahontas County Senior Center (Edray/Marlinton) is building raised garden beds and using food map containers to create an accessible garden to boost activity in its members.
For more information on accessible gardening, accessible design suggestions, or to take part in the Green Thumbs online forum, visit our web page at www.greenthumbs.cedwvu.org or call 800-841-8436.
Green Thumbs, Healthy Joints
Lasagna Gardening
Lasagna gardening starts your garden with new soil that you make by layering yard and food waste. Where you make your soil is where your garden will be. This takes digging and tilling out of gardening.
Just like the lasagna you cook, your lasagna garden has to be layered in a general order.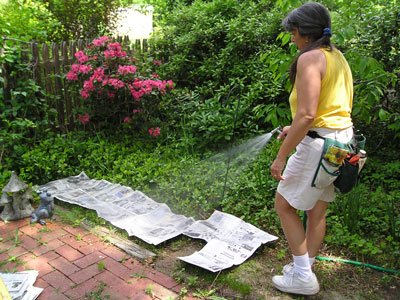 The first layer of your lasagna garden is either brown corrugated cardboard or three layers of newspaper.
Lay the cardboard or newspaper directly on top of the grass or weeds where you want your garden.
Wet this layer down to keep everything in place. Water also helps waste break down.
Put a layer of browns (leaves, shredded paper) on top of the cardboard or newspaper.
Put a layer of greens (vegetable scraps, grass clippings) on top of the brown layer.
Layer until your lasagna garden is about two feet high.
In general, you want your "brown" layers to be about twice as deep as your "green" layers. The layers will 'cook down' (compost) in only a few weeks.
For more information, read Accessible Gardening: Lasagna Gardening found at www.greenthumbs.cedwvu.org. Click on the 'Accessible Gardening Fact Sheets' link on the right hand side of the page for the full listing of accessible gardening techniques. You can also call 800-841-8436.
Contact WVATS
Center for Excellence in Disabilities
West Virginia University
959 Hartman Run Road
Morgantown, WV 26505
304-293-4692
Hotline: 800-841-8436
TTY: 800-518-1448
WVATS Newsletter Editor:
Jessica Wright
(jwright@hsc.wvu.edu)
Editorial Committee: Melina Danko, Mary Slabinski, Tatiana Solovieva, Melanie Burge
Layout: Brian Pickens
WVATS is funded by the US Department of Education, Rehabilitation Services Administration Contract# H224A100047
All printed materials are available in braille, electronic format, cassette tape and large print. WVU is an Affirmative Action/Equal Opportunity Institution.