Spring 2016
Click here for the PDF Version
Articles:   [Cover Story: Low-Tech Assistive Technology (AT) Ideas for Vision Impairments]  [Fair Housing Discrimination and Sexual Orientation]   [Powerful Tools]   [Farm and Garden]  [Time to Have Some Fun!]


WVATS News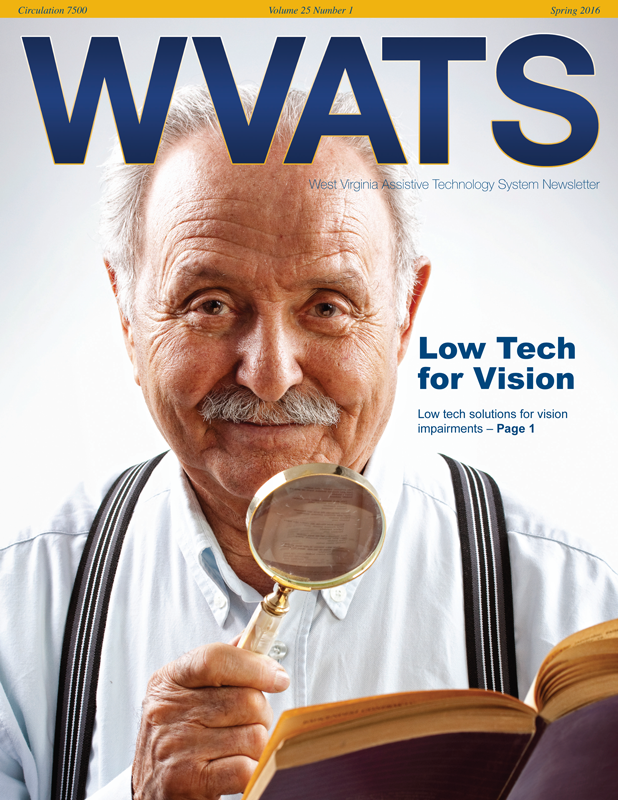 Low-Tech Assistive Technology (AT) Ideas for Vision Impairments
Low-tech AT can help people with low or no vision perform many tasks. For example, AT can:
Provide a tactile guide when doing chores or writing
Magnify or enhance visual information
Identify colors and shades of clothing
Give speech/audible output when measuring or counting
Make a basketball ring when you play with it
Examples of low-tech AT products include:
Tactile marking pens
Large print keyboard tops/labels
Braille stylus and slates
Talking color detectors, money identifiers and coin sorters
Light probe sensors
Stair tread or tape
Detectable warning surfaces
If you would like try an assistive technology device, the WVATS loan library has a variety of lowtech AT products either for loan or for demonstration:
For example: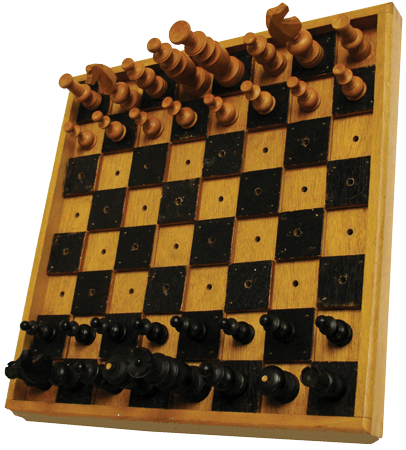 Hand and stand magnifiers
Raised locator dots
Timer with raised dots
Writing guide template
Large print and alternate contrast keyboards
Children's books in Braille
Large print/Braille playing cards
Tactile chess game
Talking calculator and scale
Liquid level indicator
Ringing ball
To learn more about what devices are available, visit vll.cedwvu.org or call WVATS at 800-841-8436.
For West Virginia seniors 55 and older with vision loss, the VISIONS program may be able to help. VISIONS stands for Visually Impaired Seniors In-home Outreach and Networking Services. VISIONS is a free service of the West Virginia Department of Rehabilitation Services, and is an independent living program for seniors with vision loss. For qualified applicants, the program can:
Provide low tech assistive technology
Teach alternative home organization techniques
Connect you with community activities and services
Connect you with other people who have similar vision loss
To learn more about the VISIONS program and other services for West Virginians with low or no vision, visit wwww.wvdrs.org or call the statewide toll free hotline at 800-642-3021.

The Fair Housing Act (Act) prohibits housing discrimination based on race, color, national origin, religion, sex, disability and familial status. But there is growing concern that people are also facing discrimination in housing because of their sexual orientation.
Sexual orientation is not a protected class under the Act. But there are times when discrimination, because of sexual orientation, can be covered under an existing protected class.
For instance, HIV/AIDS is considered a disability by the Act. A gay man may be evicted because the landlord believes he will infect other tenants with HIV/AIDS. This can be discrimination covered by the Act as the man is perceived to have a disability.
In another situation, a property manager may refuse to rent to someone who is transgender. This may be discrimination on the basis of sex under the Act.
There are other protections besides what might be covered by the Fair Housing Act. Housing and Urban Development (HUD) has rules that insure equal access to the lesbian, gay, bisexual or transgender (LGBT) community.
If you believe you have been denied housing because of a personal trait, contact the West Virginia Fair Housing Action Network (WVFHN) at 844-212-3464 or info@wvfhan.org.
Do you have a need for Durable Medical Equipment (DME)?
Making a request for durable medical Equipment can be a confusing process. WV Advocates (WVA) has developed a tip sheet to help make the process easier. What kinds of items fall into this category? According to WVA:
Durable medical equipment (DME) is equipment such as, but not limited to: a wheelchair, wheelchair accessories, canes, shower chairs or a hospital bed.
If you have questions about requesting DME, would like a complete copy of WVA's DME tip sheet or have been denied DME, call WVA at 800-950-5250 or visit their website at www.wvadvocates.org. WVA's services are confidential and free of charge.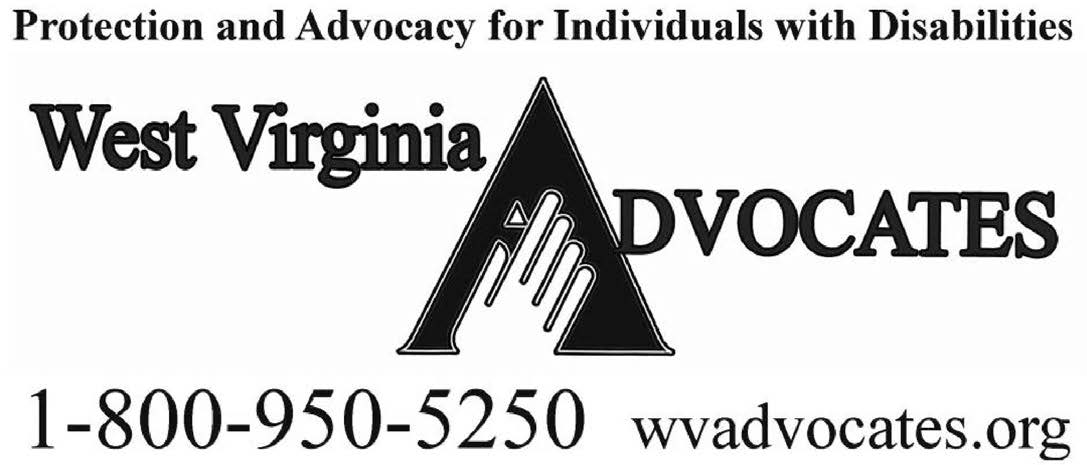 Raised Bump Dots and Gems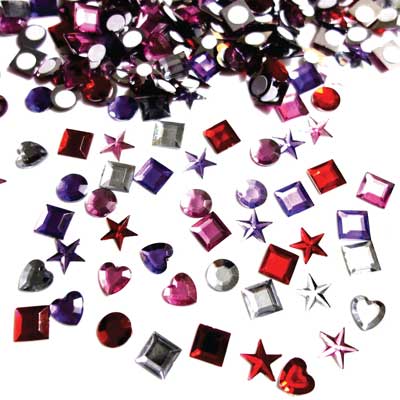 Raised bump dots come in a variety of sizes and colors. They have sticky backs so you can stick them on keys, buttons and knobs. The dots are raised so you can find them on an object by touch. Some people use self-stick earrings or craft gems instead because they come in different shapes, like hearts and stars.
To learn more about raised bump dots, visit www.rehabmart.com or call 800-827-8283. For more information about adhesive craft gems, visit www.michaels.com or call 800-642-4235.
Braille Slate and Stylus
The Metal Braille Slate and Stylus allow users to write notes and make labels in Braille. Both the Metal Braille Slate and the Stylus are lightweight and portable. The Metal Braille Slate has six columns with 19 cells in each column.
For more information, visit www.rehabmart.com or call 800-827-8283.
Pebble HD Magnifier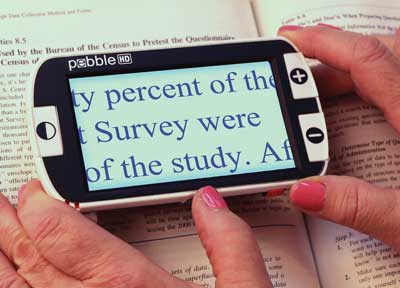 The Pebble HD Handheld Magnifier is a small, portable magnifier. It has a high definition picture and an ergonomic design with large tactile buttons and bump dots to increase accessibility. The screen has an adjustable brightness with a lights on/off option. This magnifier has a rechargeable battery with up to three hours of continuous use. You can hold the magnifier in your hand or use it with an optional magnifier stand.
For more information, visit www.enhancedvision.com or call 888-811-3161.
Miniguide Mobility Aid
The Miniguide Mobility Aid is a handheld echo-location device. The device uses sound and vibration to let the person know when an obstacle is in the way. It has a headphone jack for discreet use. The Miniguide Mobility Aid is best used in combination with a cane or service animal.
For more information, visit www.lssproducts.com or call 800-468-4789.
Voice app
Voice is a mobile app for Apple devices. With Voice, you can take a picture of print material and then listen as the app reads the text back to you. This app can turn printed text to speech from items like books, magazines, medicine labels and restaurant menus. The Voice app can also identify text in over 30 different languages.
For more information, visit www.shalinshah.me/voice.
Sonar Glasses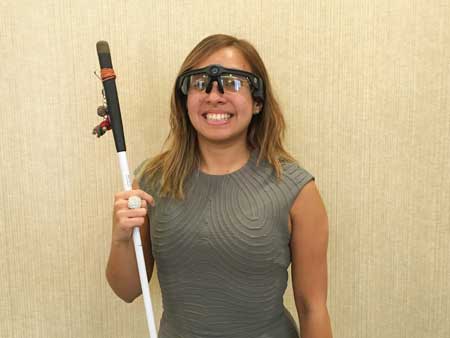 Sonar Glasses use sound wave technology, similar to how bats find their way in the dark. These glasses detect objects above waist level — like signs, walls, low ceilings and other people — that might be in the person's path. Sonar Glasses come with either clear or dark lenses. They can be customized with prescription or photosensitive lenses.
For more information, visit www.g-disabilityproducts.com or call 571-297-4756.
UltraCane
The UltraCane has sensors and transmitters in the handle that can tell when an obstacle is near. As the person using the UltraCane comes near an obstacle, the cane handle vibrates. This vibration increases as the person gets closer to the obstacle.
For more information, visit 800-468-4789 or call www.lssproducts.com.
Farm and Garden
Raised Beds for Accessible Gardening
Raised garden beds bring plants closer to you. Using this method can lessen the need to bend and reach; by raising the bed to a better height, you can sit or stand while gardening. A raised bed is usually a rectangular or square box made of wood, stone, concrete or brick. The box holds soil so you do not have to dig into the ground to plant.
Tip: Gardening while keeping your arms between waist and shoulder level can help prevent strain while using your energy more wisely
Raised beds range in height. Low raised beds are often about 6 to 12 inches high. This is still fairly low to the ground, so tending to plants at this level might be easier using a stool or knee pads. Higher raised beds are generally 18, 24 or 30 inches high. These beds can make it easier for people to reach plants while sitting or standing. Making a higher raised bed can be helpful for people who have problems with their arms and hands, are tall, or who use wheelchairs or walking aids.
One smart idea is to choose a raised bed that is made to be wheelchair accessible. These designs often lift the bed on legs, so there is enough room to roll a wheelchair or scoot a chair under it. Gardening this way lets you sit facing the garden bed, kind of like sitting at a table or working at a desk. Some wheelchair accessible beds are made so the box is wedge or "v" shaped. This shape can allow a chair to roll further under the box so it is easier to reach the plants. The beds may have wheels to make them easier to move or lock in place.
Tip: Remember to make walkways around your raised beds accessible, too
Many people build their own raised beds from scratch. For design ideas, visit This Old House at www.thisoldhouse.com or Home & Garden TV at www.hgtv.com and search on "raised bed".
You can buy a raised bed in a kit that you put together. For ideas, visit Raised Beds at www.raisedbeds.com or call 888-838-1092, or Gardeners Supply at www.gardeners.com or call 888-833-1412.
A New Season with Green Thumbs, Healthy Joints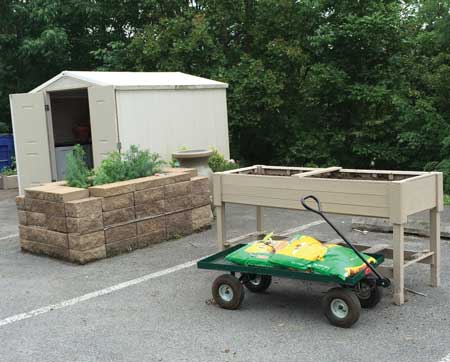 Green Thumbs, Healthy Joints is gearing up for a great growing season with new accessible gardening projects around the Mountain State. Congratulations to our 2016 awardees:
Cabin Creek Health Center, Inc
Calhoun County Committee on Aging, Inc.
Greenbrier County Commission
Homestead Farm Center, Inc.
Hopemont Hospital
Mountain CAP of WV, Inc.
Mountain Terrace, Inc.
Pendleton Manor
Putnam County Aging Program, Inc.
Green Thumbs, Healthy Joints is an accessible gardening program for West Virginians with arthritis, osteoporosis, other musculoskeletal conditions and joint limitations. Administered by the West Virginia Assistive Technology System in conjunction with WV AgrAbility, the Green Thumbs, Healthy Joints program is funded by the WV Bureau for Public Health, Division of Health Promotion and Chronic Disease.
VegTrug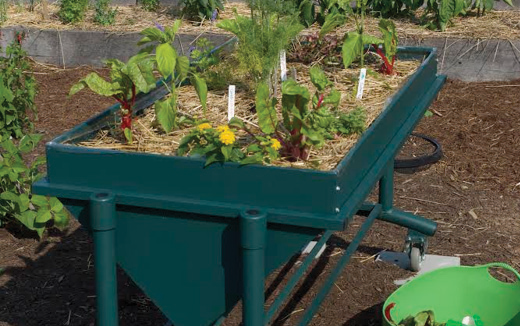 The VegTrug is a waist high raised bed. Made of cedar, the garden bed is v-shaped to make it easier for wheelchair users to reach and plant. The bed comes with a fitted liner. The VegTrug comes in small and medium sizes. Wall hugger versions are also available.
For more information, visit www.kinsmangarden.com or call 800-733-4146.
2016 WVU Extension Service Garden Calendar
Each year, WVU Extension releases a garden calendar. This year, the theme is "Farm to Table". The calendar features gardening tips "by the date", and gives day-to-day instructions to help you keep organized. It also includes recipes to make throughout the year. The publication features common vegetables and offers info about specific varieties like resistance and days to maturity.
The calendar is available in different formats. You can request a color calendar from your local WVU Extension office, or download a black and white version from their website at www.anr.ext.wvu.edu/garden_calendar. To learn more, call 304-293-6131.
Time to Have Some Fun!
Spring is here, and so are many chances for people to think about having some fun.
For example: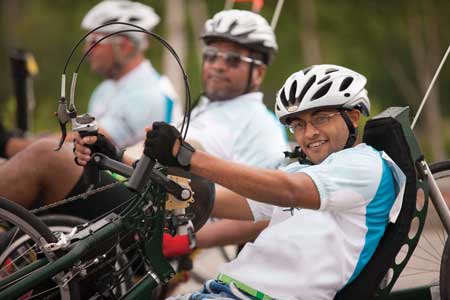 People can attend the Para-Athletic Club MidAtlantic Games on May 3-6 in Charleston. This will give you a chance to cheer on our West Virginia athletes with disabilities as they compete to become national champions. Sports include weightlifting, track and field, marksmanship and others. For a schedule of events, visit www.camc.org/para-athletic-program-schedule or contact Zach about this event at 304-388-9865.
There are also dozens of recreation items you can borrow from the WVATS Loan Library. These items are available free of charge for any West Virginia resident to try. Visit the Virtual Loan Library at vll.cedwvu.org or call 800-841-8436 to talk with an Assistive Technology Specialist.
Other recreation activities can be found on the WVATS Accessible Recreation Calendar at wvats.cedwvu.org/accessible-recreation-calendar. This includes just some of the hundreds of events around the state where you can have fun. Additions to the calendar are made frequently so check back often. If you have an activity you would like to include in the calendar, or want more information on recreation in West Virginia for people of all ages, contact WVATS at 800-841-8436.