Summer 2014
Articles:   [Cover Story: Assistive Technology at Work]  [Reasonable Accommodation and Fair Housing]   [Powerful Tools]   [New for Loan]   [Farm and Garden]   [Green Thumbs, Healthy Joints Community Projects]   [PATHS 2014 Conference]


WVATS News
Assistive Technology at Work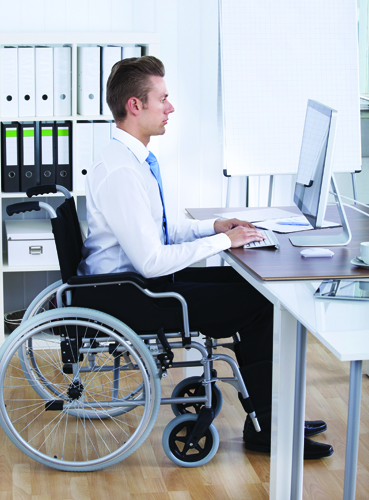 Assistive technology (AT) can be a powerful job tool. AT can help a person at different stages of employment. When someone is looking for and applying for a job, AT can help with the hiring process. For example:
A person with one arm may use a one-handed keyboard to type a resume
An applicant with low or no vision could use screen reading software to read a job description or
A candidate who is hard of hearing might use an assistive listening device during a job interview
AT can also play an important role on the job. For example:
An office worker who uses a wheelchair could ask an employer for an adjustable height desk as a job accommodation
A greenhouse worker might benefit from using ergonomic gardening tools
The workforce is vast. There are many types of jobs. A person might need different kinds of assistive devices depending on the job tasks. A worker with arthritis might need a different device while typing on a computer in an office than when driving a forklift in a factory or trimming trees in an apple orchard.
To find out what kinds of assistive technology may be useful on the job, you can access Searchable Online Accomodation Resource (SOAR), an online resource from the Job Accommodation Network (JAN) at www.askjan.org/soar. Also, you can call JAN to talk with a consultant about how to ask an employer for a job accommodation and find out about your employment rights under the Americans with Disabilities Act (ADA). To learn more, visit www.askjan.org, or call JAN at 800-526-7234 (V) or 877-781-9403 (TTY).
Borrowing a device can help a person decide whether it could be useful. WVATS has a broad range of AT devices for loan through its online library at vll.cedwvu.org. WVATS staff can also provide training to organizations about assistive technology in the workplace. For more information, call 800-841-8436.
Reasonable Accommodation and Fair Housing
The Fair Housing Act provides many ways to make sure people have an equal chance for housing. The issue is often physical access to housing for people with disabilities. Sometimes though, the policies of the housing facility can be a problem.
A person with a disability can ask for a change called a "reasonable accommodation" that would allow an equal chance to use and enjoy the housing. A change to a rule, policy, practice or service can be a kind of reasonable accommodation.
The accommodation being requested and the individual's disability must be linked to be considered "reasonable." For example:
A housing provider has a policy of not assigning parking spaces. A resident with a problem walking asks for an assigned space close to her door.
A housing provider has a "no pets" policy. A tenant who is deaf asks to keep his dog as an assistance animal to let him know when someone knocks at the door or the telephone rings.
Housing providers can deny a request if the request was not made by or on behalf of a person with a disability. They can also deny the request if there is no disability related need for the accommodation, would impose a financial and administrative burden on the housing provider or would change the provider's operations.
If an accommodation request is turned down without a good reason, it may be because of discrimination. If you have requested a reasonable accommodation and been denied, talk with the WV Housing Advocate. You can learn more about your rights and responsibilities by calling the WV Housing Advocate at 304-296-6091 or visiting www.wvfairhousing.org.
Powerful Tools
New for Loan
Amazon Kindle Fire HD
The Amazon Kindle Fire HD is an e-book reader tablet. This portable device allows you to download apps and access the web. The tablet has a text-to-speech option that uses a digital voice to read out loud.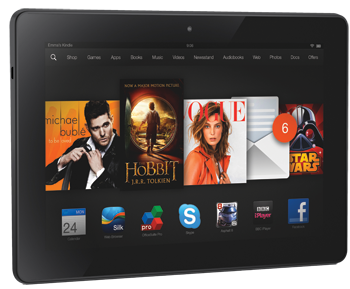 Sit/Stand Stool
The Sit/Stand Stool is for workers who have trouble standing for a long time. The seat can swivel and tilt forward into a locked position. Users can lean against this support stool device to help ease pressure and lessen the tiredness of standing for long periods of time.
TalkTrac Wearable Communicator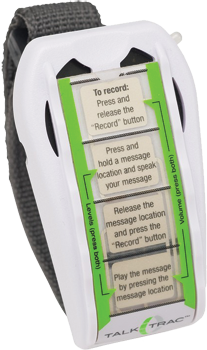 The TalkTrac Wearable Communicator allows you to record a total of eight messages. It can be used to make to-do lists, say your name or share a little bit of information with others. The device has 80 seconds of recording time and two volume levels. The user can use picture symbols over the buttons. A Velcro wrist strap band comes with the device or it can be attached to most standard watch bands.
To borrow one of these devices from the WVATS Loan Library, call 800-841-8436.
Powerful Tools
Anti Fatigue Mat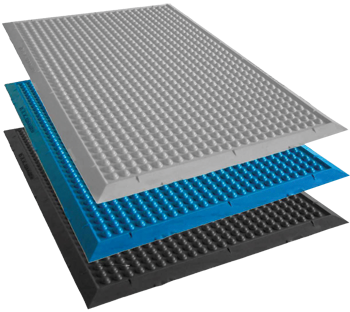 An Anti Fatigue Mat may lessen stress on your back and feet when standing. The mat is made for people who need to stand in one area for a long time. Depending on where you want to use it, e.g., your kitchen or garage, you can buy a mat made of gel, foam or rubber.
For more information, visit www.antifatiguekitchenmats.net.
Novint Falcon
The Novint Falcon is a USB device that can be used instead of a mouse with many math/science applications and video games. This device can make the surfaces of virtual objects feel solid, so people with low vision can use touch when doing computer based gaming and learning.
For more information, visit www.novint.com/index.php/novintfalcon.
eTouch Sciences Apps
The eTouch Sciences Apps add touch to math and science learning. They can teach a wide range of math and science lessons that include tactile feedback, audio and high-contrast graphics for people with low vision. The apps work with the Novint Falcon device to let the user feel the shapes and textures of virtual objects. The eTouch Sciences Apps are based on national math and science content standards.
For more information, visit www.etouchsciences.com or call 304-376-3506.
The Serene HearAll Cell Phone Amplifier

The Serene HearAll Cell Phone Amplifier can amplify a caller's voice up to 100 times louder. It pairs with many Bluetooth cell phones. You can use the amplifier as a handset or a speakerphone. The device has a T-Coil mode that sends sound directly to a hearing aid with a T-Coil.
For more information, visit www.sereneinnovations.com or call 866.376.9271.
Farm and Garden
National AgrAbility Workshop
West Virginia AgrAbility staff attended the 2014 AgrAbility National Training Workshop. NTW is an annual educational event sponsored by the National AgrAbility Project (NAP).
The event is geared toward helping farmers and ranchers with disabilities continue to work in agricultural settings by using assistive technology. This year's workshop offered educational sessions and vendor booths. The workshop ended with a day of off-site tours to a horse farm, a college farm, a client farm, a bourbon distillery and a hydroponic food start-up company in Lexington Kentucky.
To learn more about West Virginia AgrAbility, visit www.agrability.ext.wvu.edu or call 800-626-4748.
Balcony Railing Planter
The Balcony Railing Planter fits over railings up to 5" in width, and no mounting hardware is required. It is available in a variety of colors.
For more information, call 800-427-3363 or visit www.gardeners.com.
Rotatable Beehive
The Rotatable Beehive is a new hive design by Royalty Hives. The device can make it easier for people to inspect a hive and access removable frames. The device has hydraulic shocks on the doors and a hand crank that rotates the bee storage unit from a vertical position to a horizontal one.
For more information, visit www.royaltyhives.com.
2014 Green Thumbs, Healthy Joints Community Projects
Aging and Family Services of Mineral County, Inc. (Keyser, WV) plans to create a raised vegetable bed and install a rain barrel to water the garden at the Frankfurt Senior Center.
Community Resources, Inc. (Parkersburg, WV) plans to construct raised flower beds at the Westbrook Health Services Day Program.
Council of Senior Tyler Countians, Inc. (Middlebourne, WV) plans to construct a raised bed greenhouse on-site with a garden bench.
Gateway Industries, Inc. (Ronceverte, WV) plans to make raised garden beds at the Clifford Community Recreational Center and convert an old pool on Island Park into a community garden.
HEART, an affiliate of the Alliance of Divine Love Chapel 1888, Inc. (Fairmont, WV) plans to do hay bale gardening and construct wheelchair accessible raised garden beds in the community gardens at the Oliver Avenue Park.
Jackson County WVU Master Gardeners (Cottageville, WV) plans to create a wheelchair accessible path for its educational research high tunnel at the Jackson County Fairgrounds.
Jefferson County Council on Aging (Ranson, WV) plans to make an accessible planting table on its front porch by adapting an accessible picnic table with recessed planters.
Mineral County Family Resource Network Corporation (Keyser, WV) plans to create a wheelchair accessible raised garden bed for a behavioral health center, build a mobile gardening cart for a rehabilitation center, install a hanging plant pulley system at an apartment building for seniors and partner with a local farm to hold a generational gardening event in Keyser.
New Martinsville Rotary Club (New Martinsville, WV) plans to expand raised garden beds, upgrade planters for seniors and develop new planting areas in low income housing areas in Wetzel County.
Rural Appalachian Improvement League (Mullens, WV) plans to grow fruits and vegetables in containers, put in a vertical plant trellis, expand raised garden beds and add a drip irrigation system in the Mullens Opportunity Center garden.
Southwestern Community Action Council, Inc. (Huntington, WV) plans to make two raised garden beds and plant bushes, shrubs and flowers at its center for low-income individuals and families.
Summers County Council on Aging, Inc. (Hinton, WV) plans to do container gardening and make raised vegetable, herb and flower beds for seated gardening at the center.
Wayne County Community Services Organization, Inc. (Huntington, WV) plans to create raised garden beds with a senior center and an adult day program at the Fort Gay Community Center.
For more information on the Green Thumbs, Healthy Joints project call 800-841-8436 or visit www.greenthumbs.cedwvu.org.
Save the Date: PATHS 2014 Conference
On October 10, PATHS will host "iPad Boot Camp: Awesome Apps, Accessories and Adaptations" at the Holiday Inn & Suites in South Charleston from 9:00 am - 4:30 pm.
Educators and others that use or recommend iPads or people who would like to know more about this device should attend. No experience with iPads or other tablet devices is needed.
One iPad Air will be given away to a paid participant. This continuing education activity has been approved for 6.5 contact hours by the WV Board of Examiners in counseling.
The main speaker will be Therese Willkomm, PhD, ATP. Dr. Willkomm has invented over 600 different assistive technology solutions, including 50 different iPad solutions for people with disabilities.
The conference is sponsored by PATHS, the Partnerships in Assistive TecHnologieS, a nonprofit group dedicated to increasing awareness about and access to assistive technology.
The registration fee is $90 per person. This fee includes the cost of continuing education units, conference materials, continental breakfast, lunch and breaks.
To find out more information or to register, please contact PATHS at 800-841-8436 or visit the website at www.pathswv.com.