Summer 2016
Articles:   [Cover Story: Assistive Technology and Autism]  [Does Your Child Need Assistive Technology in School?]   [Powerful Tools]   [Farm and Garden]  [Sexual Harassment Discrimination in Housing]


AT Ideas for People with Autism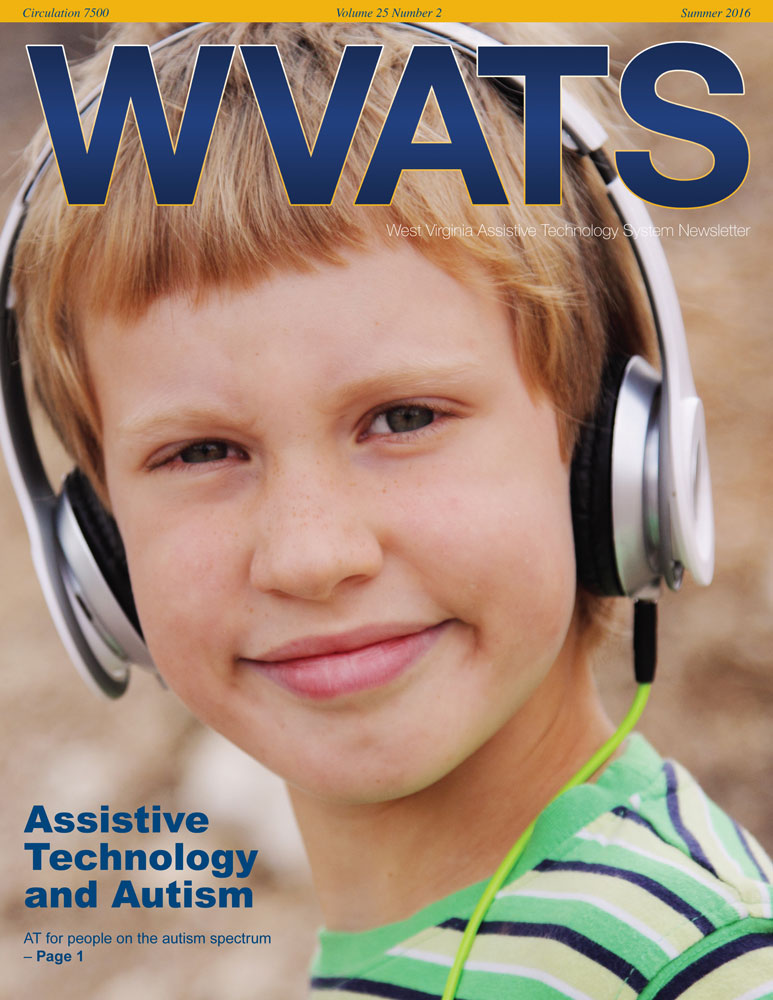 Assistive technology (AT) can play an important role in the lives of people with autism spectrum Disorder. An AT solution can be as simple as a picture of a glass of milk or as complex as an iPad with a communication app. AT devices can help with challenges like choice-making, sensory integration, communication, positive reinforcement and social interaction. For example:
Switches can be used to turn something on/ off, play with a battery operated toy, access a communication device or make a choice, e.g., "I want ice cream". Switches are made so you can press them with a hand, food, head or other body part—whatever works best for you.
Sensory toys can offer visual, tactile or audible output that capture one's attention. Many sensory toys allow you to turn on/off colorful lights, music and vibration features, and can be used either as a sensory toy or a switch. Some can be paired with communication devices to help with social interaction.
Augmentative and alternative communication (AAC) devices can help people with limited or no speech express themselves. Low tech AAC can be pictures and communications boards that a person can point to or touch; mid tech AAC devices have the capacity to record a voice to accompany a switch and matching image. There is also a range of high tech AAC tablets, apps and devices that can produce digital voice output and/or typed word output.
A tablet with educational apps can be used as a means of positive reinforcement for a child with autism who is learning new skills.
Weighted vests and blankets are designed to help provide calming, deep pressure and steady body awareness. Some people say that wearing a weighted vest is like having a wearable hug - without the stress a person with autism may experience from too much human contact.
Noise cancelling headphones and earmuffs can help reduce background noise while making it easier to focus on what someone is saying.
For specific product examples, visit the Powerful Tools section of this newsletter. To find out what assistive technology items are available for loan, exchange or demonstration, visit West Virginia's Assistive Technology Loan Library and Exchange System at https://vll.cedwvu.org. To learn more, call WVATS at 800-841-8436.
Does Your Child Need Assistive Technology in School?

The West Virginia Developmental Disabilities Council (WVDDC) and West Virginia Advocates, Inc. (WVA) developed "A Parent's Advocacy Guide to Special Education" for family members, students, educators and advocates for students with disabilities. This companion guide to the WV Department of Education Policy 2419 was created in response to parents' requests to have instruction and materials to help them better understand special education policies and procedures in West Virginia.
The guide shares information on the assistive technology (AT) evaluation process, including a sample letter that parents may use to ask the school to complete an AT evaluation. To access the guide, visit the WVA's "Resources" page at www.wvadvocates.org. You can ask for a free copy of this guide by calling WVA at 800-950-5250.
LEND Teens with Autism Support Group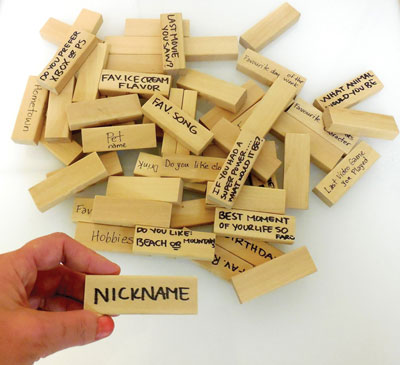 Being a teenager is not easy. It can be hard to handle social pressures and make friends. For teens with higher functioning autism, maintaining friendships and making social connections can be even harder.
To help cope with these issues, there is a support group for teens with high functioning autism or Asperger's in the Morgantown area. The support group is hosted by the Leadership Education in Neurodevelopmental Disabilities (LEND) program at the WVU Center for Excellence in Disabilities (CED).
The group is led by LEND graduate students under the supervision of Diane Williams, LCSW. Williams says the support group "offers informal supports and opportunities to build friendships" in a fun relaxed atmosphere. Group leader Magda Rivera-Dillon plans on time for group discussion and structured activities. Activities may include arts and crafts, ice-breakers and games to get teens involved and have fun.
The support group meets during the school year, and begins again in September. Meetings will be held at CED in Morgantown on the first and third Thursday of each month from 4-5 pm. To learn more, contact Diane Williams at 304-293-4692 or awilliams@hsc.wvu.edu.
Powerful Tools
Bluebee Pals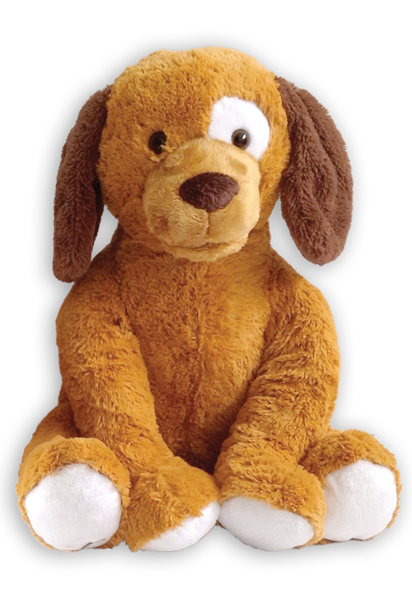 Bluebee Pals are plush, stuffed animals designed to help children with learning and socialization skills. A Bluebee Pal's mouth moves in synch with speech from phone calls, stories, songs and communication apps. The pal works with Bluetooth enabled Apple and Android devices. There are now five Bluebee Pals: Hudson the Puppy, Leo the Lion, Lily the Lamb, Riley the Zebra and Sammy the Bear.
To learn more visit www.bluebeepals.com.
Nursery Rhyme Caterpillar
The Nursery Rhyme Caterpillar has four large tactile switches that can help teach cause and effect. Each switch has a different color, texture and nursery rhyme. When you activate a switch, small multi-colored lights twinkle as the caterpillar plays the prerecorded nursery rhyme. This device can be wall mounted or used on a tabletop and is battery operated.
For more information, visit www.enablingdevices.com or call 800-832-8697.
Califone Hush Buddy Earmuffs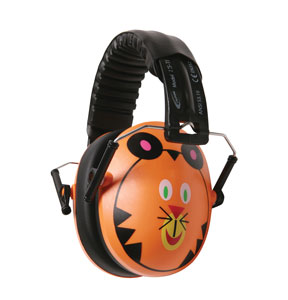 The Califone Hush Buddy Earmuffs are noise reduction headphones that help block out distracting noises. The device can help wearers make their environment quieter so it is easier to concentrate, study, read and relax. These earmuffs have an adjustable headband to fit young children and padded ear cups that completely cover the ears. Protection up to 27 decibels. Hush Buddy styles include Tiger, Panda and Bear earmuffs.
To learn more, visit www.got-autismproducts.com or call 888-237-4988.
Mega Weighted Lap Pad
The Mega Weighted Lap Pad is an oversized lap pad which measures 20 inches long by 20 inches wide. It has soft blue fleece on one side and a cool breathable mesh design on the other. The mesh side has a relaxing underwater animal theme. The lap pad has three pounds of weight that are evenly distributed throughout. The item can be placed on one's lap, back or shoulders while sitting, reading, calming or resting. It rolls or folds for easy storage. The Mega Weighted Lap Pad may be useful for children aged 3 and up and adults with autism, ADHD, sensory processing disorder or anxiety.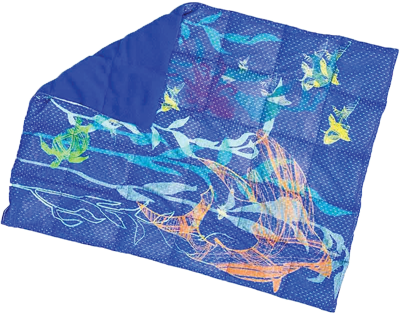 For more information, visit Fun and Function at www.funandfunction.com or call 800-231-6329.
My First Keyboard App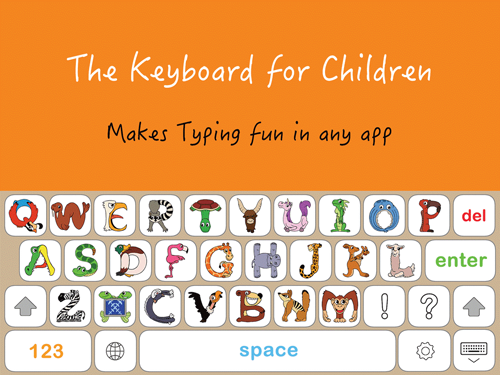 My First Keyboard App is an educational keyboard app for visual learners. This app can be used as an alternative to a standard iPad keyboard for Apple devices running iOS8 devices or greater. My First Keyboard App has large, colorful keys with two theme options: an "Alphabet Animals" theme or a "Blocks" theme. Upper and lowercase letters each have their own design. Light and dark variations of the themes are available for both themes. The keyboard allows you to type with either a QWERTY or ABC layout. It also has a word prediction feature. The app supports iOS accessibility options, including guided switch control access.
To learn more, visit the iTunes store or www.aacornapp.com/my-first-keyboard.
Senseez Vibration Pillows
Senseez Vibration Pillows are soft, tactile fabric pillows that come in a variety of shapes, colors and textures. Each pillow has a device inside that offers gentle vibration when you apply pressure, e.g., by hugging, sitting or leaning on the pillow.
To learn more, visit www.senseez.com.
Farm and Garden
2016 National AgrAbility Workshop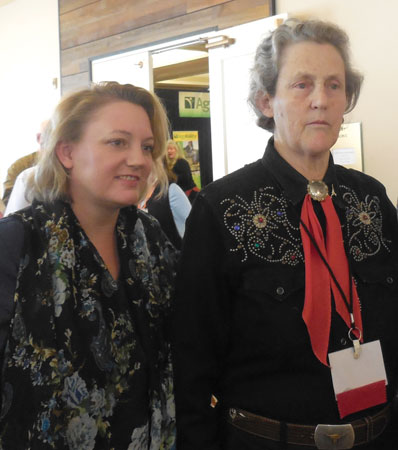 WV AgrAbility staff Carmen Fullmer with Dr. Temple Grandin
The vision of the National AgrAbility Project (NAP) is "to enhance quality of life for farmers, ranchers, and other agricultural workers with disabilities" by "cultivating accessible agriculture" throughout the nation. NAP is located on the campus of Purdue University in Indiana. Funding and oversight are provided by the USDA's National Institute of Food and Agriculture. For more information about NAP, visit www.agrability.org.
NAP held its annual conference— the AgrAbility National Training Workshop (NTW) — this year in Fort Collins, Colorado. Staff and participants from West Virginia AgrAbility and other state AgrAbility projects attended the conference. Here are some of the highlights.
Keynote Speakers
NTW featured an opening keynote address by Dr. Temple Grandin. Dr. Grandin is a professor of Animal Science at Colorado State University, a prominent livestock-handling equipment designer and author. She is also a person with autism. An HBO film was made about her life in 2010, starring Claire Danes. To learn more about the life and works of Dr. Grandin, visit www.templegrandin.com.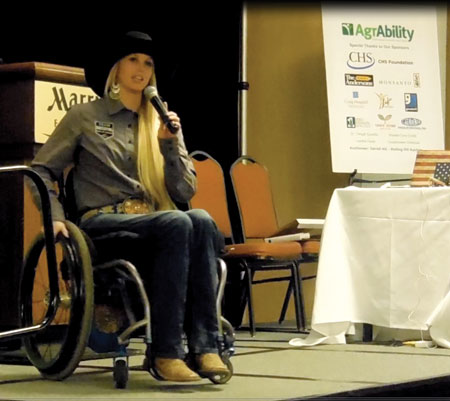 Amerbeley Snyder, Barrel Racing Champion
Barrel racing champion Amberley Snyder gave the closing keynote address at NTW. In 2010 at the age of 18, Snyder was driving home from a rodeo. She was injured in an auto accident, and became paralyzed from the waist down. During the rehabilitation process, she used her saddle to learn how to regain her balance and focus on her desire to ride again. By using assistive technology and alternative riding methods, e.g., a wheelchair and straps for riding, Snyder has reclaimed her life and returned to the sport she loves. You can find out more about Amberley Snyder on Facebook and YouTube.
Conference Tours
The conference offered site tour options, including a rehabilitation hospital for people with spinal cord injuries and traumatic brain injury, agricultural research centers, a feedlot, a horse-assisted therapy service, a day program and local farms.
West Virginia AgrAbility Presentations at National Training Workshop
The Patriot Guardens initiative was introduced by Melissa Stewart — representing West Virginia AgrAbility's partner West Virginia State University — and General H.B. Gilliam of the West Virginia National Guard. Patriot Guardens is an initiative between the West Virginia National Guard, West Virginia State University Extension Service and the West Virginia Department of Agriculture. The collaborators want to combine resources to create a system that helps veterans, guard members and other interested West Virginians build agriculture businesses. The plan is to give workshops on how to use alternative agriculture methods like hydroponics and aquaponics (ways to grow plants in nutrients without soil). Direct practical experience will be provided at agricultural incubator sites and in high tunnels established at underused armories around the state. For more information, contact Melissa Stewart at williaml@wvstateu.edu or 304-532-1670.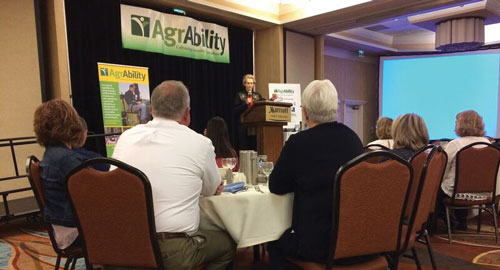 Carmen Fullmer and Inetta Fluharty of WV AgrAbility presented a session on "Caring for the Caregiver" to an agricultural audience. The session shared coping strategies for caregivers, suggestions for successful changes in roles and assistive technology ideas that can be helpful for both the caregiver and the individual. For more information, contact Ms. Fullmer at 304-293-4692.
For session details and other information about the National AgrAbility Workshop, visit www.agrability.org/ntw/2016. To learn more about how West Virginia AgrAbility cultivates accessible agriculture in the mountain state, call 800-841-8436 or visit www.agrability.ext.wvu.edu.
Life on the Farm Games
"Life on the Farm" games were created by an American farm family. These award winning games use funny "family farm mishaps and life experiences" as teaching tools. There are two versions of "Life on the Farm". The preschool edition is made for children ages three to seven years old. This version has a foam play mat and puzzle set; players learn to take turns while filling their barn with farm animals. The game for children ages eight to adult has a traditional board game design, and allows players to pretend they are running their own small farm business.
For more information, visit www.werfungames.com or call 320-630-1571.
Online Resources for Green Thumbs, Healthy Joints

The Green Thumbs, Healthy Joints (GTHJs) project has online program information, a blog and fact sheets about adaptive methods and tools that can help make gardening more accessible. GTHJs is administered by WVATS, and funding is made possible by the West Virginia Bureau for Public Health, Division of Health Promotion and Chronic Disease. To access these online resources, visit www.greenthumbs.cedwvu.org.
Sexual Harassment Discrimination in Housing
When we think of discrimination in housing, sexual harassment may not be at the top of the list. However, according to the Department of Housing and Urban Development (HUD), sexual harassment is the most common form of harassment complaint received at its offices.
People are entitled to have safety and privacy in their home, and should not be forced to relocate to achieve this environment. Individuals with disabilities, as well as low-income women who belong to racial or ethnic minorities, are especially in danger of sexual harassment in housing.
There are two types of sexual harassment – "hostile environment" and "quid pro quo". Hostile environment sexual harassment occurs when a person is subjected to unwelcome conduct so severe it interferes with their right to use and enjoy the housing. Quid pro quo sexual harassment occurs when someone in an authority position — such as a landlord or apartment manager — makes an unwelcome sexual request or demand of a person and makes giving in to the request a condition related to the person's housing.
Examples of sexual harassment can be found in recent HUD cases. In one case in West Virginia, a Kanawha County property manager and owner were required to pay $120,000 to settle a sexual harassment lawsuit filed by the Department of Justice. In this case, workers at an apartment building sexually harassed female tenants. The person in charge took no action when tenants complained, and was also charged in this case.
If you believe you have experienced sexual harassment or other discrimination in housing, contact the West Virginia Fair Housing Action Network (WVFHN) at 844-212-3464 or email info@wvfhan.org.