Winter 2011
Articles:   [Universal Design in the Classroom [Mini-Grants for Public Schools]    [AT Success]   [New for Exchange]   [New for Loan]   [Powerful Tools]   [Resources]   [National and State News]   [Employment News]   [AgrAbility]   [Green Thumbs, Healthy Joints]


Download a PDF of this Document
Universal Design in the Classroom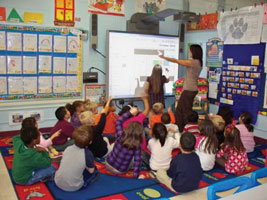 Universal design was defined by Ron Mace as "the design of products and environments to be usable by everyone, to the greatest extent possible, without the need for adaptation or specialized design." People use universal design everyday and may not even know it.
Curb cuts or a ramp that allows easy access onto a sidewalk, are examples of universal design.
Universal design for learning (UDL) uses the same ideas as universal design, only for the classroom. The three key points of UDL are:
Provide materials in a variety of formats. Giving students handouts when teaching a lesson allows students to listen to the lesson and read it at the same time. This meets the needs of students who learn best by hearing and those who learn best by seeing the material in front of them. Closed captioning can help students who may be deaf or hard of hearing and students who learn better by reading than listening.
Provide different ways a student can express what they know. Different forms of expression could be writing a paper instead of giving an oral report. If a student has trouble writing, using software such as Dragon Dictation for them to speak their thoughts and have them typed onto the computer may be helpful to them.
Provide many ways for students to interact with information. Some students may learn faster if they can put their hands on materials. Other students may need to get the information in a way that does not have distractions like graphics or animation.
In addition to UDL, the Higher Education Access Project also offers a six-week, self-paced online course to any person interested in the following topics:
Disability law and etiquette
Hidden disabilities
Universal design for learning
Assistive technology
To learn more about universal design for learning, email higheredaccess@hsc.wvu.edu or call 800-841-8436. To sign up for the course, visit www.highered.cedwvu.org.
Mini-Grants for Public Schools
Beginning with the 2011-2012 school year, WVATS selected classrooms to receive $1,000 in assistive technology devices and software. Teachers were trained on the assistive technology (AT) and how to collect data on students' use of the technology. This year, mini-grants focused on AT for autism in grades K-5.
The Assistive Technology for Autism in the Classroom project will test the helpfulness of specific products. The project provides an AT kit to each selected classroom. Data will be collected on the following areas: communication, reading and writing skills and behavior.
The AT for Autism Classroom Kit includes:
Clicker 5 software (1 school license-5 computers)
Smart Talk Interactive Language Acquisition System
Smart Talk Vocabulary Cards-Set 2: School and Community
Time Tracker Visual Timer
The Social Skills Picture Book
Talking Photo Album
Take or Place N' Talk communication system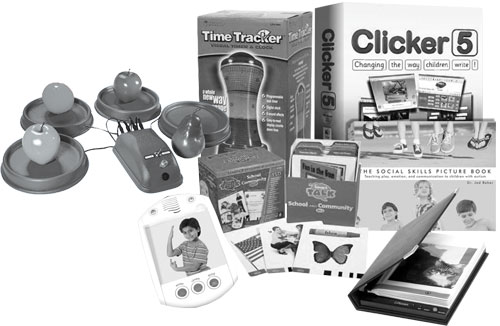 Next year's project will focus on a different disability and age group. All West Virginia public schools are invited to apply for a classroom project grant. Look for more information on the 2012-2013 school project this spring at www.wvats.cedwvu.org or call 800-841-8436.
AT Success
Melinda was helping her sister-in-law find AT devices to make her life easier. She borrowed many devices from the Virtual Loan Library and this is what she had to say:
"I would like to say that you have been exceptionally helpful in your attempts to inform me of the vast number of resources available for the disabled."
"I received the materials you sent (alarm clock, photo phone and page-sized magnifier). We have tried them with Pat and we believe she will benefit from all three. I have browsed the various websites you suggested for additional aides and have gotten some really great ideas for now and the future. There is so much out there that I didn't know about. The time you spent in researching helpful aides for my sister-in-law is impressive and so appreciated. Thank you for taking the time to "listen" to my concerns, for kindly answering my many questions and for offering suggestions. I have been searching for help for my sister-in-law for a good while. WVATS at the Center for Excellence in Disabilities is such a valid and much needed resource to those seeking help for people with disabilities."
New for Exchange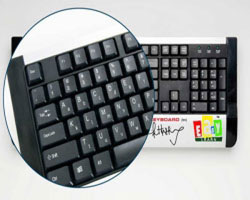 This keyboard has a standard keyboard design; however, the keys are in ABC order. The letters on the keyboard are standard size.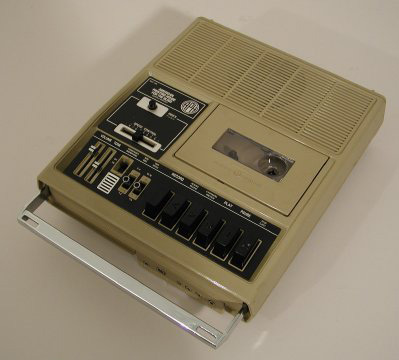 American Printing House for the Blind Cassette Tape Recorder: This device features digital pitch control (DPC), which allows the user to increase or decrease the rate of listening without unpleasant change in voice pitch. The user can play and record at 1 7/8 inches per second or 15/16 ips (Talking Book speed). The tape recorder has a built-in mono speaker and microphone. There are also tactile symbols on controls. The device can be powered by a wall outlet or with batteries.
New for Loan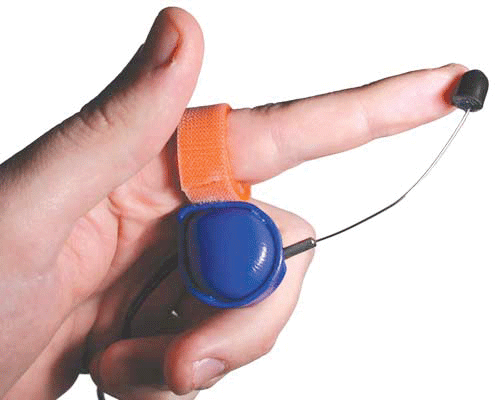 Finger Switch: A wearable switch for persons with limited mobility. The switch attaches to the finger with velcro and can be customized to fit the user's range of motion.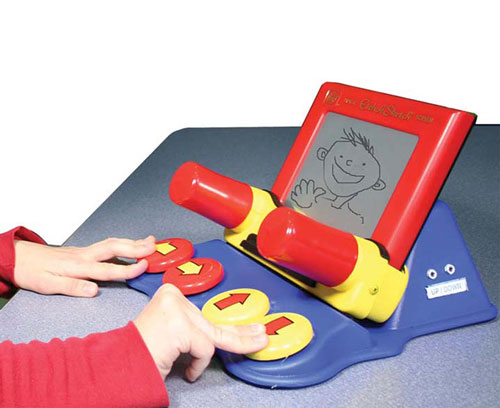 Adapted Etch A Sketch: The four built-in switches allow the user to go in horizontal or vertical directions. When the user is finished, take it off the base and shake it to erase. The base also has four external jacks for capability switches.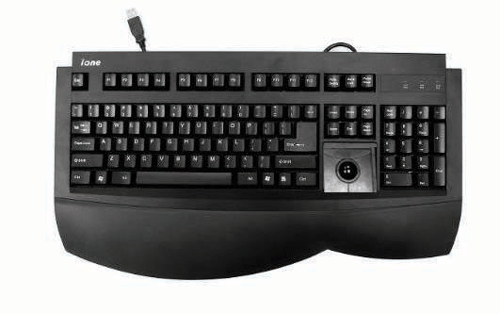 Scorpius-95 Industrial Trackball Keyboard: This is a full sized mechanical PC keyboard with an optical trackball in the cursor key area. The design minimizes hand motion and maximizes productivity. The keyboard has three mouse buttons. It also has a detachable wrist rest.
Powerful Tools
Node Chair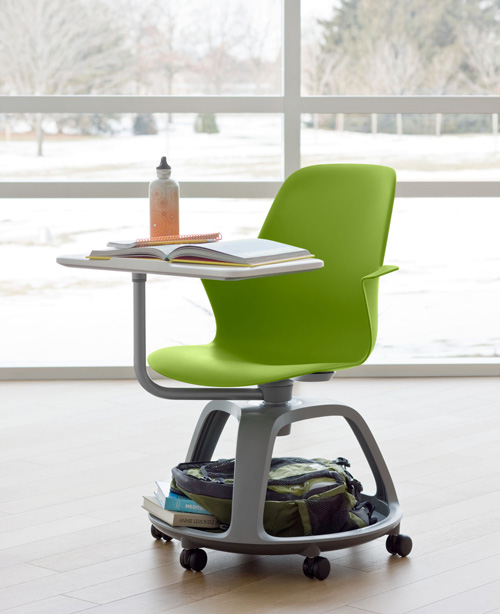 The Node chair is made to move around a room as needed. The mobile design of the chair allows students to move from lectures to working in teams easily. It also has a swivel seat that allows students to shift focus throughout the room.
The adjustable, personal work surface swivels with the seat. It can be a good fit for students of all sizes. The Node chair's work surface can fit both left and right-handed students. The work surface has room for laptops, textbooks and water bottles. The bottom of the chair also has a storage area for books and backpacks.
For more information, visit www.steelcase.com/en or call 800-333-9939.
Improved Listening Device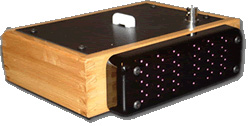 The Improved Listening Device is a small portable SC-186k microphone unit and a small headset. The student using the device positions the unit in the front of the class near the instructor, takes a seat anywhere in the class and uses the headset. The headset is amplified and has an adjustable volume control.
For more information, visit www.improvedlistening.com or call 866-654-2139.
InfoScan TS Elite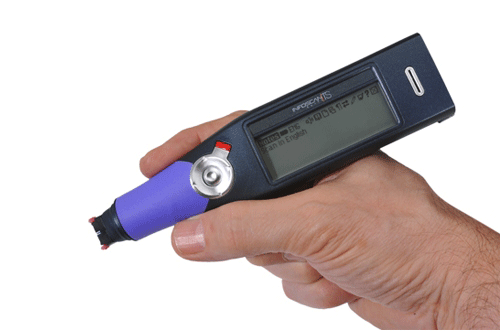 The InfoScan™TS Elite scans, stores and transfers printed text to a PC, laptop or PDA. It can be useful for students with IEPs that need test questions read aloud. The tool also allows the user to look up words from the scanned text to find definitions and translations.
This is a tool for anyone who needs to scan data when they are away from a computer and then transfer it later to a PC as a text file. The pen can scan up to 20,000 lines of text and can also be used to scan text directly into most Windows-based applications through a USB connection.
For more information, visit www.wizcomshop.com or call 888-777-0552.
SPARE SPIKE™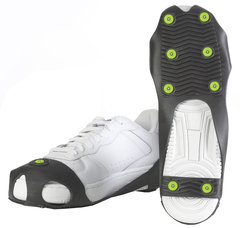 SPARE SPIKE™ is an ice and snow walking device that fits over most types of shoes and boots. The SPARE SPIKE™ increases traction and can lessen slips and falls in slippery outdoor winter conditions.
For more information, visit www.wintercleats.com or call 641-715-3900 ext. 50868.
Read&Write GOLD
Read&Write GOLD is a software program that can help improve reading fluency and understanding. It can also help with research, writing and test taking. Read&Write Gold includes the following:
Text to Speech
Phonetic Spell Checker
Word Prediction, Talking Dictionary
Homophone Checker
Talking Calculator
Screenshot Reader
Speech Maker
DAISY Reader
Pronunciation Tutor
Scanning
Fact Finder
Fact Folder: Teacher's Toolkit
Screen Masking
Online Translator
PDFAloud: Study Skills Tools
Summary Feature
NIMAS Conversion Tool
Online Fact Mapper
Read&Write GOLD Mobile comes on a USB flash drive and contains all of the files required to run Read&Write GOLD. This allows the user to use the software on any computer by plugging in the USB flash drive.
For more information, visit www.mayer-johnson.com or call 800-588-4548.
Door Beacon with LED Light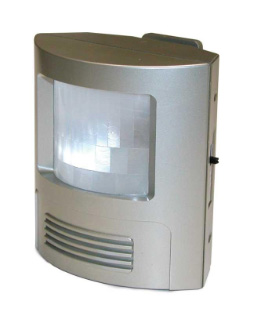 This door knock sensor has an extra bright light that flashes for several seconds after someone knocks on the door. It uses a vibration sensitivity switch. It can be used for the entry door, bedroom, bathroom, hotel room, dorm or workplace. A door hanging bracket and hook and loop fastener are included.
For more information, visit www.productsforthedeaf.com or call 877-262-5307.
Resources
Centers for Independent Living
Centers for Independent Living (CIL) are community-based, non-profit organizations. CILs provide many services.
Some of these services include:
Information and Referral: CIL staff helps people find resources and services. Examples of this can include:

Helping persons who are blind find adaptive cooking equipment
Finding the nearest van rental business that has wheelchair-modified vans
Offering information on the Americans with Disabilities Act.

Independent Living Skills Training: CIL staff offers trainings, resources and information on adaptive equipment. In some cases, skills training is provided in the home to help consumers learn how to do new tasks in a familiar setting. The training topics available will change as the needs change.

Skills training programs may include such topics as:

Independent living philosophy
Advocacy
Stress management
Personal assistance management
West Virginia legislative process
Personal development
Time management
First aid
Money management
Cooking
Bus riding

Advocacy: CILs believe people with disabilities have the ability and responsibility to direct their own life. Through training and leadership development, CILs help people with disabilities learn how to be self-advocates.
Peer Support: CILs offer peer support and mentoring to individuals with disabilities. Peer mentors serve as role models. They share their own experiences and explain the "ups and downs" of having a disability.

The CILs also offer the Community Living Services Program (CLSP). This statewide program provides independent living services such as:

Home Modifications such as adding a ramp for wheelchair access to the home; bathroom modifications such as roll-in showers, grab bars; and other modifications to make a home accessible to a person with a disability.
Assistive Devices and Equipment includes items such as hearing aids, amplified telephones and low vision devices.
Communication Devices and Services such as touch screens, speech keyboards and synthesized speech output devices (used with computers), as well as training in equipment use, braille instruction and reading services.
Vehicle Modifications including van conversion to accommodate a wheelchair; wheelchair and scooter lifts; hand controls such as a spinner knob on the steering wheel to allow controlled steering with just one hand and other specialized modifications.
Durable Medical Equipment such as a shower chair, walker and related items.

For more information or to access these services, contact one of the CILs in WV.

Appalachian Center for Independent Living 800-642-3003
Mountain State Center for Independent Living 866-687-8245
Northern WV Center for Independent Living 800-834-6408
National and State News
Affordable Health Care ActAdvanced Primary Care Practice Demonstrations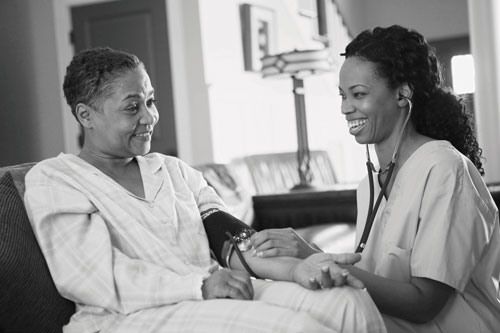 The Advanced Primary Care Practice Demonstration project is part of the Affordable Health Care Act. Since its start on November 1, 2011, this project is providing 500 community health care centers with about $42 million. It aims to show how the patient-centered medical home model can improve quality of care, promote better health and lower costs. The project takes place over three years. Forty-four states have community health care centers participating in the project.
This project's goal is to improve the quality of care delivered through Medicare. It is also working to improve the coordination of care for recipients. The project is working to help patients receive the right tests, right medications and right treatments in the right setting. For example, community health care centers can use project money to be open extended hours and see patients with urgent care needs.
For more information on the Affordable Health Care Act, visit www.healthcare.gov. For more information on the Advanced Primary Care Practicedemonstration project, including a fact sheet and a list of participating health centers, visit www.innovations.cms.gov. Both of these sites are managed by the U.S. Department of Health and Human Services. You can call 877-696-6775 for more information.
Money Follows the Person Grant
West Virginia recieved $22.2 million for Money Follows the Person (MFP). This program helps people who live in nursing homes or other institutions move back into the community. Once back in the community, money is used to provide program participants the services and supports they need.
MFP has two major parts. One part is redirectingto move funds to support home and community-based services (HCBS). This means transfering state funds from institutions to HCBS programs. The second part is a transition program. This program supports people who want to move back into their home communitites from institutions in which they currently live.
This program will help states increase the number of people with disabilities living in communities of their choice. It also helps create community-based long-term care options. This allows the elderly and people with disabilities to be active in their communities.
For more information on the MFP program, contact the Bureau of Medical Services 304-356-4872.
SSI Benefits Increase
Social Security Income (SSI) recipients will have an increase in monthly benefits in 2012. The increase will be about 3.5%. The increase is a cost-of-living-adjustment. This is the first increase SSI recipients have had since 2009. The increase should be in place by December 30, 2011.
Employment News
Employment First Initiatives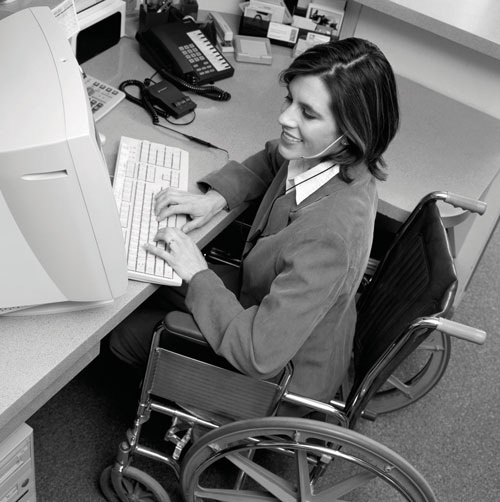 People with disabilities in the work force help our economy. They pay taxes and support local businesses. However, people with disabilities have the highest unemployment rates of any minority group in our country. Author of the Americans with Disabilities Act (ADA), the Honorable Tony Coelho, stated, "Give us the right to be fired!" What that means is individuals want to be treated equally in the workforce.
The Department of Labor's Office on Disability Employment Policy (ODEP), sent out a message supporting the nation's Employment First movement. This movement focuses on community-based employment with individuals earning at least minimum wage. Sheltered employment with sub-minimum wages and non-work 'day activities' are no longer acceptable employment outcomes. (Shortened from ODEP memorandum, June 15, 2009).
There is no general definition of 'employment first.' The idea focuses on community-based employment as the outcome for people with disabilities. States are encouraged to write policies that prioritize state funding for employing people with disabilities. States are also encouraged to make policies that hold any working age adult to the same standards and responsibilities no matter their abilities.
The Agenda
Education and advocacy can help raise awareness for employment. Sharing success stories creates hope and shows benefits of choosing to work. Coalitions can be formed with people who believe work is for everyone. Studies show that hiring people with disabilities is good for business. People support businesses that hire people with disabilities.
Changes in policy can take place at the school level. Special educators and vocational teachers can adopt employment first principles for their students, their families, business leaders and post-secondary institutions. Teacher trainings can adopt these principles.
A clear definition of employment means a focus on real jobs, real wages and real business settings. Applying for jobs based on strengths changes the job landscape. It offers a new way to think about the quality of the individuals that could be hired. Tasks and jobs are negotiated with employers (customized) and built to fit the interests of the job seekers (supported). Communication and education are components.
Employment first initiatives are directed toward business professionals. They must have new skill sets with this vision. These sets include recruiting, hiring, training, supervising and integrating employees with disabilities into the labor force. Everybody can work. Everybody means everybody!
Customized Employment
The US Office of Disability Employment Policy (ODEP) describes customized employment as a process.
A job developer (or personal agent) meets with a person with a disability to discuss interests and what the person is able to do. Through a "discovery" phase the individual and the job developer think about possible places to work. They do this by seeing what is in the community and possibly trying out jobs.
Then, they begin working with a specific employer to create a job. This job meets the needs of the employer and also the interests and abilities of the individual. The new job can be tasks from other job descriptions. It can also be a position that has been created from unmet needs in the employer's workplace.
There are other ways that individuals can take part in customized employment. They can become self-employed or work with a business to provide a specialized service.
Job Squad Inc. in Bridgeport, WV is one agency that actively works with customized employment options for their clients. For more information, visit www.jobsquadinc.org or call 304-848-0850.
Employment Tools
Anti-fatigue Matting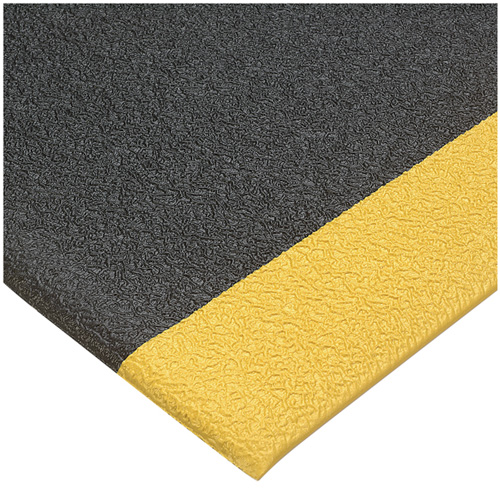 Anti-fatigue matting provides a cushion on the floor for a worker to stand on. The mats are made to help support people who have to stand for long periods of time. (The mats come in many sizes.)
For more information or to purchase anti-fatigue matting, visit www.americanfloormats.com or call 800-762-9010.
Swingline® Electric Portable Desktop Punch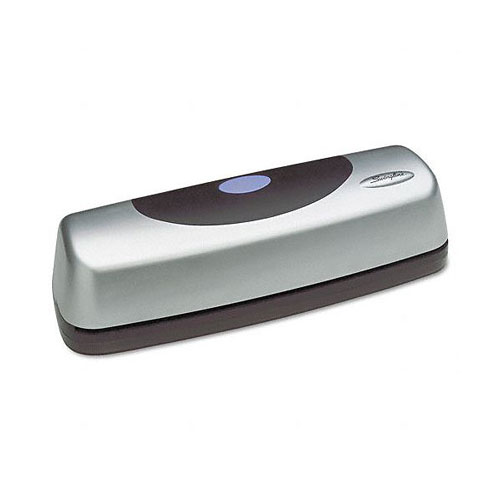 To get work done faster or reduce tiredness, electric devices may be used in place of manual devices. The Swingline Electric Portable Desktop Punch makes it easier to hole punch paper. The device can be plugged into a wall or run on 6 AA batteries. It has a 15-sheet paper punch capacity. It also has a reset button that reverses the punch pins to clear jams.
For more information or to purchase an electric desktop punch, visit www.acco.com or call 800-541-0094.
AgrAbility
DRS Assists Farmer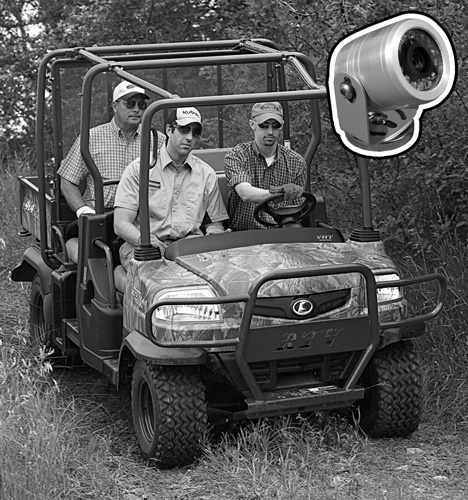 The West Virginia Division of Rehabilitation Services (DRS) recently funded a Kabota RTV 1100 and AgCam for a Preston County farmer. This equipmentwill allow the farmer to keep working and managing his cattle and hay production.
The farmer has rheumatoid arthritis and a spinal condition. These health factors make getting around the farm and operating equipment difficult. AgrAbility staff looked at these health conditions and the management of the farm to make equipment suggestions. Staff suggested both the Kabota RTV 1100 and the AgCam.
Due to the farmer's spinal condition, he cannot twist his body to see what is behind him. Backing up the tractor and bailing hay were hard for him. The AgCam allows the farmer to see what is behind him when he operates his equipment.
The AgCam camera system is designed to decrease the amount of turning and twisting needed from the vehicle. It is a camera with a magnetic base and a monitor. The camera is attached and aimed at whatever area the farmer needs to see. The monitor is placed at eye level wherever it is comfortable for the farmer to see it. The AgCam is powered by being wired into the fuse panel of the vehicle, by wall plug or cigarette lighter.
The farmer's arthritis also caused him trouble in getting around the farm. A utility vehicle was suggested because it is easier to get in and out of than a pick-up truck or tractor. The seat of a utility vehicle is positioned at a height that a user does not have to bend very far to sit down. Also, utility vehicles do not have steps to climb like pick-up trucks and tractors.
AgrAbility recommended the RTV 1100. All of Kabota's models feature a transmission that immediately stops the vehicle when the driver lets off the accelerator. No braking is necessary, not even on an incline. This is an added safety measure for drivers who are not able to move their foot quickly from the gas to the brake.
The RTV 1100 also has a cargo box with a hydraulic lift. The hydraulic lift allows loads to be dumped automatically, without the operator having to leave the seat. Every farmer needs to move supplies and materials around their farm. Utility vehicles with cargo boxes make hauling materials and tools around the farm easier. In this farmer's case, the cargo box with hydraulic lift is a necessity.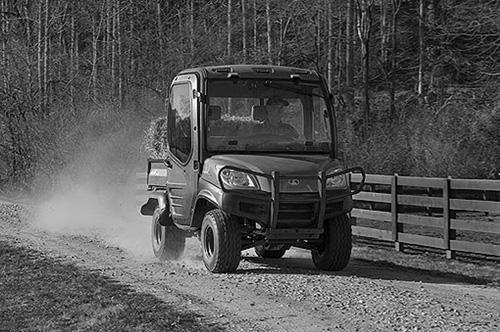 In most farm settings, utility vehicles are considered safer and more efficient mobility devices than wheelchairs in terms of completing farm responsibilities. Utility vehicles are made to handle and operate in tough terrain, such as on slopes and in mud and manure. These are all characteristics of farm land.
Although wheelchairs can get people around a farm, they do not always navigate land well. Oftentimes, mud and manure can clog up the mechanical parts of an electric powered wheelchair. Mud covering tires and spokes can make it impossible to maneuver a wheelchair.
AgrAbility offers free farm assessments to any farmer, or a family member, who has difficulty doing farm work or getting around their farm because of an injury or chronic health condition.
The purpose of the farm assessment is to allow AgrAbility staff to observe the farmer, the techniques the farmer uses to complete farm tasks, what the farmer does to compensate for any difficulties he/she has and to get a good understanding of the farmer's working conditions. Farm assessments are used to help AgrAbility staff make recommendations for equipment modifications, equipment purchases or changes to operation layout.
If you are interested in a farm assessment, call Inetta Fluharty at 304-771-8747.
AgrAbility turns 20!
The National AgrAbility Project (NAP) recently completed a summary of its 20 year history of service, titled "AgrAbility: Cultivating Success in Agriculture, Employment, and Rural Life for People with Disabilities and their Families." The report focuses on the program's impact in direct services, education, networking, and contains a variety of client success stories. The report is available in accessible PDF format at the National AgrAbility's Project's website http://agrability.org/news. Printed copies can be requested by contacting the national project directly at http://agrability.org or 800-825-4264.
Farm Tools
TROY-BILT Electric Snow Blower
A snow blower is a useful device for people with back injuries or other injuries that make it hard to shovel snow. This snow blower is good for clearing small areas like sidewalks or porches. It has a push button start. The snow blower is made to stay stable on steps and other surfaces. The user can also move the snow chute to shoot the snow in the direction they choose.
For more information visit, www.lowes.com or call 800-445-6937.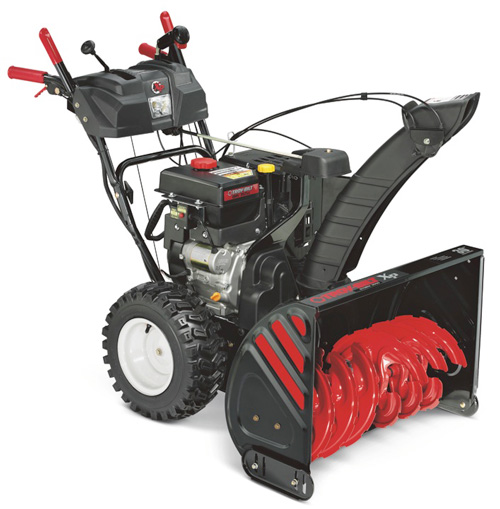 Green Thumbs, Healthy Joints
Online Discussion Forum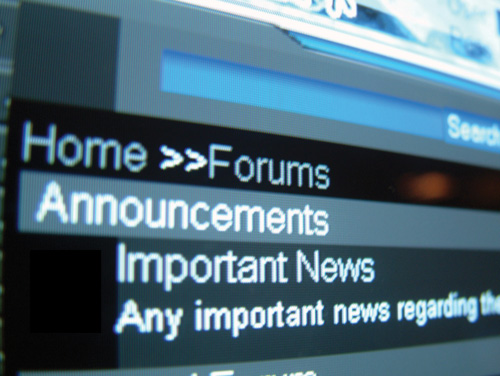 Green Thumbs, Healthy Joints is excited to announce a new addition to its webpage- an online forum. This forum is for discussing accessible gardening and related topics. These can be ergonomics and arthritis, gardening experiences and sharing advice. Green Thumbs staff will post specific topics and questions, and individuals can post their own questions as well.
So how does this forum work? How can you be a part of the discussion?
The first step is to register. Go to www.greenthumbs.cedwvu.org/forums. Click on the 'register' link on the top of the page. You do not have to register if you only want to read the discussions.
Once you have registered and received your password, you can post messages.

Log into the forum at www.greenthumbs.cedwvu.org/forums.
Click on the 'Add New' link under the 'Latest Discussions' link.
On the title line, type your question or the subject of your question.
In the body of the message, enter your question or answer to someone else's question or advice.
Click 'Send' below the body of the message to post your message. Your message will be sent to Green Thumbs staff for review. The message will then be posted for public view.
If you have any questions or trouble posting messages, contact Mary Slabinski at 304-293-4692 x 1125 or mslabinski@hsc.wvu.edu.
Contact WVATS
Center for Excellence in Disabilities
West Virginia University
959 Hartman Run Road
Morgantown, WV 26505
304-293-4692
Hotline: 800-841-8436
TTY: 800-518-1448
WVATS Newsletter Editor:
Jessica Wright
(jwright@hsc.wvu.edu)
Editorial Committee: Melina Danko, Mary Slabinski, Tatiana Solovieva, Melanie Burge
Layout: Brian Pickens
WVATS is funded by the US Department of Education, Rehabilitation Services Administration Contract# H224A100047
All printed materials are available in braille, electronic format, cassette tape and large print. WVU is an Affirmative Action/Equal Opportunity Institution.