Winter 2013
Articles:   [Assistive Technology for Pet Care]
[NWVCIL Gets HUD Grant]   [AT Success Story]   [Powerful Tools]   [Farm and Garden]   [Green Thumbs, Healthy Joints]   [A Helping Paw]


WVATS News
Assistive Technology for Pet Care
Animals bring joy to our lives in many ways, but they can also perform duties to help individuals with disabilities in daily activities. Service animals are trained to do work or perform tasks for people with a variety of disabilities.
For example: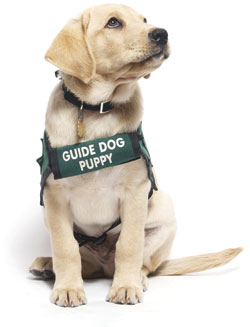 Guiding a person who is blind
Alerting a person who is deaf
Alerting and protecting a person who is having a seizure
Reminding a person with a mental health impairment to take prescribed medications
Whether you have an animal as a pet or service animal, caring for them properly is a long-term commitment. Sometimes people with disabilities need help caring for their animals. In some places, doggie daycare is becoming a popular option for busy owners. The daycare service may even offer a doggie cam, which is an online way for owners to watch their pets remotely from work.
Help is available in other ways too. For example, a volunteer could walk a dog, change cat litter, groom, feed and water an animal. If a person is temporarily not able to care for a furry friend, there may be a family or an organization that could foster the animal for a short time.
Nonprofit animal shelters may offer an adoption or foster program. For information about animal shelters and adoption listings in West Virginia, visit the PetNetwork WV website at www.wvanimalshelter.org.
Check with your local food pantry to find out whether they take pet food and toy donations. Also, organizations like the Pet Fund (www.thepetfund.com) may be able to help a pet or service animal in need get veterinary care. You can contact the Pet Fund at 916-443-6007.
AT Ideas
Airtight food storage containers
Pitcher or an angled measuring cup for easier pouring
Raised food bowl platform
Collapsible travel bowl
Gravity feeder or waterer
Pet water fountain
Automatic self-scooping cat litter box
Leash with pouch for carrying waste bags or retractable cord
Ergonomic nail clippers, brushes and combs
Laser pointer for training dog to pick up and bring back objects
Pet steps or ramps
Pet door with key or signal collar
Animal doorbell switch
Wheeled pet carrier or stroller
Service animal backpack
For the Dogs
NWVCIL Gets HUD Grant
The Northern West Virginia Center for Independent Living has received a grant to do testing for housing discrimination in West Virginia. This will let them build on earlier grants, plus add a few more activities.
Last year's grant showed some proof of discrimination against protected classes, including disabilities and familial status. This year's grant will work on these issues, and look at how apartments are built and how homes are sold in our state.
The group will look at Fair Lending practices, and will help people request reasonable accommodations and modifications. This will help them live in their homes and community of choice.
Events will be held during April 2014, Fair Housing Month, and at other times during the grant year. If you have questions about Fair Housing or this grant, please call the WV Housing Advocate, Claire Chantler, at 304-296-6091.
Look for more on Fair Housing in future issues of the WVATS newsletter. For more information, contact Regina Mayolo at rmayolo@hsc.wvu.edu or call 304-293-4692, ext.1142.
AT Success Story
WVATS staff met with an employee with hearing loss and her employer to discuss accommodations. Staff demonstrated several assistive technology devices, helped the employee test them, and offered other accommodation ideas (e.g., using a mirror at the employee's desk to see when others approach). The employee borrowed two devices for work and one for home.
The employer said that they are looking forward to having the employee use a personal assistive listening device (ALD) and a conference room ALD so their staff and the public can communicate with her more effectively. The employee also said that she was looking forward to trying out a bed shaker alarm clock at home. "We're so happy there are devices that can help [our employee] communicate better with our staff and the public."
Powerful Tools

For many West Virginians, farming and gardening are important aspects of rural life. It takes dedication and skill to nurture plants, tend the soil, raise livestock and grow healthy food.
Doing these activities can be tough on our bodies, whether we are working in the flower bed or in the field. Sometimes having a limitation from a disability, illness or injury can make a task even harder.
For this reason, the West Virginia Assistive Technology System (WVATS) recently launched a new Farm and Garden webpage to share resources and information about agriculture and assistive technology. We want to reach out and share information with those working in agriculture as a job or hobby, as well as those who are interested in learning about it.
There are a number of features on our website. For example, you can access fact sheets about assistive technology and accessible gardening methods, watch a video about agricultural safety and find links to farming and gardening resources in West Virginia. To learn more, visit WVATS Farm and Garden at wvats.cedwvu.org/farm-and-garden.
WVATS also has a number of assistive technology devices, such as ergonomic garden tools, that we can demonstrate by appointment at our Center in Morgantown, WV. Some of the devices are also available to borrow through our online loan library at vll.cedwvu.org. For more information, call 800-841-8436.
Farm Safety Videos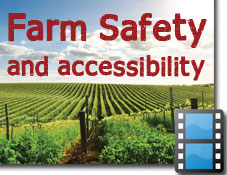 The topic of making farming and gardening safer and more accessible was featured on two recent episodes of "Access for All - Supports and Services in Your Community". Access for All is a program produced by the Center for Excellence in Disabilities (CED) and the West Virginia Library Television Network. The program, which uses a talk show format, addresses a new disability related topic on each episode.
CED has gathered a collection of videos together on its website about making agriculture safer and more accessible. The videos, which feature assistive technology and safety practices, vary in length, style and subject matter.
There is also a media library on the CED website, that features videos on many disability related issues.
To access the media library, videos or the Access for All program, visit the CED's website at www.cedwvu.org/videos/accessforall.php. For more information, call 800-841-8436.
Growing Together
Some people like to garden together with others. In West Virginia, there are many gardening groups available, including state and local garden clubs and community gardens. For information about the West Virginia Garden Club, visit www.wvgardenclub.com.
Participating in a Master Gardener group is another way of gardening together and learning new skills at the same time. The West Virginia University Extension Service's Master Gardener program is statewide, providing services through its county Extension offices. The program provides training to gardeners "with the opportunity to improve their horticultural knowledge and skills and then share their experience with the public through organized volunteer activities". There are over 1,200 active master gardeners in WV. To learn more, visit www.mastergardeners.ext.wvu.edu or call 800-670-4838.
Green Thumbs Healthy Joints
An excellent example of combining community gardening with accessible gardening is the Green Thumbs, Healthy Joints project. Since 2007, Green Thumbs, Healthy Joints has provided 90+ minigrants to master gardener groups and non-profit organizations, for the purpose of making gardening accessible to West Virginians with arthritis and joint limitations. It provides organizations with the opportunity to perform community service by making gardening accessible. Since it began, the program has worked hard to increase awareness and educate West Virginians about joint health, ergonomics, assistive technology and alternative planting methods. Hundreds of seniors, master gardeners and volunteers have worked together, using accessible tools and techniques.
The project is funded by the West Virginia Division of Health Promotion and Chronic Disease, WV Osteoporosis and Arthritis Program. Their mission is to "reduce the prevalence of Osteoporosis and Arthritis in West Virginia by providing information on prevention and education, making available information on treatment and lessening pain and disability by encouraging individuals to maintain productive lives". For more information, visit www.wvbonenjoint.org or call 304-558-0644.
The Green Thumbs, Healthy Joints project is administered by the West Virginia Assistive Technology System (WVATS). To learn more, visit www.greenthumbs.cedwvu.org or call 800-841-8436.
Power Dynamics Snodozer
The Power Dynamics Snodozer by Vertex is a 30 inch snow shovel with 10 inch wheels. The adjustable snow blade has three angle positions. The tool has a solid steel T-shaped handle with comfort grips.
For more information, visit www.vertexproducts.com or call 877-283-7839.
A Helping Paw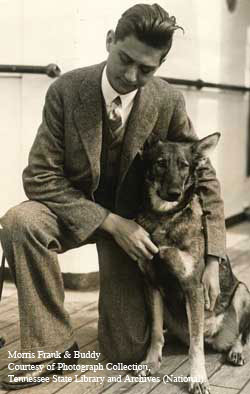 In 1927, a Saturday Evening Post article-"The Seeing Eye" by Dorothy Harrison Eustis-was heard by Morris Frank, a man from Nashville who had lost his vision. Thanks to the article, a German shepherd named Buddy came to the United States. She was the first service animal in America. Eustis and Frank founded an organization called The Seeing Eye. For more information, visit www.seeingeye.org or call 973-539-4425.
To learn more about service animals, check out these resources: