COVID-19 Update
For the time being, COVID-19 is affecting WVATS services. While we take great care with cleaning our devices, we need to keep each other safe and healthy. Additionally, like many organizations, we are being encouraged to work remotely. We cannot support walk-in clients at this time.
WVATS staff will remain available to you. You can email or call us. Please reach out if you have questions or needs.
Lending Library: WVATS will suspend device loans beginning March 18 until further notice. You can still request items and WVATS will put your request on a waitlist. We will process your request when loan activity resumes. If you have an active loan, you are welcome to keep it until the loan program resumes.
If you have a critical need for equipment, please contact us. We will handle these requests on a case-by-case basis. We want to make sure everyone is safe and healthy.
Training & Presentations: WVATS has canceled all in-person trainings and presentations. WVATS can offer trainings from a distance using Zoom. Zoom is a remote video platform. If you would like to schedule a training, please contact us. Also, keep checking back as we schedule online training opportunities.
Demonstrations: WVATS is not offering onsite demonstrations at this time. We can provide them at a distance using Zoom when possible. Zoom is a remote video platform. Please contact us if you would like to schedule a demonstration.
Reuse: WVATS will suspend in-person reuse donations and deliveries. This might be a great time to look around for items that you would like to donate.
Remember: The WVATS staff is available to you. You can email or call us. Please reach out.
West Virginia Assistive Technology System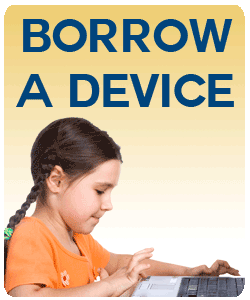 The purpose of West Virginia Assistive Technology System (WVATS) is to provide services and resources to help West Virginia residents of all ages and abilities make informed decisions about assistive technology. WVATS serves not only individuals with disabilities, but also their circle of support. This includes family members, employers, employment service providers, educators, health care providers, social service providers, and others seeking AT expertise in all areas of life, but especially in education, employment, and community living.
What is Assistive Technology (AT)?
Assistive technology is any product or service that makes tasks easier or possible for individuals with disabilities or limitations. There are many tools available to help people live, learn, work, and play independently. These tools can be as simple as magnifiers and alternative keyboards or as complex as augmentative communication devices and switch access.