WVATS Quarterly Newsletter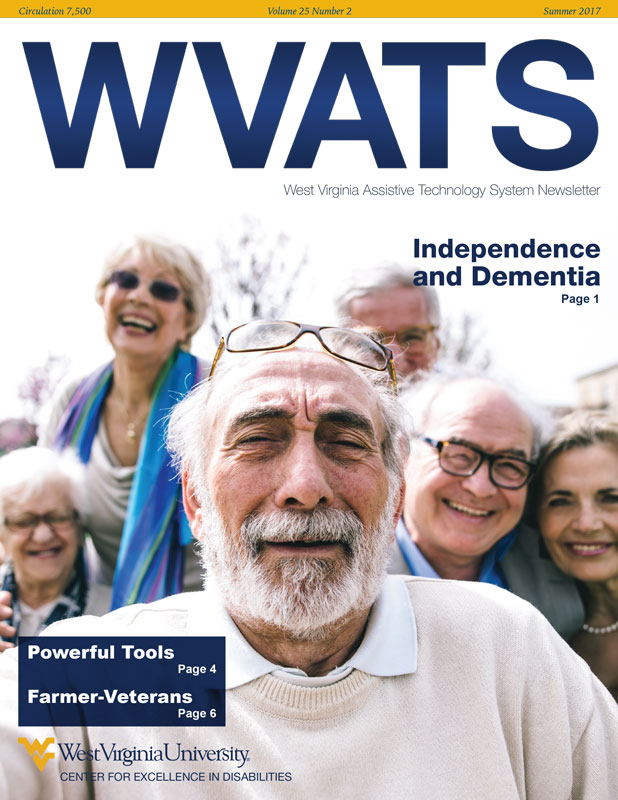 Remaining Independent with Dementia
If someone you care for has dementia, you may be planning for the future. People with dementia often have problems with thinking and memory. It may also affect a person's ability to do daily tasks. Dementia can be caused by medication use, normal aging, Parkinson's disease and other conditions as well as Alzheimer's disease.
Assistive technology (AT) may help people with dementia stay independent. This can help them enjoy time with family and friends, and be active in community events.
Here are some AT ideas for daily living activities.
Digital voice recorders – Record and play reminders and instructions. This could include shopping lists, appointments, directions and items.
Talking clocks – Provide voice announcements of the time or alerts. Most let you choose from several different alarm sounds.
Talking wristwatch – Help a person remember routines or guide them on a community outing.
Daily pillbox – Pillboxes with timers/alerts can remind someone to take their pills. Some also hold a small amount of water. This allows the person to take medications no matter where they are.
Dressing aids – There are many devices to help with dressing. These can include elastic or non-tie shoelaces, buttonhooks, zipper pulls, easy-to-pull sock aids and tools for reaching objects.
Grooming aids – No-rinse shampoo and body wash, long-handled combs and brushes, and pumps for soap or toothpaste can all help with grooming.
Adaptive clothing – Many stores carry items that use Velcro or elastic instead of buttons or zippers. Special catalogs or websites also can help you find adaptive clothing for all occasions.
Communication boards – Simple boards that use pictures and words may help someone with dementia express desires or emotions. A board with pictures showing steps for getting ready can also help someone prepare for a day of shopping or other activities.
Alert devices – These devices are especially useful if a loved one wanders or becomes lost. You may want to check with your local senior center or other organization for programs like Project Lifesaver or Alzheimer's Association Safe Return.
Read the full Summer 2017 Newsletter
WVATS Quarterly Newsletters in accessible HTML: