WVATS Quarterly Newsletter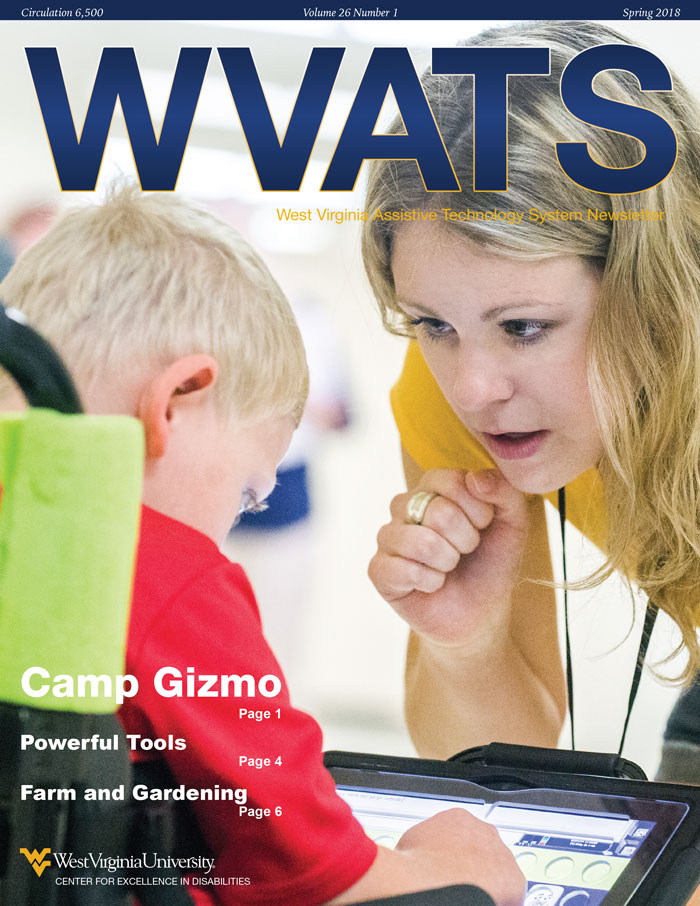 Camp Gizmo: What a Bright Idea
Camp Gizmo is an assistive technology camp for families of children with disabilities from birth to eight years old. The camp has been an annual event since July 1996. It has a long history of helping children with disabilities and their families overcome obstacles relating to education and independence.
During camp, teams of professionals help each family identify tools and strategies to meet their assistive technology needs. The child, with their family, attends a variety of labs and sessions to focus on their specific needs. Camp Gizmo labs include mobility, speech communication, sensory, feeding and swallowing, activities of daily living and switch access.
This five-day event is for the entire family. In addition to labs and workshops, camp also offers Kids Camp for all children attending camp. This includes the child with a disability, siblings and the children of professionals attending camp. Kids Camp is overseen by Camp Gizmo veterans and provides a variety of educational and recreational activities.
Camp Gizmo also provides continuing education and graduate hours for early childhood professionals and has partnerships with West Virginia University, Wheeling Jesuit and Marshall University. The camp provides an opportunity to teach and provide indepth training for college students, parents and early childhood professionals on how assistive technology can aid children with disabilities by working with professional teams. The teams consist of professionals from around the state, graduate students and returning families. While the camp is helping individual families that are selected for camp, it is also increasing core knowledge, competencies and awareness of assistive technology for young children.
Read the full Winter 2018 Newsletter
WVATS Quarterly Newsletters in accessible HTML: